Brother Of New Destiny (BOND)'s founder, Jesse Lee Peterson says that if a male wants sex before marriage, then he'll undoubtedly cheat on his partner. However, the activist himself has secluded his love affair, and his above statement has made people more curious about his personal life.
Jesse Lee Peterson is popularly known as the founder of a nonprofit religious group Brother Of New Destiny (BOND). He is also a radio host of The Jesse Lee Peterson Show.
Jesse Lee Peterson's Statement On Sex Before Marriage; Is He Married?
Right-wing radio host Jesse Lee Peterson has secluded his love life from the media. However, he is often seen arguing in the topic of marriage. Speaking with Right Wing Watch on 17 April 2018, Jesse stated that any man who prefers sex before marriage would eventually cheat on his wife.
Don't Miss: Steph McGovern Married, Husband, Partner, Boyfriend, Gay or Lesbian
Explaining the statement, Jesse told that the only reason for having sex is to give birth to babies and unless people are trying to have a baby, there is no reason to have sex. He did not hesitate to say that one's boyfriend or fiancé would cheat on her if the couple prefers to have sex before they get married. He clarified it by saying,
She is not the only one he's having sex with. Now, he will lie to her and pretend that he is [being faithful], but he is not …
Moreover, the columnist warned all women not to have sex before they get married. He said,
For the ladies, I want them to know. So, that they stop having sex with men that want to have sex with them prior to marriage; I want the ladies to know that if your man, your fiancé is having sex with you prior to marriage, he's doing it while you're dating, he's doing it while you're engaged and he will do it afterward.
Besides his thoughts on marriage, he shared a contempt statement on women with Fox News back on 8 May 2012.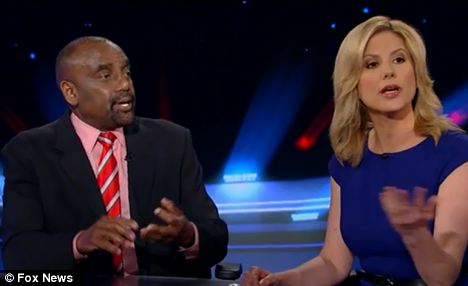 Rev Jesse Lee Peterson with Kirsten Powers on Fox News
Jesse Lee, however, has not given a glimpse of his real-life love affair to the media. Jesse is yet to reveal about his future wife. As of 2018, he is not married.
Previously, on 16 December 2016, Jesse expressed his views towards LGBT community where he said that the LGBT community is ruining America. As per his statement, he is an adversary of the LGBT community. 
Also Read: Patrick Dempsey's Wife Jillian Fink Wiki: Age, Birthday, Family, Job, Net Worth
Family Life: Parent's Separation, Lived With Step-Dad
Jesse Lee was raised along with his grandparents, who worked on the Comer family plantation. During his childhood, his parents moved to Gary, Indiana, and East Chicago, Indiana, respectively. 
His parents eventually parted their ways, starting new families of their own. He grew up with his mother and a stepfather in Gary during his teenage. 
How Does Jesse Accumulate Net Worth?
Jesse accumulates a lucrative net worth from his career as a conservative pundit, minister, author, and media personality. As per the record of GlassDoor, the estimated salary of the Political analyst in the United States is $84,232 per year. The political analysts having higher position earns $134K as an average salary whereas the lower post of political analysts makes the income of $70K. 
He also earned the fortune as a former board member of the California Christian Coalition. The organization was formed in 1989 by the Marion Gordon Robertson aka Pat Robertson.
The American activist, Jesse began his janitorial service in 1989. Later, he founded a nonprofit religious group called Brother Of New Destiny (BOND) in 1991. The foundation was formed to "rebuilding the family by rebuilding the man." It also counsels the people at events, schools, correctional facilities, and church, and holds weekly Church service.
Alongside politics, Jesse is also a radio host known for the national radio show called The Jesse Lee Peterson Show that airs on Newsmax TV and The Fallen State TV web series. He is also an author and has written numerous books including The Seven Guaranteed Steps to Spiritual, Family and Financial Success, From Rage to Responsibility, SCAM: How the Black Leadership Exploits Black America, and the Antidote.
Related To Newsmax TV Presenter: Miranda Khan Wiki, Bio, Age, Married, Husband, Parents, Ethnicity
Short Bio
Jesse was born on 22 May 1949 in the United States. He grew up on a plantation in Alabama under Jim Crow. Later, at the age of 19, Jesse moved to Los Angeles. He holds American nationality and belongs to black ethnicity, as per wiki. The political analyst attended the Edison High briefly. Later, he completed his high schooling education in Alabama before moving to Los Angeles. Jesse is a few inches shorter than Tariq Nasheed, who stands at the height of 6 feet 5 inches (1.96 meters). Back in December 2017, Jesse received The Coon Train Award from American film producer Tariq.