Jhené Aiko is an American singer. She is known for her songs like Herself, The Worst, and Sail Out. She announced herself as a singer and model in several music videos of R&B group B2K. She was also known as the cousin of the B2K member Lil' Fizz, which was merely to promote her reputation. Jhené is also the girlfriend of singer Big Sean.
Rockstar Siblings; Brother Dies of Cancer
Jhené grew up with her four siblings. She has two brothers; Miyagi and Jahi, and two older sisters Miyoko and Mila J. Her sisters are singers in the musical group, Gyrl. They also appeared in Prince's video of Diamonds and Pearls. She had a huge assist from her sisters to pursue the music career. They helped her to demonstrate her singing abilities to producer Chris Strokes at the tender age of five.
See Also: Flip Rodriguez Bio, Age, Real Name, Girlfriend, Dating, Family
Her brother, Miyagi Chilombo passed away on 19 July 2012 due to brain cancer. She wrote and recorded a song called For My Brother dedicated to Miyagi. He died soon after hearing that song. The song was later released online.
She also has three half-siblings from paternal sides. Marcia and Dio are older than her and Kareena is her younger sister. Mila J released a statement on 26 March 2014 and revealed that she has no rivalry with her younger sister. She also said that she doesn't worry about being compared to Jhené.
She has wished the birthday to her little sister, Kareena on 17 August 2018and said everybody to say belated birthday to her little sister on the caption.
Dating Big Sean; Leaves Her Ex-Boyfriend For Finally Famous Rapper
Jhené is dating Sean Michael Leonard Anderson a.k.a. Big Sean since October 2016. The lovebirds are one of the most adorable couples in the music industry now. The singer duo is also collaborating professionally. Jhené and Big Sean had worked together in 2013 on Beware, and I'm Gonna Be and started finding a way to each other's hearts.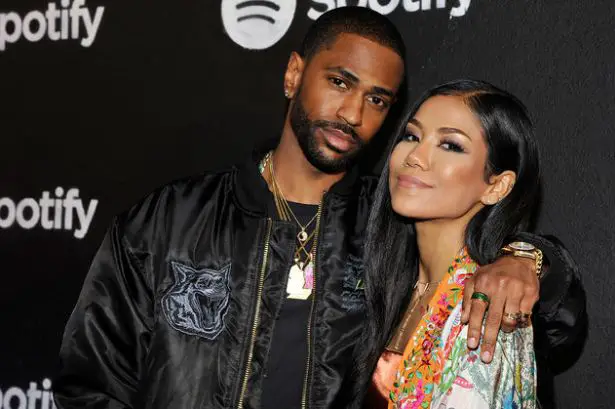 Jhené  Aiko and Big Sean attend the Spotify Best New Artist Nominees celebration at Belasco Theatre on 9, 2017 in Los Angeles (Photo: Billboard)
She has also released the musical album, TWENTY88 in 2016. As per Elle of 13 March 2017, she said that her album is all about being able to come together and being honest regarding the relationships and love with each other.
The couple became friends with each other the year her brother passed in 2012. She went to her first unofficial date with Big Sean to a basketball game even though she was dating her then-boyfriend.
She broke up with her then-boyfriend after finding that he was married legally to his child's mother. The baby daddy was unwilling to divorce her that made her quit the relationship with him.
Years later, she again came in touch with singer Big Sean, and the pair has been inseparable ever since in both personal and professional life.
Read Also: Selita Ebanks Married, Husband, Boyfriend, Parents, Net Worth
After she revealed about her first date with Big Sean, many fans accused her of cheating her ex-husband Dot Da Genius. On 12 February 2018, she clarified through Twitter and said, 
"In 2012 i was in a relationship w/someone who was secretley still married to his baby's mother the while hear and a half we were together... this person was not Dot."
Divorce With Music Producer Husband; Has a Daughter With O'Ryan
The American R&B singer, Jhené Aiko was secretly married to music producer Oladipo Omishore A.K.A Dot Da Genius in 2014. They revealed about their marriage in March of 2016. After a short period of togetherness, she filed for divorce in August 2016.
Jhené Aiko also dated B2K singer Omarion's brother O'Ryan in 2005. They had a cute daughter named Namiko Love in November 2008. But Jhené broke up with her baby daddy in 2008. She is raising her daughter as a single mother, which also hindered her musical professional for a while. Jhené released a duet song Sing with Me with her daughter Namiko Love in 2017.
Accused Of Stealing Colorado Artist's Work
Elisa Rose Mountain filed a case against the popular singer, Jhené Aiko and accused that singer has stolen her artworks. Elisa claimed in the lawsuit that Jhené used designs created by her for a fashion line she released four years ago.
Elisa had stated in the legal papers that the singer took an emblem she had developed and trademarked as a Hamsa Mandala, which is an artistic twist on the Hamsa hand sign. She has even accused that Jhené used the design in 2015 for the Jhené Aiko Hamsa Circle Goddess, T-Shirt, which she sold in her Soul of Summer fashion line in collaboration with PacSun and Neff Headwear. The decision of the court is yet to be heard for now. And Jhené is ye to release a statement.
Related Link: Mark Selby Wedding, Wife, Family, Children
Short Bio
Jhené Aiko was born on 16 March 1988 in Los Angeles, California USA as Jhené Aiko Efuru Chilombo. Jhené holds an American nationality and belongs to mixed ethnicity. Jhené stands at the height of 1.57 m (5' 2'').
She was born to parents Karamo Chilombo and Christina Yamamoto. She resides in Inglewood, California with her mother.