In the generation of vlogging being a viable career where aspiring stars invest in DSLRs and professional editing, Joana Ceddia goes against the trend. She is best known for posting relatable, trendy, fresh, as well as fun and cool content that include tutorials, DIYs, and vlogs on her channel.
Joana made her debut on YouTube from the video 'Me getting frustrated with paint: MY FIRST YOUTUBE VIDEO!' in June 2018.
Joana Ceddia Bio: Age & Family
Born in 2001 in Brazil, Joana blows the birthday on 21 June. She graduated from high school in June 2019. For further education, she plans to take physics and astronomy as the major subjects in college by 2019.
Speaking about her family, Joana is a daughter of Denicle Ceddia and Rolando Ceddia. Her father is a health professor at the Canadian University.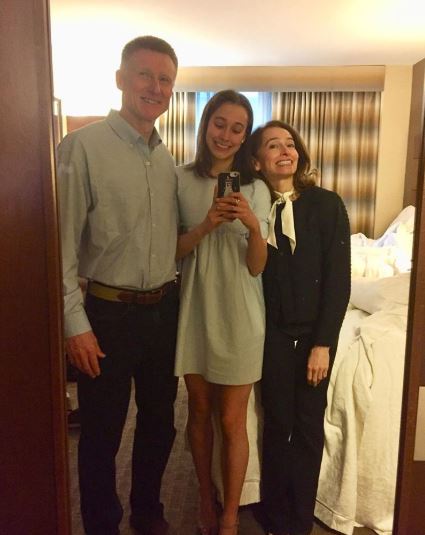 Joana Ceddia with her parents in May 2019 (Photo: Joana's Instagram)
Later, her family moved to Canada during her early childhood.
Explore More: Sarah Marshall [Consultant]: Here is Matt Ryan's Wife Bio And Family
Career- YouTube
After Joana started vlogging on YouTube in 2018, Joana has shared a lot of videos on her channel, and several of them have crossed millions of views. Amongst all, the most popular video was 'i cut my hair with craft scissors,' which has gained over 10 million views to date. 
Likewise, her videos like 'I DIY'd Emma Chamberlian's New Clothing Line,' 'Following a Rob Boss painting Tutorial,' and '1 Million Cookies for my 1 Million Subscribers' have collected millions of views.
Net Worth
From her flourishing career as an internet, personality, Joana, has undoubtedly attracted immense fame and relative abundance. 
From her YouTube channel, which has more than 3.08 million subscribers, she is estimated to make around $18.8 thousand to $301.5 thousand annually. Additionally, she earns income from her online merch, where she sells her trinket box, clothes, and other accessories. 
Rumors Of Buying Subscribers And Views 
There was a conspiracy theory where she was accused of buying subscribers and views. But, Joana Ceddia, who recorded her videos via iPhone in her parent's room and a $4 microphone, didn't pay any heed to such rumors. She even encouraged her haters to come up with more theories.
The talented star didn't seem to have been bothered by her hater's absurd ruse. 
Keep Reading: Tiffany Rivers [Philip Rivers' Wife] Wiki: Age, Net Worth, Family, Facts
Some Interesting Facts About Joana:
Joana was one of the most in-demand YouTubers at VidCon 2019.
 
She is a self-taught painter—she had started painting by tenth grade, watching tutorial videos on YouTube.
 
Her favorite YouTuber is Chris Fleming.
 
Joana is fond of running; she often runs to stay in shape.
 
In the 11th 'Annual Shorty Awards' held in 2019, she was one of the finalists in the 'YouTube Comedian' category.
 
She was also added to the second slate of Featured Creators by VidCon as the lineup for the 11th annual gathering for next summer's Anaheim event.