The Internet has provided a huge platform for the creative and innovative people regardless of their race, country and secluded identity.
Joey Salads is such a YouTube star who has managed to gather an army of thousands of subscribers whom he entertains with his comic videos. He is also recognized as the former lover of another internet sensation, Tanisha Coetzee.
Accidentally Found Love, Separated With Girlfriend In Less Than A Year
Joey met his former girlfriend Tanisha on 31 January 2017 as per her YouTube video of 31 August 2017. She is a South African descendant and is popular on social media platforms. They met on a prank video of Joey Salads and was intimidated to punch her brother for a hundred dollar. He posted that hilarious video on 4 February 2017.
His ex-girlfriend, Tanisha Coetzee hails from South Africa and often posts short comedic sketches on her musical.ly account. She also shares her travel and lifestyle photography on Instagram and has earned over 550 thousand fans on TikTok.
You Don't Want To Miss: Jake Harris Wiki, Net Worth, Girlfriend, Facts, Today
While Joey and Tanisa were in a relationship, they underwent several on-and-off moments. After the prank incident, the duo had a brief split but eventually found their way to each other after a month. They got along on the social media and started melting hearts again.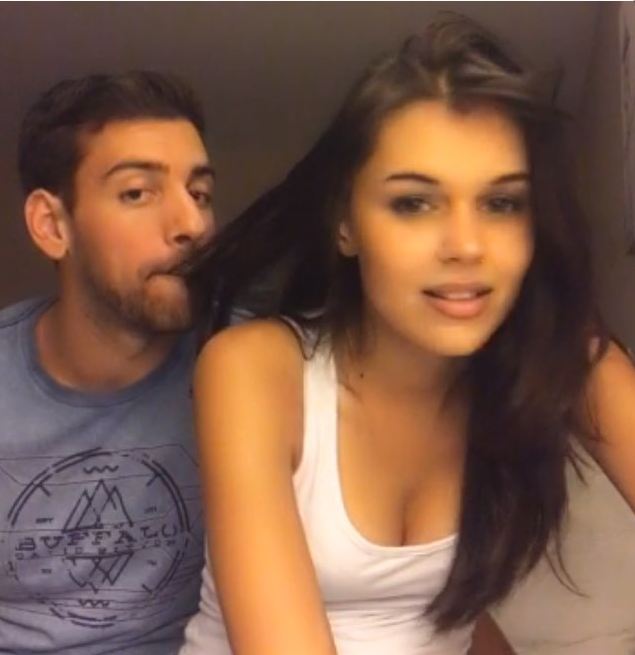 Joey poses for a picture with his then-girlfriend Tanisha Coetzee (Photo: deskgram.org)
When Joey went to Jamaica in August 2017, his fans hesitated to believe the YouTube star. At that moment, Tanisha stepped up and shared their snapshot from Jamaica and addressed all his haters on her Instagram post. The South African lady affirmed that Joey is soundly spending the vacation in Jamaica with her.
In one of his viral videos, the prankster destroyed his girlfriend's makeup. He emptied the expensive products of his girlfriend's makeup bag into the bathroom sink and demolished the products with a hammer. He then wrote 'I Love You' with Tanisha's lipstick in the mirror. After she arrived, the South African beauty maintained her cool, but her cold expression was visible on her face. His actions were thought to be abusive by many of his fans.
Though the audience has been skeptical regarding his abusive behaviors and pranks on her, she openly declared that he treated her like a princess. However, the romantic perks of their relationship started to fade away slowly.
The internet sensation Joey Salads has already ended his relationship with his girlfriend. The YouTuber duo parted their ways in a different direction in March 2018, within less than a year of togetherness.
Raises Voice for Gay People
The prankster Joey is very open regarding his support for the gay community. He encouraged the people to come out as gay and even mentioned that everyone supports for their honesty on 9 February 2018. He even said that western people easily accept a person's sexual orientation, but there are some who are still celebrating it as a taboo.

(Photo: Joey Salads' Twitter)
He is also a supporter of gay marriage. Back on 17 August 2017, he tweeted saying that he'll be calling for the removal of the MLK statue because he didn't support gay marriage.
His everlasting support for the people of different sexuality raised a question regarding his preferences. But the YouTuber is an openly straight man. He has also been in a romantic relationship with pretty ladies in the past.
See Also: PontiacMadeDDG Wiki, Age, Real Name, Girlfriend, Dating, Height, Family
How Much Is Joey Salads' Net Worth?
Joey Salads has been deriving his net worth from his YouTube career since 2014. He earns $3.3K - $52.3K monthly and $39.2K - $628K annually from his YouTube channel as per socialblade. He has also amassed his wealth as an actor.
Joey previously worked as a pizza boy before facing the limelight through social media. He started his YouTube career from 26 October 2014 and uploaded various pranks and entertaining videos. Welcome!- Salads Vlog 1 and JoeySalads Vine Compilation were his initial videos uploaded on YouTube which received thousands of views. He also has some acting credits on movies like Llama Cop (2014), NFG the Movie (2016) and H3 Podcast (2016).
Family Life: Born to Immigrant Parents
The prankster Joey shares an intimate bond with his family members. His immigrant parents raised him along with two sisters. He is known for smashing his sister's phone and television on his video. He has posted a short clip of that video on Instagram on 16 January 2018. His sister was so furious that she even screamed for police.
He has also posted a video on 12 September 2015 and mentioned that his family members didn't like the car that he bought. He also gifted an antique present for his father on the occasion of Father's day on 20 June 2017. He gifted the ancient coin and Hitler's stamp picture to him.
You Can Also See: Stephen Sharer Wiki, Age, Girlfriend, Dating, Gay, Family, Height
Short Bio
Born in 1993 in Staten Island, New York, Joey Salads celebrates his birthday on 10 December every year. He holds an American nationality and belongs to mixed ethnicity. Joey stands tall in a towering height of 1.85 m (6 feet 1 inch). He has a birth sign of Sagittarius.