A new man in Dancing with the Stars has proved in the past what he is capable of. Freshly coming off the role in theatre classic Hamilton, Jordan Fisher is all set to flaunt his skills in the stage but this time as a dancer. The idea of him in the show is already creating some buzz in the show and being paired with Lindsay Arnold just lifts the excitement level to a whole new level.
The Newest Member in Dancing With the Stars!
There is some new flair in a brand new season of "Dancing with the Stars." US Weekly recently confirmed that Grease Live star Jordan Fisher is all set to show off his dancing skills in the 25th season of Dancing with the Stars.
Read More: Elizabeth Smart Net Worth, Husband, Family, Today
But he is not coming alone, as he is joined by NBA star Derek Fisher, 43, actor Frankie Muniz, 31, swimmer Victoria Arlen, 22 and Violinist Lindsey Stirling, 30.
The show, which premieres on September 18 2017already has star-studded cast at their helm which includes biggies like Drew Scott, Nick Lachey, and Vanessa Lachey. Jordan who has a friendly face in judging seat in Julianne Hough, 29 is bracing himself to show his skills alongside pro-partner Lindsay Arnold, 23.
As he pairs with Lindsay, his competitor Frankie is paired with Witney Carson, 23 who won DWTS in 2014 with Alfonso Ribeiro, 42.
Career and Professional Life:
The multitalented actor, dancer, and a singer made his television debut with a small role of Mario in 2009 "The Hustler." After appearing in several other small roles, he has nine episodes to his credit with 2012 "The Secret Life" of the American Teenager. He then bagged the recurring role of Holden in Live and Maddie (2015-2017).
After getting cast as Doody in 2016 hit television film Grease: Live, his popularity took a geometric jump. In the same year, he starred in classic theatre show Hamilton as John Laurens and Philip Hamilton.
Interesting: Jane Douglas Wiki, Age, Ethnicity, Husband
His dynamism can also be predicted from the fact that he is also a singer and he has released his two singles "All About Us" and "Lookin' Like That" in 2016. His musical tour and concerts attract thousands of die-hard fans while his single "All About Us" took the 26th position in US Pop Chart.
Jordan Wins Dancing With The Stars!
Jordan won Dancing With The Star alongside his partner Lindsay Arnold and was announced as the winners of the 25th season on Tuesday on 21 November 2017. Jordan took to his twitter to share a tribute to his dancing partner and mentor.
Jordan also mentioned that his significant other Ellie had been cheering for him from about 2000 miles away. Ellie took to her Instagram to share a picture of Jordan alongside a caption that read "AND YOUR DANCING WITH THE STARS SEASON 25 WINNER IS JORDAN FISHER." 
He Has a Girlfriend! But What About Gay Rumor?
The celebrated theatre and television actor is some sort of lady magnet and has been many in relationships in the past, and that doesn't stop him from having announcing new girlfriend, Ellie Woods on Instagram. His link-ups and past relationship shots down gay rumors
He recently posted a photo with girlfriend Ellie Woods on Valentine's Day and captioned the image "Happy Day." Ellie has stunning eyes which can make any guy feel weak in their knees and people can't blame Jordan falling for this beauty.
Jordan was in a relationship with Coley Lamb in 2016, and the duo had many photos in their social media account. But after they parted ways Jordan deleted all of their photos while Coley still fancies some of them.
The "Grease: Live," who flaunts his tattoos in the neck and left shoulder, posted a picture with Audrey Case enjoying a sunny day at the beach. He captioned the photo:
These kinda days aren't too shabby.
Jordan Fisher Is Engaged!
Yes! You read that correctly. Jordan Fisher is engaged to his girlfriend Ellie Woods and the news about their engagement was shared by Jordan on her Instagram after nine days.
On 20 May 2019, Jordan popped the question to his longtime best friend and love Ellie in their hometown Birmingham, Alabama. After two months of planning, Fisher managed to pull it off and in a serene setting surrounded by water and trees, Fisher got down on his knee and asked Ellie to be his wife. To no one's surprise, Ellie said YES!.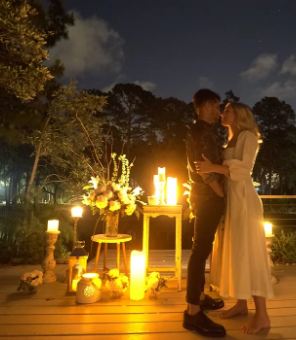 Jordan and Ellie share a moment just after their engagement. (Photo: People.com)
You Might Enjoy: Chase Rice Wiki, Wife, Girlfriend, Net Worth
After keeping things secret for more than a week, Jordan spilled the bean of their engagement sharing the video of his proposal on his Instagram. Afterward, he was immediately flooded with good wishes and congratulatory messages from his followers.
As for the next step of their relationship, Jordan and his now fiance Ellie have stated that they will take atleast a year to decide everything about their wedding. By that time, Ellie will have graduated from the University of Alabama. Congratulations to the newly engaged couple!
Jordan's Short Bio and Family:
As per his wiki, he was born as Jordan William Fisher in Birmingham, Alabama; he took his first breath on 24th April 1994 which makes his 23. He took birth from a teen mother who struggled with substance abuse and was adopted by maternal grandparents Rodney and Pat Fisher.
Back in 2014, reports suggested that he reunited with his parents when he moved to L.A. with his mother and was later joined by his father. Jordan, who revealed that he belongs to mixed ethnicity, has two siblings Cory and Trinity. He boasts a decent height of 5 feet and 8 inches and maintains a lean body shape.