Elizabeth Smart is a woman who has gone through the worst and has come out of it stronger, bolder, and braver than before. Smart is an activist, an author, and an ABC correspondent. She made headlines in 2002 she was abducted from her home when she was just 14 years of age.
For the next nine months, she endured hell as her kidnappers Brian David Mitchell and Wanda Wanda Barzee moved from state to state starving her, abusing her. But after nine months of frantic searching, authorities were able to find Elizabeth, and she returned home bruised, battered and shattered.
But she managed to push through it and as of today, she is an activist who is on a mission to help those who have gone through similar situations as her and help them move on and live a healthy life.
Kidnapped From Her Own Home!
On the 5th of June 2002, a man named Brian David Mitchell kidnapped Elizabeth from her home when she was 14 years old.
The man held a knife to her neck and ordered Smart to quietly follow him out of the house where he then led her through a forest and into a camp where his wife Wanda was waiting for them.
For the next nine months, Brian repeatedly raped Elizabeth daily and forced her to drink alcohol in vast quantities while they moved from one state to the another.
On the other hand, the authorities belonging to Elizabeth were on high alert and had been searching for the kidnappers here and there. Then Smart's sister Mary who shared the room with Smart on that night stated she recognized the man as he had once worked for them in their house. He called himself Immanuel. The authorities traced Immanuel and were led to the name Brian David Mitchell.
After Brian's picture was aired on popular America's Most Wanted, he was recognized by a passerby when he was walking alongside a fully covered Smart. Authorities arrested Brian and his wife on March 12, 2003, and Smart was returned to her family.
Elizabeth's Net Worth
Following the incident, Elizabeth set a goal to become an activist and help the victims who have gone through similar incidents as her. In 2011, she opened the Elizabeth Smart Foundation to provide empowerment, support, resources, and trauma support to the victims and their families.
The same year, she was chosen to work as an ABC News correspondent to report on abduction and child missing cases.
Interesting: CBBC Naomi Wilkinson Husband, Family, Net Worth
Later, in 2013, she released a memoir entitled My Story that shares the horrific moments and incidents that she went through her life. Furthermore, in 2017, she partnered with A&E to release a two-part documentary called Elizabeth Smart: Autobiography, which reveals further untold stories about the incident and the aftermath of her kidnapping.
As for her net worth, Elizabeth is a social activist looking to help those in need and does not care about the income that she could make from it. She aims to help the victims move on and live a normal life.
But many out there are curious as to how much net worth she holds to her name. Reports of ZipRecruiter states that the average salary of a social activist is around $42,922. Pair that with many of Elizabeth's other indulgences, she could have a decent amount of money to her name. Possibly in the range of thousands.
Life After Tragedy; Married With Husband!
Following the horrific incident, Elizabeth has to suffer through constant nightmares that made it difficult for her to have a healthy life. Suffering through a heinous event led her to believe that normal life would not be possible.
But her thinking soon changed when she met Matthew Gilmour. Elizabeth met Gilmour while on a missionary trip to France in 2009. From there on began a romantic relationship and eventually got married on the 18th of February, 2012. Their wedding was a mix of the pair's respective cultures and consisted of close friends and families.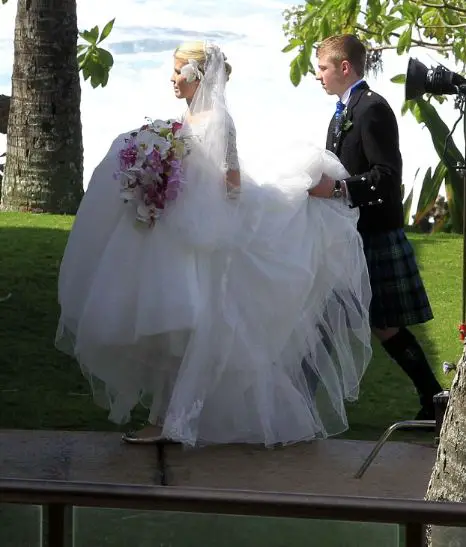 Elizabeth Smart alongside her husband on their wedding day. (Photo: Dailymail.co.uk)
Following the marriage, Elizabeth and her husband Matthew became parents of three children Chloe (born in February 2015), James (born on 2 April 2017), and Olivia (born in November 2018). The family of five are living their best lives as one big happy family.
With the great support of her husband, Elizabeth was able to endure life. Most prominently, the pair has surpassed seven years of their wedding in 2019.
Wiki & Bio About Elizabeth Smart
Standing at the height of 5'6", Elizabeth Smart was born on the 3rd of November 1987 in Salt Lake City, Utah. She is the second of six children to her parents. Her father was a real estate developer where her mother worked as a homemaker. When it comes to siblings, she has four brothers and a sister named Mary Katherine.
You Might Enjoy: Owen Jones Wiki, Gay, Family, Net Worth
For her education, she attended Bryant Intermediate School. She belongs to white ethnicity ans is American in nationality.