Fox 26 is a popular news network. With a long lineage of news broadcasting history, hundreds of anchors have contributed to the firm. Out of these, Jose Grinan is a professional who stands out among others with his professionalism and experience in the field.
He has been serving the KRIV-TV since August of 1993. Asides from his daily job, he also serves his community with volunteering and different service-oriented foundations. The talented man is also active as a motivational speaker. 
Wiki, Age, Family
News anchor Jose Grinan celebrates his birthday on the 24th of July every year. He shared his 2019th birthday on his Instagram. The post showcased his work-desk decorated with birthday accessories by his wife. He thanked his wife for the lovely gift in his comment.
Also, Explore: Gregg Jarrett Net Worth
The anchor was born in 1952 in Tampa, Florida. He was raised by a Cuban father, Jose Louis, and a Cuban-American mother, Sylvia Grinan. He has three older sisters. Jose got his speech and theatre education from the University of South Florida and, thus, speaks fluent Spanish. 
Married, Wife
Jose is married to his wife, Kathryn Grinan. The couple has five children, all daughters, with whom they have four grandchildren. Despite the big family, the members are very close to each other.
Jose, in particular, likes to share his happiness and sorrows via his social media. The proud dad has mentioned his daughters  Lindsey, Skye, Tereni, Amora, and Heather and their achievements in Twitter.
Never Miss: Gerri Willis Net Worth
From sharing his youngest daughter Skye's new music launch to his wife's recovery after hip surgery, the anchor sure knows to show his care for the family.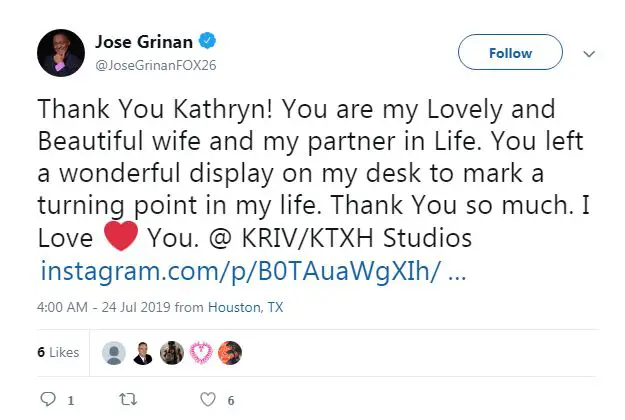 Jose Grinan tweets sweet things about his wife Kathryn (Photo: Jose Grinan's Twitter)
In 2017, his wife Kathryn hit the news when she was awarded the Oscar Romero for her efforts to fight and end sex trafficking. Her contribution lies in rescuing women and helping them for a better life. Maybe it is her rise from being a prisoner and a prostitute to someone who is looked up by thousands, Kathryn feels the agony of other women.
Salary/ Career
Jose's interest in broadcasting started when he filmed and helped the U.S army by producing documentaries. Then in 1975, he finally got hired for KTSM AM-FM-TV in Texas for reporting and anchoring. He worked there for about three years and moved on to Florida's WCKT-TV to work for another four years.
From 1982 to 1983, he contributed to Satellite News Channel before he got hired by WTVJ-TV. He worked there from 1984 to 1990. Similarly, he was a host for Crime Watch Tonight and a researcher for CNN until 1993. In August of 1993, Jose joined FOX's KRIV TV in Texas and is still serving under the organization now.
In FOX, he works as the senior morning news anchor and noon news. He has covered several events, including disasters and protests. He has also produced several series reports and hosted two public affairs programs like The Black Voice and Hola Houston.
Jose has not retired, and there have been no rumors or announcements regarding his retirement plans. He is running on his 26th year of serving under FOX media.
Explore More: A. B. Stoddard Net Worth, Husband, Children, Fox News
Throughout his decade long career, he might have made decent earnings, but his net worth is not available to this date.
(Note: Paysa.com has estimated an average salary of $56,434 of a Fox News reporter.)