Like father, like son; well not really, as Joshua Brown step aside from his father's show Alaskan Bush People to go on his own way. But after a brief sabbatical, he is back in the hunt and all set to entertain the audiences. 
Joshua Brown, who is good at hunting and tracking, rose to the fame as a member of the Brown's Family. He stars alongside father Billy, mom Ami Brown and six siblings on the Discovery reality series Alaskan Bush People.
Joshua Dating Allison Kagan; Filming For Season Eight!
Joshua is dating a former TV producer Allison Kagan. Joshua and Allison have been in a relationship since he announced his affair back in November 2016 through a Facebook post.
The reality star opened about his relationship with Allison on 5 November 2016. In the post, he wrote that he and his girlfriend Allison were friends when they visit New York together that summer. After that, they started dating.
Don't Miss: Buddy Stephens Wiki: Age, Bio, Family, Salary, Net Worth, Last Chance U
After his affair, he decided to leave the show Alaskan Bush People. The 32-year-old Tracker and his sweetheart even opted to purchase "luxury yacht" to call home.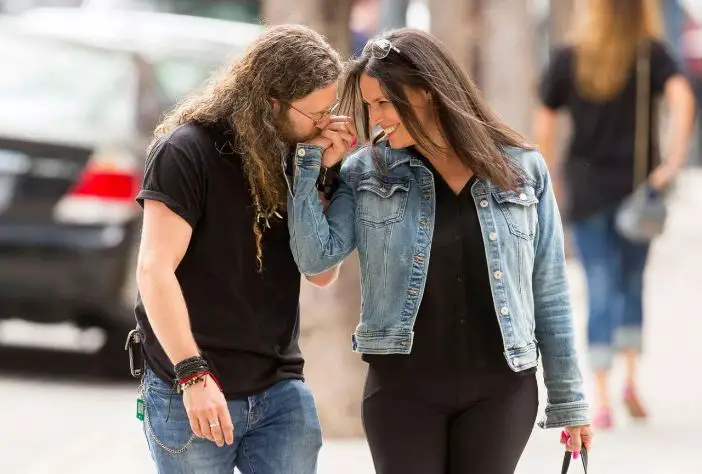 Joshua with his girlfriend TV producer Allison Kagan (Photo:radaronline.com)
However, the couple appeared in the seventh season of the show to meet Joshua's mother; they were surrounded by the rumor that they might appear in the spin-off series of Alaskan Bush People. Joshua, who left the show, is rumored to return for Season eight of the show alongside his girlfriend.
While in November 2017, popculture.com confirmed that the heartthrob couple took a trip to New Orleans while preparing for the eighth season of the show. Joshua and his girlfriend, Allison also visited the Mac-Gryder art gallery in the historic city where they like some rare paintings and drawings of artist Françoise Gilot.
Joshua and Allison are not married yet. However, the couple surpassed their one year of the anniversary on 1 November. Also, On a twitter account dedicated to their boat Fathom This Ferry, Joshua termed their boat as "our little girl" that surpasses a year since they mend it.
How Does Joshua Brown Accumulate The Net Worth?
Joshua Brown accumulates the net worth from his skill at hunting and tracking. He also gathers the revenue as being the reality TV star on Alaskan Bush People. As stated by the InTouch Weekly Magazine, Joshua Brown and his siblings have a salary between the range from $40,000 to $60,000 each. Also, Brown's family has an estimated net worth of $60 million.
Don't Miss: Joey Salads Wiki, Age, Girlfriend, Gay, Height, Net Worth
Alongside his net worth, Joshua's family has a property that spread in 500 acres in Washington state, seven miles from the roads. The reality star learned skills in hunting and tracking at his age of ten.
Recently in July 2018, The Brown family got back to the show Alaskan Bush People. The show's recent 8th season premiered on 19 August in Discovery.
Joshua Brown's Family; Mother Diagnosed With Lung Cancer
Son of Billy and Ami, Joshua Brown was the second child among his six siblings, an older brother Matthew and five younger brothers, Matthew, Joshua, Solomon, Noah, Snowbird, and Rain. He along with his parents are also the cast member of the Discovery's Alaskan Bush People.
In 2017, Joshua's mother, Ami Brown was diagnosed with lungs cancer, so he along with his family had to shift to Southern California for his mother's treatment. Later, on 21 December 2017, his mother recovered from cancer. She announced the good news with People magazine on 17 January 2018.
Joshua's brother, Gabe Brown also suffered from the illness named streptococcal virus diagnosis, commonly as a strep throat, in summer 2018. However, he had a quick recovery.
Related To Discovery's TV Star: Todd Hoffman Gold Rush, Wiki, Age, Wife, Family, Salary and Net Worth
Short Bio
Born in 1984, Joshua Brown celebrates his birthday every year on 18 September. His nickname is "Bam Bam" as per the wiki. Joshua stands at the tall height and has a decent physique.