American entrepreneur and actress Josie Harris suffered nasty violence of her ex-boyfriend, Floyd Mayweather, but did not let her courage to shatter. The mother of three is an author of the book Undisputed L'UV where she wrote about her estranged relationship with Floyd.
Josie is an owner of baby products, 'Nappiesaks' and has set her name in the entertainment industry from Starter Wives, Exit 38 and Starter Wives Confidential.
Mother Of Three Children Endured Domestic Violence; Married Now?
Josie had a dysfunctional, and hostile relationship with her former partner, American professional boxer Floyd Mayweather and defined herself as a battered woman.
The couple met each other when the Exit 38 actress was 17 years old. They soon found love and started dating. Also, Josie and Floyd were blessed with their three kids; Koraun Mayweather (born November 1999), Zion Shamaree Mayweather, and Jirah Mayweather (born 2004). But, the love between the duo started fading, and Josie became a victim of an abusive relationship as time passed on.
Her ex-boyfriend, Floyd, was dragged into controversies due to his September 2010 domestic violence against her. In December 2011, the two-time The Ring magazine's Fighter of the Year's winner was pleaded guilty to his 2010's two counts of reduced battery charges against Josie. Thus, he was imprisoned to 90 days.
As per the case statements, Floyd punched the mother of his child, pulled her hair, and twisted her arms. Meanwhile, their two children watched the nasty arguments of their parents.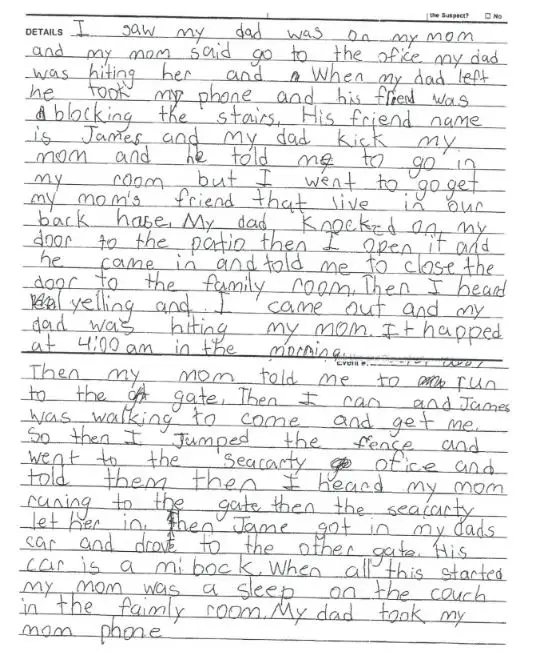 Josie Harris' son, Koraun Mayweather, writes how his father Floyd Mayweather beat his mother (Photo: imgur.com)
Dead Spin Magazine, reported that the former boxer threatened his kids that he would beat them if they call the cops or left the house. Though Floyd denied the assaults, he was arrested and was sentenced for three months in prison. Luckily, he bailed out of jail after serving for two months.
After serving a sentence, her then-boyfriend, Floyd denied the allegations with Yahoo. In his interview with Katie Couric in April 2015, the 5 foot 8 inches boxer said:
Did I kick, stomp and beat someone? No, that didn't happen. I look in your face and say, "No, that didn't happen." Did I restrain a woman that was on drugs? Yes, I did. So if they say that's domestic violence, then, you know what? I'm guilty. I'm guilty of restraining someone."
After her tragic relationship, it looks like Josie has moved on. As per Baller Alert, Josie tied the knot in July 2014 to her mysterious husband whose reported name is 'Nelly.' She even announced her intimate marriage on her Instagram. Josie and her husband Nelly are staying in a low-key marital relationship, away from the eyes of media.
Despite being a married woman, her issue with Floyd has not been sorted out yet. In May 2015, Josie filed a $20 million lawsuit against her ex-boyfriend Floyd in charge of 'intentional infliction of emotional distress and negligent infliction of emotional distress' and 'defamation.' During her interview with Yahoo, the actress claimed that her ex-flame lied about her being high on drugs in a 2010 nasty domestic violence incident.
Don't Miss: Marty Caffrey, Danielle Staub's Husband Wiki: Age, Job, Net Worth, Family
Josie's rough relationship with Floyd had not desisted in the year 2018. They were battling for the physical custody of their son and preparing to face judge decision. In October, she filed documents to force Floyd to return her son from Las Vegas to Los Angeles.
Bio, Net Worth And Wiki
Josie Harris, age 49, summons the net worth of $10 million from her career as an American actress and entrepreneur. She has made the appearance in the film Exit 38 and TLC series Starter Wives Confidential. Apart from that, she is the owner of baby products called Nappiesaks.
You May Like: Jas Prince Wiki: Age, Net Worth, Family, Personal Life
The lady was born in Las Vegas, Nevada on 17 January 1970 with a birth sign of Capricorn. Josie stands shorter than her ex-boyfriend Floyd Mayweather, who has a height of 5 feet 8 inches. As per wiki, her entrepreneur career started after she dealt with the violence of Floyd.