The majority of times, we find the children's of political families maintaining the legacy of their parents by getting involved in politics. Similar can be said about Joy-Anna who, intending to follow her family's footsteps, has begun an internship on Arkansas State Capitol. Joy-Anna is an American television personality who is famous for appearing on the television show, 'Counting On' alongside her husband, Austin Forsyth.
Suffered A Miscarriage 
God has a sad plan for a loving couple, Joy-Anna-Duggar and her husband, Austin Forsyth, as their happiness of becoming parents of two have swift away.
The couple encountered the tragic loss of their second child when they explored that Joy suffered from a miscarriage back in late June 2019. They were on the follow-up session for her 20-week ultrasound and gender of the baby was revealed; but, they faced an emotional demise of their child before her birth. 
Joy and Austin had already chosen the name for their daughter -  Annabell Elise; however, the excitement and the wishes of the couple faded out along with the miscarriage.
Losing a child hurts more than anything to the parents and circumstances are the same for the love duo. Thus, the pair broke out with a request to pray for the continued healing, not only physically but also for their hearts.
Joy-Anna and her husband, who recently lost their second child in July 2019, showcased the baby bump after nearly a month of their announcement of their second child expectation. They confirmed that they were on the ride of welcoming their second child back on 1 May 2019. 
The twosome splashed the happy news through Instagram, where they managed to post the sonogram picture of their second child.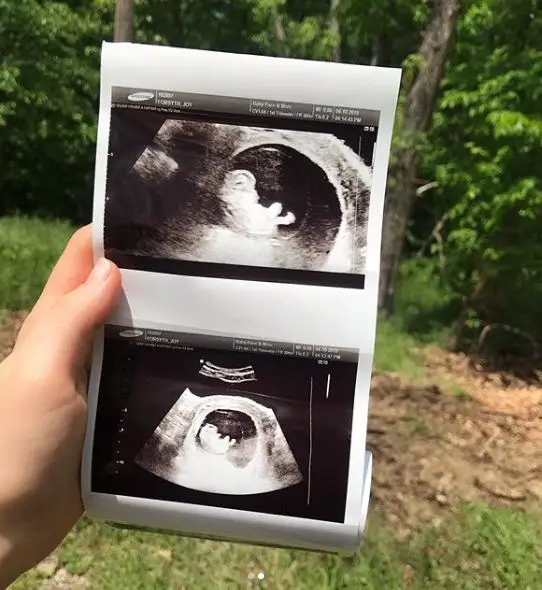 Sonogram of Joy-Anna's second child (Photo: Austin and Joy's Instagram) 
Jim Bob Duggar and Michelle Duggar, Joy-Anna's parents, too displayed their excitements on their granddaughter via the website.
Plans of Pursuing a Career in Politics!!
According to her official blog, Joy-Anna recently started an internship on Arkansas State Capitol in 2017. It seems Joy-Anna is following her family legacy by entering into politics. Her father, Jim Bob Duggar served two terms as a member of the Arkansas House of Representatives following the 1997 election. Also, her other family members have been taking an interest in the political sector over the years. 
Hopefully, the actress will be able to uplift her family's reputation in politics, which depleted after the multiple sex scandals.
Happily Married with Her Long-Time Boyfriend!!
Bold and Versatile, Joy-Anna married her long-time boyfriend Austin Forsyth, an American television personality, on May 26, 2017. The couple, who shared the vow following two-month-long courtship, announced they were getting engaged on the special episode of Counting On: Jinger's Wedding in November 2016. The couple revealed in a video for TLC that they had been friends for nearly fifteen years before embarking the relationship.
The scene from Austin's proposal appeared in the latest 'Counting On' trailer. Joy and his husband's courting process will continue in season 3 of 'Counting On' that airs every Tuesday on TLC. 
Do Not Miss: Drew Hanlen Wiki, Age, Girlfriend, Salary, NBA
Moreover, the couple even took a honeymoon after the wedding and shared photos but never revealed their location. Even Joy-Anna's Instagram and Facebook account are filled with the adorable pictures of her and her boyfriend these days.
Wiki, Bio, Age
Belonging to white ethnicity, Joy-Anna was born on October 28 of 1997, which makes her 22 years of age. She is the daughter of Jim Bob and Michelle Duggar and has beautiful nicknames like 'Jogees' and 'Joy.' She is an aunt of Mackynzie Renee Duggar and Michael James Duggar.
The star has more than eighteen siblings that include Joshua Duggar, Jana Duggar, Jedidiah Duggar, Jeremiah Duggar, Justin Duggar, and Jason Duggar.
Joy has appeared in the hit television shows such as 17 Kids and Counting, Today and 16 Children and Moving In. She has a medium height and healthy physique, which suits her appearance.