Judd Trump is a professional snooker player who won the inaugural International Championship in 2012. Also, Trump is a former world #1 snooker player. During his career, Judd won both English Under-13 and Under-15 Champion before turning professional. He also held the highest breaking record of 147, during the 2013 Antwerp Open, 2015 German Masters, and 2017 China Open tournaments.
What's Judd Trump's Net Worth?
Judd Trump has accumulated his net worth from his career as an English professional snooker player since 2005. He has reportedly earned £400,000 in the 2014-2015 period and gathered £412,650 during the 2016-2017 period. His career winnings stint as a professional snooker player is reported to be around £2,827,254.
He also paid £110,000 and bought a new Ferrari, 196mph red Spider F430 in March 2012, after winning £400,000 in prize money for his successful tournament. The professional snooker player also bought a new house in Chigwell and purchased another £100,000-plus Ferrari, a 458 Italia in 2014.
Judd turned professional in snooker in 2005 after he successfully smashed youth tournaments. He won first place on 3 April 2011 after he beat three-time World Snooker Champion Mark Selby, 10-8, in the China Open Finals. In Judd's career, he has more than 500-century break and has become a prolific break-builder. 
Thus, Judd Trump has accumulated over £5 million throughout his career. 
Don't forget to check out: Grayson Dolan Wiki, Girlfriend, Dating, Gay, Single, Net Worth
Judd's Rumored Girlfriend
Judd Trump is reportedly dating Khadijah Misr. Judd and his reported girlfriend, Khadijah, is believed to have commenced their relationship during the early-2018's. Khadijah was also pictured attending the award ceremony with Judd.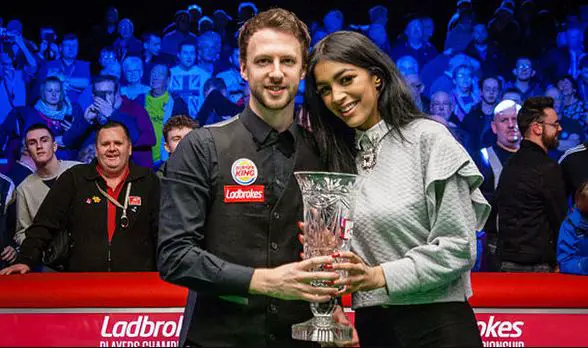 Judd Trump and his reported girlfriend, Khadijah Misr (Source: express.co.uk)
You might be interested in: Alan McManus Wiki: Wife, Family, Net Worth
The duo has hinted about their relationship through Twitter. On 25 December 2015, Khadijah posted a photo of a brand-new bag and captioned it, 'Boyfriend did good.' Judd replied to her tweet with a simple word, 'LOL,' and Khadijah joked about leaving her alone.
Further, on 6 May 2016, Khadijah posted a gorgeous picture of her on Twitter. The 2011 UK Championship winner snooker player replied to her tweet with an emoticon of 'Heart-Eyes.' Khadijah also replied to Judd with a 'Face Throwing a Kiss Emoji' on her Twitter.
However, Judd has not said anything about Khadijah being his girlfriend, and the two do not follow each other on their social media as well.  
Before Judd's reported dating affair with Khadijah, he was in a relationship with a drama student whose identity remains a mystery. However, in 2008, he moved to Romford and broke up with his ex-girlfriend. They were together for a year and could not maintain a long-distance relationship.
Check out: Dan Bilzerian Net Worth 2018 | American Gambler Bio, Girlfriend Revealed
Short Bio
Judd Trump was born on 20 August 1989 in Whitchurch, Bristol, England. His nicknames are Juddernaut, Mr. Haircut 100, and The Ace in the Pack. Judd stands at the height of 1.8 m (5' 11") and posses British nationality. He is a prolific break-builder in snooker and currently stands at rank four, as per wiki.