Kaitlin Bennett is the Director of the Liberty Hangout Movement, who is known for promoting the message of peace and prosperity while supporting the rights of students to carry guns. Professionally, she is an American conservative, Gun-Rights activist, Pro-life advocate, and journalist.
Bennett has been subjected to hatred and resentment from the populace who couldn't agree with her perspectives regarding her movement against the anti-gun policies.
Engaged With Fiance?
Kaitlin was engaged to Justin Moldow in February 2019. It was her boyfriend-turned-fiancé, who shared the happy news of their engagement via Instagram. Flaunting a picture, where Justin bent down on his one knee and proposed her to get married, he expressed his happiness as Kaitlin say 'Yes' to his marriage proposal.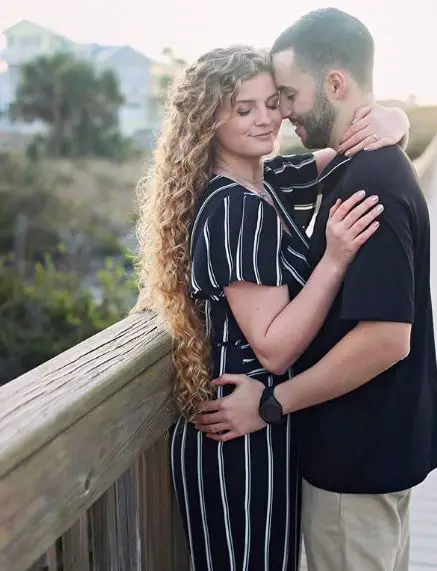 Kaitlin with her fiance Justin(Photo: Justin's Instagram)
However, a handful of haters backlashed at the happy post shared by them with the influx and hateful comments.
A bold lady Kaitlin didn't set back; instead, she called out those people via a Twitter post on 13 February 2019 and shared special post to her hater who couldn't digest their happiness.
Although their love initiation is unknown, the pair has been showcasing their togetherness in their social platforms since November 2017. And, as of now, Kaitlin and her man are eagerly waiting for the day the couple would able to call one another a husband & wife.
Anti-Gun Rights Protest!
The activist has been going headstrong on her protest against the anti-gun policies. She graduated from Kent State University(KSU) in May 2018 with a degree in Biology.
After graduation, she protested her college's anti-gun policies by posing with her AR-10 slung over her shoulders and quote 'Come and Take It' in May 2018. The government killed four of the students at her university, so she decided to raise voice against such unethical and unfair action. The government officials shot the unarmed student in the university property, the same university which they joined weaving dream about their future, the irony.
Kaitlin protested against the biased nature shown by University as the guest was allowed to carry weapons, but students were not allowed to carry guns for their self-protection.
She took her fight against anti-gun policies to the next level challenging David Hogg, a survivor of the Marjory Stoneman Douglas High School shooting and vocal supporter of Gun Control Movement in 2018. She challenged him for arm wrestling if David won, he could keep all of the activist's guns, but if David lost, she would keep the 2nd amendment.
Similar Content: Emma Gonzalez Parents, Hair, Dating
Net Worth
The activist is currently 24 years old, and she has recently started her career in activist work. She is a director of the Liberty Hangout Movement. Later, she formed the libertarian media outlet named Young Jeffersonians in February 2015.
Besides that, she works at a gun store Pro Armament Co. at Cuyahoga Falls and is also a journalist for InfoWars.
As being an activist, Bennett even has earned over 200k follower on her Twitter. Regardless of her career success at youth age, she is yet to disclose her income and net worth.
You May Like: Cameron Kasky Gay, Dating, Net Worth
Wiki-Bio & Family
Bennett celebrates her birthday on 15 October, born in the year 1995. Growing up in Zanesville, a city in Muskingum County, Ohio with a Republicans family; her family always has supported the current president of USA Donald Trump.
Although her family is full of republicans, she considers herself a libertarian-conservative. There aren't many details on her family; however, as apparent in the social media, she is close to her father.
Bennett is the creator of the Liberty Hangout at Kent State. The organization was launched in  February 2015 to promote peace, prosperity, and property rights. Kaitlin, a libertarian-conservative, also favors anti-drug & war, a small government, a small military, and who has a strong belief that taxation is theft.
Discover More: David Hogg Gay, Parents, Net Worth
On her physical attributes, she stands at the height of 1.62m(5ft 4 inch) with slim build body.