Kamal Givens, aka Chance, is an American rapper and TV personality best known for his appearances on the reality shows I Love New York and Real Chance of Love. After his brother's demise due to colon cancer in 2015, Chance took a brief break from TV. But he made a TV comeback with a dating show called Chance @ Romance.
Demise Of Brother
Givens was devastated by the loss of his brother because of cancer. Chance`s brother, Ahmed Givens got diagnosed with stage 4 cancer in 2013. He had been undergoing chemotherapy. However, he lost the battle with cancer and sadly passed away in 2015. Ahmed held a very influential persona and was one of the contestants of Real Chance Of Love who outshined the rest. He was at the peak of his youth when he passed away at the age of 33. Kamal Givens shared his grief via Instagram writing, 
"Bye to my favorite guy in this whole world — be in peace,We love you forever bro. I'll see you one day soon — we shall dance again in God's kingdom forever and ever, bro. Words can't describe my pain — world, pray for me."
Read More: Frances Tiafoe Net Worth, Girlfriend, Parents, College
Wife, Dating, Girlfriend?
When it comes to Kamal's love life, he had trouble finding a love partner. So, the TV personality is yet to get married, so there is no news of him having a wife.
He partook on reality shows like I Love New York, Real Chance of Love, and Real Chance of Love 2 with the hope of finding love. But to his dismay, he could not find the perfect partner he had always been dreaming of.
On the show I Love New York, he almost won the heart of fellow contestant Tiffany Pollard but was not successful in his attempt.
As of now, Kamal might be looking to give one more shot with his new show Chance @ Romance. Maybe, this time? Luck will favor Kamal and help him to get the perfect woman that he desires.
Interestingly, despite his low-key dating life, Kamal is a father to his daughter named Demi.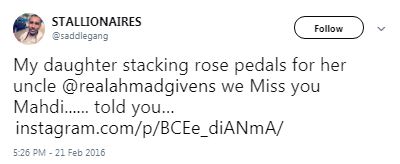 (Photo: Kamal's Twitter)
Kamal can be seen posting pictures of his time with his daughter on his social media accounts. But, as for the baby mama, he has never provided any hints.
Similar: Louise Thompson Wiki, Boyfriend, Engaged, Net Worth
Wiki, Bio & Net Worth
Kamal Givens was born on the 25th of March 1981 in California, USA. He grew up with three brothers, Ahmed, Michah, and Shawn. Many speculated that Ahmed was the twin brother of Kamal, but it was reported not to be true. Unfortunately, in 2015, Ahmed passed away as a result of his battle with colon cancer.
As for his height, a glimpse of his photos shows that Kamal has an average size. In addition, heInterestinglyan nationality and possesses African-American ethnicity.
Interesting: Rebecca Robertson Wiki, Age, Net Worth, Wedding
The rapper & TV star has amassed an impressive net worth of $300,000 from his career as an artist and reality TV star.