Karina Seabrook is widely known as the daughter of Mob Wives star, Karen Gravano, and the granddaughter of infamous Sammy "The Bull" Gravano. She is also a reality star, who has starred in Mob Wives (2011) and Made In Staten Island since 2017. 
Along with her fame as a reality star, Karina is also a social media star with more than 106k followers on her Instagram.
Is She Dating Now?
The Made in Staten Island star, Karina Seabrook's, is dating her co-star, Paulie Fusco, who was the first cast member of MTV's controversial show Made in Staten Island. There is no information on when and how they initiated their relationship, but they first appeared in 2017 on the show, Made in Staten Island together. In the show, the pair were known for their violent relationship. At one point, Karina and Paulie had nearly broken up when she wanted to go to college.
Seeing their contradicting relationship, many of the co-stars, including Karina's mother, Karen, believed that the relationship between Karina and Pauie was harmful to both.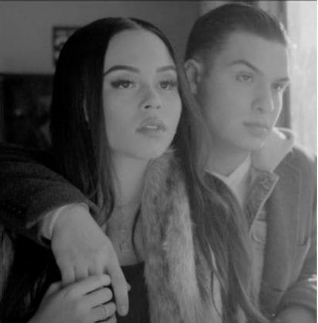 Karina Seabrooks with her boyfriend, Paulie Fusco (Photo: meaww.com)
Regardless of their toxic relationship, they didn't break up. Instead, Karina's boyfriend defended her in an interview with Meaww back in January 2019. As per Paulie, they had several fluctuations throughout their relationship, but never lost sight of each other. Also, he added that they were not shy to show the real meat of their relationship.
Wiki, Family, And Parents
Karina Seabrooks was born on 7 July 1999 in the United States. She was grown up in the family of the artist, where her mother, Karen Gravano, was a reality star known for the VH1 series Mob Wives. Karina had also appeared alongside her mother in the VH1 series back in 2011. 
Her parents got engaged in 1996 after they met at the New York club China Club. However, they never got married as he was sentenced to long imprisonment for selling over 20,000 ecstasy pills before any matrimonial steps. 
Nevertheless, they separated when Karina was ten years old.
You Also Need To See This: TikTok Star Signa Mae Wiki, Age, Boyfriend, Brother, How Tall Is She?
Father & Grandfather
Karina is a granddaughter of Salvatore 'Sammy the Bull' Gravano, a former underboss of the Gambino crime family and Debra Scibetta. Likewise, her father, David Seabrook, also worked alongside Karina's grandfather and owned a percentage of pool company with him.
Sammy and Karina's father were pool company partners and involved in the illegal business. Unfortunately, they were imprisoned for their illegal business served eighteen years in prison. 
Now, David is the CEO of Emmploy that connects black, Hispanic, and minority talent with work opportunities.