Kate Mckinnon is an Emmy award-winning actress, comedian and a voice-over actress, whose work on the show Saturday Night Live helped to gain notoriety. She joined SNL in 2013 and has since been the longest-serving female gay/lesbian cast on the show.
Along with that, she has also appeared in a number of television shows and movies and her role in the 2016 movie Ghostbusters were well received by the viewers and critics alike. With her jaw-dropping performances, the New York native has been nominated for several awards including Primetime Emmy Award for her work on SNL.
Openly A Gay/Lesbian; Family Supports!
It is no secret that Kate is a lesbian and it is something that she is proud of. In a time when the LGBTQ community have been often stepped on, Kate has shown that a person's sexuality does not define what they are and what they can achieve in life.
Kate is the first gay woman to be hired by SNL and stands as an example to all those who are fearful of opening up and coming out as gay.
You Might Enjoy: Vince Sant Wiki, Age, Gay, Net Worth, Facts
Having born to parents Laura Campbell and Michael Thomas Berthold, she grew up along with her little sister Emily Lynne. Her father was an architect whereas her mother has had several cameos on Saturday Night Live.
When Kate knew for the first time about her sexuality as homosexual, she did have fear. But things went buttery smooth when Kate revealed it with her family. Her family accepted her coming out as gay with no hesitations.
At first, she affirmed with her mother about her sexuality. Luckily, her mother never had a negative word and since the revelation, she has been unbelievably supportive. Three years later, the 35-years-old TV personality revealed it to her little sister and at the very end revealed it to her father, who at the time was diagnosed with brain cancer, died on 23 January 2002.
Having a supportive family, Kate thinks that her sexuality accommodated her a successful career.
Kate McKinnon Dating; Partner And Girlfriend!
Throughout the years, everyone has always been wondering as to who this stunning actress is dating. Although many remain curious about her personal life, Kate has always kept most of her personal details to herself and very fewer information is available. But there have been times when she has shared the news herself.
Kate was linked to actress Marla Mindelle in 2016 and in 2017 as the two were the power couple in the showbiz. But their relationship always held a certain hint of uncertainty. It was never fully confirmed as to if they were actually in a relationship or not. Neither Kate nor Marla ever spoke publicly about their rumored relationship. And over time, things started to become clearer and clearer.
Find More: Sharon Carpenter Husband, Parents, Net Worth
As in the 2017 Emmy award show, it was revealed that Kate was in a relationship with her partner, American actress Jackie Abbott. During the award show, she sat next to Abbott and once Kate was announced as the winner of Emmy, she embraced Abbott as she took to the stage.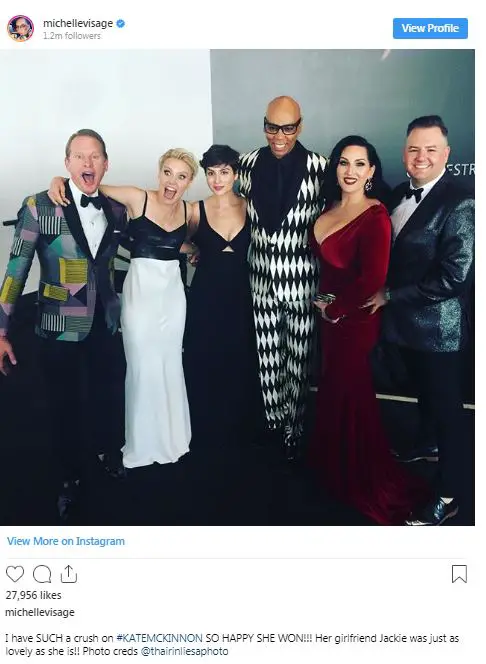 Michelle Visage shares the news about Kate and Jackie's relationship (Photo: Instagram)
However, years have passed, Kate has rarely appeared with her lady-love. They probably might be in a secretive relationship and flourishing their romantic life ahead.
Read More: Miguel Bose Wiki, Married, Gay, Net Worth
Short Bio(Age)
Standing at the height of 5' 3½" (1.61 m), Kate McKinnon was born on the 6th of January 1984 in New York and is currently 35 years old. Her real name is Kathryn McKinnon Berthold.
She earned a high school degree from North Shore High School in 2002 and later graduated from Columbia University with a bachelor's degree in Theatre Arts.