The lady who never fails to grab the attention, Keyshia Ka'oir is frequently seen on the headlines for her relationship with Gucci Mane, luxurious wedding, surgery, her secret kids and many other happening details of her life.
Apart from Gucci's wife, Keyshia has managed to create her own identity as an entrepreneur, a cosmetic product line names Ka'oir.
Keyshia's Ultra-Lavish Wedding
Keyshia's sumptuous wedding was the talk of the town that ruled the internet for a long time. She and Gucci Mane shared their twisted forever and after vows on 17 October 2017. In the pledge, Gucci promised in front of everyone "to render every other woman irrelevant."
The big event is estimated to have cost around $1.7 million which took place at The Four Seasons in Miami. The bride flaunted Youself Alijasmi bridal dress like a goddess; the dress was hand embroidered with hundreds of crystals to match the flower shaped crystal bouquet, her diamond piece and $500000 worth 25-carat diamond ring.
Read More: Sue Aikens Wiki, Age, Birthday, Husband, Children, Salary and Net Worth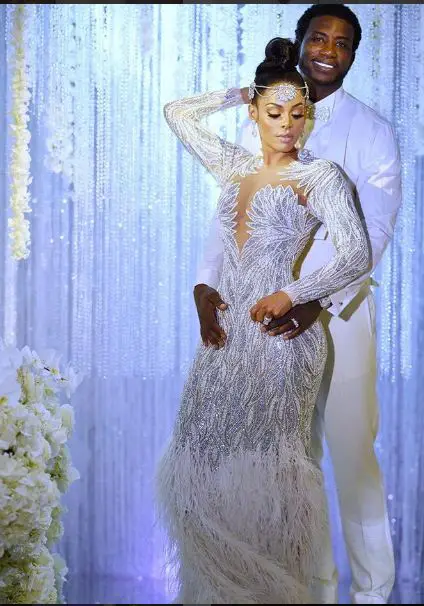 Keyshia posted a picture with her better half of their wedding night shared on 18 October 2017 (Photo: Instagram)
If these things were not enough to make the wedding much exciting, the 10 feet multilayered monstrous cake that needed a sword to get into it would add up to the excitement to the ultra lavish ceremony. The $75000 worth cake with dazzling crystals hanging around each step resembling chandeliers, perfectly matching to the theme of "diamond and crystals" was one of the highlights of the night.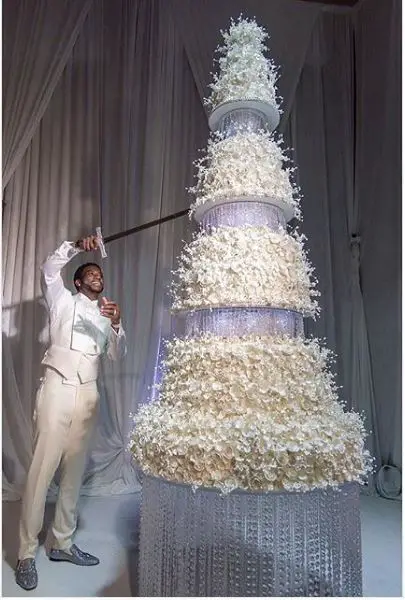 The 10-feet wedding cake was the highlight of their $1.7 million wedding on 19 October 2017 (Photo: Instagram)
Talking about their life before their nuptial, Gucci fell for her at first sight when he was in prison, and he saw her on XXL's "Eye Candy Of The Year." He asked his manager to track the model for him, but Ka'oir was hesitant at first to go out with a rapper. She eventually agreed, and now we can see them as one of the happening couples.
Do Not Miss: Carmen Electra Wiki: Net Worth, Family, Divorce
The love between the two got stronger when Ka'oir remained loyal to the rapper even when he was behind bars. She took great care of him when he was released from the prison. She spent time with his, cooked him healthy food, which melted Gucci's heart.
Keyshia's Secret Kids
As soon as Keyshia, 33, got married, there was news on the internet that she left her three kids in Jamaica to pursue her modeling career. But she vehemently denied the rumor and claimed that she does not have any kids in Jamaica.
It is said that Keyshia and the rapper had kids in Atlanta and attended their parent's wedding. Later Keyshia confirmed it and said that she wants to keep it private and does not want any media attention on them. She said
"It's a situation where I am proud to be a mother but, at the same time, I need it to be private, I don't want them in the limelight. I don't want them to be on social media. I need them to go to school and to just be children."
How Much Is Keyshia's Net Worth?
At this age, the Jamaican model and entrepreneur have summoned the net worth of $10 million. Her earning from her acting career has also contributed a handful sum to the net worth. Her husband has the net worth of $12 million.
Keyshia is an entrepreneur who owns a beauty line named Ka'oir. The business, which got popular in no time, was started by the production of vibrant lip colors and came to limelight after many famous models began using it.
Before entering the business world, she was a well-known video vixen who got attention from "Say something," a music video by Timbaland. She also worked as a celebrity stylist and worked with many musicians, actors, and athletes.
Know More About Keyshia: Keyshia Ka'Oir Wiki, Boyfriend, Dating, Kids, Fitness, Height, Net Worth
Short Bio
The entrepreneur was born on 10th January 1985 in Jamaica, as per wiki. Belonging to African (Jamaican) ethnicity, she stands at a decent height of 1.68 m (5 feet and 6 inches).
She had a toned body, but her desire of having an even smaller waist got better of her. She underwent surgery and removed two ribs giving her a far curvaceous figure than her before surgery looks.