No matter how bitter past and huge personal differences you have, the love for your child is second to none. Following the instincts of parenthood, King Cairo Stevenson's parents reunited for the sake of raising their only son.
The star kid, King Cairo Stevenson is reckoned as the son of Micheal Ray Stevenson a.k.a. Tyga and Angela Renée White a.k.a. Blac Chyna.
Father-Mother Separated, Reunites In His Birthday Week
Despite their past differences, Tyga and Blac reunited for their son's birthday and was pictured at the Six Flags Magic Mountain in Los Angeles in October 2017, two days before King's birthday. They were then pictured at Catch New York and Marquee New York nightclub for DJ, Sujit Kundu's birthday party on 19 August 2018.
Also Read: Shalana Hunter Wiki, Age, Net Worth | Blac Chyna's Mother Facts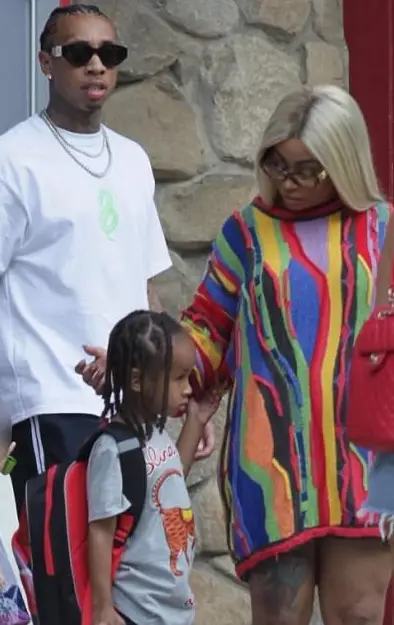 King Cairo Stevenson with father, Tyga, and mother, Blac Chyna in LA on 14 October 2017 (Photo: Dailymail.co.uk)
King Cairo Stevenson's parents Tyga and Blac made their relationship public on 9 November 2011 after meeting for the first time at The F.A.M.E Tour After Party in October 2011. King was born to his parents on 16 October 2012, which is the same day Tyga bought a Calabbas mansion worth $6.5 million.
Don't Forget: Garrett Watts Wiki: Age, Dating, Partner, Gay, Brother, Net Worth & More
Tyga and Blac, who both have a tattoo of their son's name, confirmed their engagement in December 2012. However, they decided to end their three years relationship in 2014. His father dated Kylie Jenner, who always showered love to King. His mother was engaged to Rob Kardashian.
His father, Tyga reportedly demanded custody of King in 2016 after his mother was arrested for drug abuse.
How Much Is King Cairo Stevenson's Net Worth?
King, age 5, relishes the net worth summoned by his parents, Tyga and Blac. His father, Tyga has garnered the net worth of $3 million from his professional musical stint since 2004. Tyga used the King's good credit to rent a home from Simon Cowell's ex-fiancée, Mezhgan Hussainy. However, Mezghan filed for a lawsuit when she accused Tyga of refusing to pay rent of $40,000-a-month since January 2018.
King also enjoys the net worth of $4 million cemented by his mother from her modeling career and business ventures. She added the most prominent part of her increasing wealth from her makeup brand, an apparel store and beauty salon located in the Encino neighborhood of Los Angeles. Blac was reportedly paid $5 million for her reality show, Rob & Chyna, which also featured her then-fiance, Rob.
Know On: Nichole Beattie Wiki: Married Life, Net Worth, Family
Short Bio
Born in the year 2012, King Cairo Stevenson celebrates his birthday on 16 October. His birth sign is Libra as per wiki. King stands a decent height and is growing taller with his age.
King's father revealed that he does not let his son listen to his music after his kid got in trouble for speaking foul languages at his school.  He also admitted that upbringing his son in the best possible way is his primary goal.