No matter what, Reality TV series surely gives the audiences their daily dose of entertainment. And when it comes to family drama, Shalana Jones-Hunter buckets the list.
The Carribean native Shalana Jones-Hunter, who is known as Tokyo Toni, is famous for being the mother of the reality star, Blac Chyna. Apart from her identity as Blac's mother, she owns a talent management firm named On My Grind Entertainment and Promotions LLC.
Tense Family Dinner With Ex, Mother-Daughter Feud
Shalana had a brief dating affair with Eric Holland. Shalana gave birth to Angela Renée White, who is famously known as Blac Chyna, on 11 May 1988 with Eric when she was just 17 years old. 
The then-couple separated soon after Blac Chyna probably due to infidelity issue, which was revealed in an episode of Rob & Chyna in 2016. It all uncovered when Blac and her then-fiancé Rob Kardashian hosted a dinner party with Eric, Shalana and Eric's children from another relationship.
Shalana then came to know that Brittany and Camille, who are Eric's daughter, are of same age as Blac. Britney even claimed that they are like triplets. Visibly stressed Eric then confronted Shalana and said that that was old life after his infidelity surfaced among Shalana.
Do Not Miss: Queen Naija Wiki: Age, Nationality, Ethnicity, Siblings, Boyfriend, Dating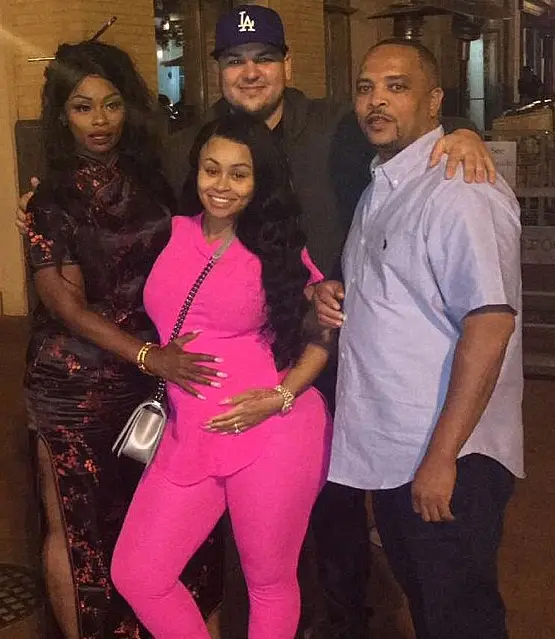 Left to Right- Shalana, Blac Chyna, Rob Kardashian and Eric Holland in June 2016 (Photo: Dailymail.co.uk)
Likewise, Shalana recently had a heated feud with her daughter, Blac. She wanted to see her granddaughter Dream Renée Kardashian (Rob Kardashian's daughter) and grandson King Cairo Stevenson (Tyga's son), but Chyna seemed less interested for her mother's desire. Blac is now in a relationship with YBN Almighty Jay
Talking about the controversy, her ex, Eric had a criminal record in the past after he got accused of choking his girlfriend in August 2003. He then got arrested for the domestic assault and from the cops of Charles County in Maryland.
Admits Threating Husband, Ends Four Years Of Matrimony
Years after her affair with Eric, Shalana got married to Marcellus Hunter in October 2012, and almost a year of marriage, her husband filed the restraining order against her in July 2013. According to their legal documents of Maryland's Prince George County, Shalana was a threat to her husband.
Read On: Katty Kay Salary, Net Worth, Plastic Surgery, Family
Marcellus also claimed that Shalana is very violent when angry and often ignites to start a physical altercation. He also accused that she threatened to crack his head and leave his body in a landfill. The court also ordered protection of Marcellus from his wife until August 2014.
However, Shalana filed for a divorce on 27 December 2016, and the final court settlement between the exes was given by the Prince George County court on 20 March 2017.
How Much Is Shalana Hunter's Net Worth?
The 48-year-old celebrity mother summons her net worth as the Chief Executive Officer of a talent company named On My Grind Entertainment and Promotions LLC since 2014.
Apart from her earnings, she also relishes a net worth of $4 million garnered by her daughter as a reality TV star. She had even bought a new house for her mom as a surprise gift on 12 December 2016.
Also More About: Simon Huck Wiki, Married, Boyfriend, Gay, Dating, Net Worth
Short Bio
Shalana Hunter celebrates her birthday on 12 October. She is 48 years of age, born in the year 1969 in Santo Domingo, the Dominican Republic as per wiki. Shalana stands a few inches shorter to the height of her daughter, Blac Chyna, who is 1.57 m (5' 1") tall. She belongs to African ethnicity with Carribean ancestry.
She attended Prince George's Community and Howard University to pursue her studies.
Facts About Shalana Hunter
Here are some intriguing facts, you can't miss about Shalana Hunter,
Shalana served at the United States Amry in 1991.
 
Tokyo Toni is one of the biggest admirers of Rob Kardashian even after her daughter's split.
 
Shalana, who believes "Trust in yourself but believe in many," has almost 25 K followers on her Instagram, where she encourages her followers to donate to charity.