It is not easy to get over a relationship which you are so inclined to. It takes courage to fight back the memories that haunt you every single day. The brunette actress, Kristen Doute came out bold and finally got over her six-year boyfriend, Tom Sandoval in 2014. The couple broke up when Doute found out that he was cheating her with five different girls in five years.
Career And Progression
Kristen Doute is an American actress best known for the role she played in the American reality show, "Vanderpump Rules." Apart from that, Kristen's acting credits include her role in the movies like The Loneliness of the Long Distance, Behind Your Eyes, and Blood on Canvas.
Kristen has played numerous roles and has signed in for many movies, but the popularity she gained from "Vanderpump Rules" is worth commenting.
Dating History
"Vanderpump Rules" stars Kristen Doute and Tom Sandoval were in a long-term relationship of six years when Tom finally broke up with her.
According to Bravo TV, Kristen has finally spilled her up and downs with Sandoval. In the article, she accepts that she let herself believe that Tom was her ride or die. Kristen further revealed that after some time in the relationship with him, Kristen nowhere near felt like his girlfriend but his mother, nanny, and an assistant. She was actually "The Man" in the relationship who fed him and paid all his bills.
Well, it is getting back to why the couple broke up. Doute always had the insecurities about Tom and a girl named Ariana (Tom's present girlfriend). And it finally came to be true when she found evidence that proved the duo was secretly dating.
Kristen, in the article, further explains that Tom had cheated her with five girls in past five and a half years while she cheated him with some guy named Jax, a few years back. Here both of them are charged with guilty, and it was meaningless for them to stay in a relationship which should have been over a long back.
During the time of the breakup, James Kennedy, who is Tom's and Kristen's friend emotionally supported Doute. The support and closeness brought them together and eventually started dating. However, the couple split after sometime when Tom gave an Ultimatum to James to either break up with Kristen or remain friend with him. 
Also Read: Autumn Miller Wiki, Dating, Height, Parents
Is Kristen Doute Engaged to Boyfriend, Brian Carter?
The Vanderpump Rules star, Kristen dated Brian Carter in summer 2017. The couple met through a dating app, "Bumble" and clicked instantly. The couple has been dating since and as well as adopted a Yorkie together.
In 2017, Kristen posted a picture with Brian on Instagram, which left the audience suspect if she is engaged. She held up her left hand where the diamond ring was seen on her ring finger. However, some of her fans thought it to be a prank as it was posted on April 1.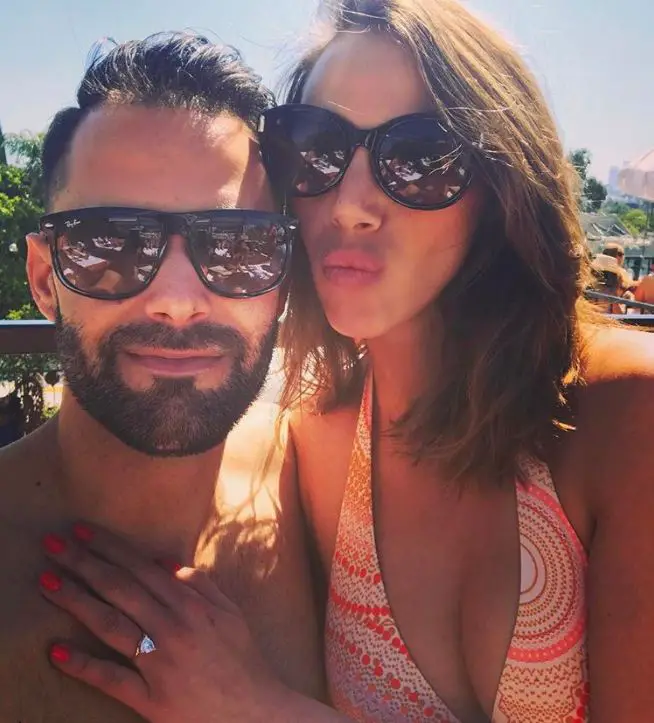 Kristen Doute flaunting her diamond ring with Brian Carter on 2nd April 2017 (Source: Instagram)
The actress later posed for a picture without the ring which confirmed they were not getting married. Also, Kristen has not addressed Brian as her husband yet.
Is Brunette Beauty pregnant?
Rumors had it that "The Vanderpump Rules" star was pregnant when she posted a picture on her social media that looked like a baby bump.
Later, she clarified the rumors when she told her that it wasn't a baby bump but the result of enjoying Mexican food at its best.

Breakup With Brian?
The Vanderpump Rules star, Kristen Doute and her boyfriend, Brian Carter are no longer together. The pair have parted their ways off the different directions in September 2019. Appearing on Watch What Happens Live with Andy Cohen on February 2019, Kristen had mentioned that they were trying to 'figure it all out.' However, after a half-year, things turned out contradictorily. 
After the tragic end, Kristen announced that relationships are messy, and it's not fair to anyone to hide from the truth for the sake of criticism. She also added that she does not want a black and white answer of where she and Carter stand. However, the former couple still leads their relationship as friends with utmost love and support. 
Previously, during the reunion show of Vanderpump Rules on May 2019, Kristen had revealed that she was single with no traces of love interests. However, the story of their split came after three months of the reunion show. 
What is Kristen's Net Worth?
Kristen Doute has won the hearts of millions with her acting skills. Her role in "Vanderpump Rules" is quite commendable and this helped her grow in her career and achieve a net worth of $250 thousand.
Never Miss: Tim Ferriss Net Worth, Girlfriend, Family, Height
Kristen's Short Bio
The "Behind Your Eyes" actress Kristen Doute was born on February 19, 1983. According to the wiki sources, she entered Hollywood to become a successful actress. Even though her relationship affairs are as an open book, her family life is somewhat still a mystery. But, she has a brother whose name goes by Logan.
She stands at the height of 5ft 9inches.