Brave as one can be throughout the toughest of times, Krysta Rodriguez is quite the extraordinaire.
She is an actor, a singer but more importantly, she's a fighter.
A cancer survivor, Krysta, did not let it stop her from getting up from her bed daily with the hope of conquering it like every other day.
And so she did. As of now, she is cancer-free and living her best life as she possibly can.
The California native as an actress has gained quite the fan following through her roles in different TV shows and movies.
Read More: Rashi Vats Wiki, Age, Husband, Family
Most notable of those happen to be her roles in Gossip Girl and Smash. And there's more to her that needs to be understood. Keep reading and find out more about Krysta Rodriguez below.
Krysta Rodriguez Dating Or Married?
To clear out confusing things beforehand, Krysta Rodriguez is not married and never has been.
However, she is in a relationship and has been for quite some time now.
She is in a relationship with her boyfriend, Peter Westervelt, who is a director of photography in the film industry.
They bumped heads back in 2016 while Krysta was playing in the film, My Bakery in Brooklyn.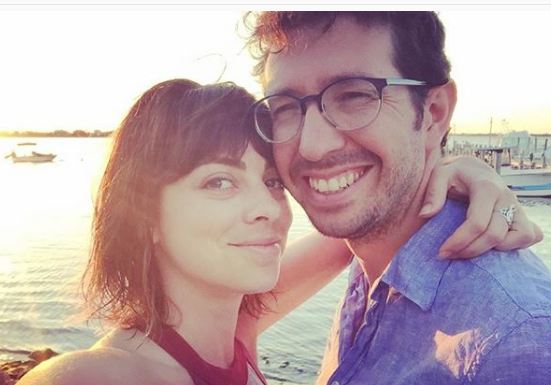 Krysta Rodriguez and her boyfriend, Peter Westervelt, on 14 February 2019 (Photo: Krysta Rodriguez's Instagram)
Ever since then, their relationship has just gotten stronger and stronger with every passing day.
When Peter found out about Krysta's illness and her need to go back to her hometown for medical assistance, he moved in with her parents and even shaved his head.
From then onwards, it was an upward climb to happiness. They have yet to tie the knot and settle down, but it seems they are in no rush.
Her Net Worth
As a Broadway performer, Krysta has managed to gain quite the fan following throughout the years.
She first gained traction through her role in the Broadway musical, The Addams Family. After that, her transition to the big screens was as smooth as a hot knife to butter. 
She went on to star in hits such as Smash, Gossip Girls, Chasing Life, My Bakery in Brooklyn, and, most recently, Daybreak.
Her ability to transcend deep into a character and bring it to life is what has gotten her a huge fan base.
Krysta has received quite the acclaim for her performances from both the audiences and the critics alike.
And with that, she's managed to accumulate a net worth of $1 million to her name.
Now that is quite the achievement considering the fact she's had to deal with a major health issue while at the peak of her career. 
Short Bio
Krysta Rodriguez was born on the 23rd of July 1984 in California, the USA, to parents Kathy and Perry Rodriguez.
An American by nationality, Krysta is of a white ethnic background. She stands at the height of 5 feet 4 inches (1.64 meters).
In a tragic turn on events, back in 2014, Krysta was diagnosed with stage 2B ductal carcinoma: in-situ and invasive and breast cancer.
For two years, she underwent chemotherapy and finally managed to win the battle against her illness.
As of now, she is living her life cancer-free.