Lex Ishimoto is an Asian-American dancer and a choreographer best known for being the winner of season 14 of So You Think You Can Dance. The young dancer has been making headlines left, right, and center with his sassy and classy dance moves ever since.
Besides dancing career, Lex is also an actor and has acting credits in Sia: The Greatest,  Touch, and The Ultimate Amazing Most Bestest Best Dancer of All Time Competition. A man with talents of dancing and singing, Lex Ishimoto, is a name worth remembering.
Dating Girlfriend or Single?
Lex Ishimoto's love story is quite an interesting one. He's been in a relationship for a few years as of 2019. And the woman who captured his heart is nonother than So You Think You Can Dance season 14 competitor Taylor Sieve.
They met each other at a Dance Awards in Las Vegas. From their onwards, they began a bond that blossomed with every passing day. Eventually, the pair started dating somewhere around 2016.
Read More: Ron Teigen Sr. (Chrissy Teigen's Dad) Wiki, Wife, Divorce, Facts
Ever since they have been relishing the love life together. Lex and his sweetheart's romantic affairs are very much vivid on their respective Instagram accounts. From vacations around the world to just chilling in their backyard, Lex and Taylor are always there for one another.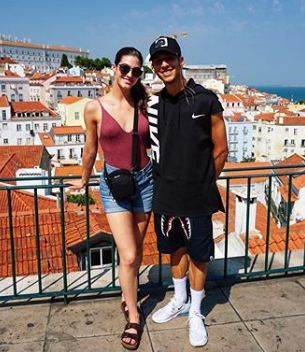 Lex, alongside his girlfriend, Taylor. (Photo: Lex's Instagram | 24th July 2019)
Most recently, the heartthrob pair flew in Copenhagen, Denmark, in September 2019 to enjoy their romantic adventures. From the look of it, Lex is enjoying her life to the fullest with the lady of his dreams.
Career
Lex Ishimoto is an award-winning professional dancer and a choreographer. So, as a dancer, Lex has managed to make quite a decent career for himself.
Lex gained fame after he won season 14 of the hit dance show So You Think You Can Dance. Later, he also won the Teen Male Dancer of the Year at the 2014 Dance Awards. During his career journey, Lex has also toured with some top dance crews such as NUVO, 24 Seven, Jump, and The Pulse.
On the other hand, Lex is equally talent in acting. He was even nominated for Outstanding Lead Actor at the Helen Hayes Awards for his role in Billy Elliot the Musical.
Wiki & Bio
Lex Ishimoto was born on 10 March 1998 in Irving, California. He grew up alongside a sister, Annie Ishimoto, in a mixed ethnic family, so he possesses the Asian-American ethnicity. He has confirmed on many of the interviews that his family comes first for him. His sister Annie was the one who inspired Lex to start dancing.
Interesting: Arcade Warrior Wiki, Girlfriend, Family, Net Worth
On the physical appearance, Lex's height seems to be average—he stands a few inches taller than his girlfriend.