Internet sensation and entertainer Lil TerRio at the tender age of six came to spotlight after his Vine clip 'Oooh Kill 'Em' dance moves went viral.  His well-wishers have lauded his dance moves, and it has grown wider among the celebrities like John Wall, Tavon Austin, and Kidd Willie.
Lil, who is now at the age of 11, is a reckoning name with more than 790 thousand followers on Instagram.
Lil TerRio's Bio, Weight, And Wiki
Lil TerRio was born as Terrio Harshaw in 2007 in Riverdale, Georgia. He celebrates his birthday on the 29th of July. The social media star currently resides in Miami, Florida. His reported height is 4 feet 10 inches (1.47 m) and has a birth sign of Leo.
Despite his massive weight, Lil made a name for himself on social media platforms. In early-2014, he promised to drop his weight after getting 250 thousand retweets. However, he didn't lose his weight, and during late 2017, reports showed that he weighed around 300 pounds. 
Many were not rooting for the child sensation who gathered fame at a young age. As per wiki, there was a petition asking Lil to get out of the clutches of social media fame and get him into the school. The chunky kid was a first grader while he was at the age of seven.
Lil's Family Details
Lil grew up with his single mother, who was a hairdresser in Riverdale. In his family, he has a sister named Mikayla who was born in 2004 and an older brother. In his mother's exclusive interview with Fusion in April 2014, she said that though Lil was on a street diet, it's hard since he wanted to eat chips and stuff.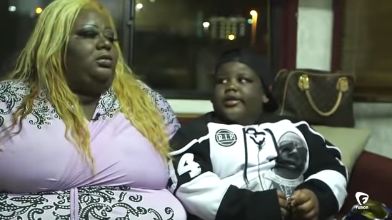 Lil TerRio with his mother in April 2014 (Photo: YouTube.com)
The Vine sensation, who coined the phrase 'Oooh, kill'em,' is managed by his manager Donney who approached his mother for approval. The once-struggling Harshaw family now resides in a five-bedroom house; all thanks to Lil's hard work and internet prestige.
Discover More: Bessy Gatto Wiki: Age, Wedding, Daughter, Family- All About Joe Gatto's Wife
His sister Mikayla in her April 2014 interview with Dailymail said that most of the people use to make fun of her little brother's weight, but now, they don't run across him and their family.
How Much Is Lil TerRio Net Worth?
Lil, age 11, is an Instagram star and Vine sensation who relishes the net worth of $650 thousand. His YouTube video Oooh Killem featuring Polo, KayLuv, and Kidd Willie has gathered more than 1.9 million views. Other than that, he has dropped several singles like 'Drippin,' 'Kill 'Em,' and 'Haters.'
Don't Miss: Renée Felice Smith Married, Husband, Boyfriend, Single, Net Worth
The social media star showcases his extravagant lifestyle on his official Instagram. He often shows himself carrying massive chunks of money.