The bombshell of the reality show, 'Shahs of Sunset,' Lilly Ghalachi is one of the most-loved cast members of the show that aired on March 11, 2012. The reality star announced that she was pregnant with her first baby in March 2018 and she is bracing herself for motherhood. She proudly flaunts her baby bump and claims that her pregnancy is beautiful for her.
Lilly Ghalichi And Dara Mir's Wedding; Marries After One Year Of Dating
Lilly tied the knot with her then-fiancé, Dara, in one of the most lavish and romantic wedding ceremonies in Beverly Hills back on 6 May 2017.
Just before making a big decision to get married, Lilly started dating the entrepreneur of her life from March 2016 and got engaged in August, only five months after dating. They have been a real couple of goals and are one of the most elegant pairs of the entertainment business.
Before her relationship with Dara, she got engaged to a guy named Dhar Mann in April 2014. She even gushed about her engagement ring to her fans. But due to the incompatibility and the issues of personal space, they could not prioritize their relationship and called off their engagement on 17 December 2014.
Announced Pregnancy; Gave Birth To Daughter
The former reality star was pregnant with her first child, and the news of her pregnancy created quite a buzz all over tabloids. The Shahs of Sunset star announced that she was pregnant through an Instagram post on 26 March 2018.
You Can Also Read: Lauri Peterson Wiki, Age, Husband, Divorce, Kids, Net Worth, RHOC
She shared a picture with entrepreneur husband Dara Mir and captioned that pregnancy has shown her the real strength of women.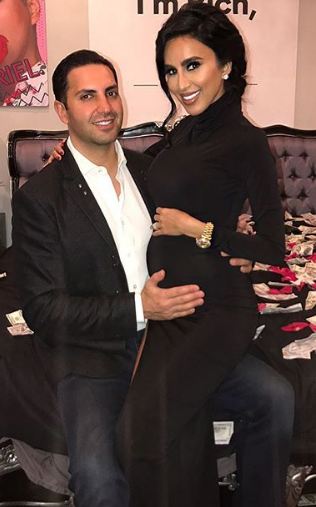 Lilly flaunting her baby bump with her husband, Dara Mir, in the photo posted on 26 March 2018 (Photo: Instagram)
Both the couple held the baby bump in the snap shared on her social media, and it seems that Lilly was more than happy to open a new chapter in her life that is motherhood.
She often gets trolled for flaunting her baby bump, but she clarified by penning a nice pregnancy post on 11 June 2018. She said, 
Pregnancy is very hard no doubt, but is the most beautiful thing I have ever experienced. I'm posting MY pregnancy, maybe yours wasn't cute to you, mine is beautiful to me.
Then on 23 June 2018, she labeled her baby bump as carrying a basketball under her dress. She also revealed that she had gained 25 pounds during her pregnancy. In July 2018, she even had an underwater Underwater Maternity Shoot, which reflects that she is enjoying every moment.
Read About: Tracey Emin Wiki, Married, Single, Net Worth, Now
The reality star also shared her excitement to be the new parents on her Instagram account on 4 July 2018. Her husband was seen kissing the baby bump of his wife in the picture that Lilly shared.
She also flaunted her seven months of the baby bump on her Instagram post on 9 August 2018. Lilly described the position that the baby girl wouldn't stop growing and also wrote a message to herself, not to get panic.
Lilly and her husband seem to be finding it hard to name their baby girl as Lily asked her followers about the suggestions. In an Instagram post of 12 August 2018, Lilly showed her baby bump, and in the caption, she wrote, 'What should we name her?'
Both Lilly and her husband are very much prepared to welcome their darling daughter. Most recently, on 13 August 2018, Lily shared Insta pictures and videos of baby store shopping. The Shahs Of Sunset's star shared her delight to shop in the baby store that stored car seats, strollers, high chairs, clothing, bottles. She even appreciated the store helpers who were young mothers that helped her shopping. At last, Lilly funnily admitted to buying the whole store.
And in October of 2018, Lilly gave birth to daughter Alara Mir expanding their family into three. Her excitement could be seen throughout her social media account, as she posted countless pictures of her newborn daughter.
Relationship- Divorce?
After two years of marriage and happily ever after, the time came for Lilly to say goodbye in their relationship. It was reported that Lilly's husband, Dara Mir, filed for divorce. Mir cited irreconcilable differences as a reason and filed for divorce in Los Angeles County Superior Court on Monday, August 26, 2019. As per the statement, he has requested joint custody of their child. 
Reports about a possible divorce started circulating back in February when things seemed to out of order. But both Lilli and Dara shot it down, saying those were nothing but just baseless gossips.
Dismissing Divorce To Fix Marriage?
In unfortunate circumstances, Lilly's estranged husband Dara filed for divorce back in August 2019, but it looks like they are now becoming closer.
Just after their two months of the split, Shahs of Sunset star got spotted kissing Dara during their daughter Alara's first birthday party in October of 2019. In the photos obtained by TMZ, she wrapped around the arms of her estranged husband, and the duo cuddled up, showing their PDA moment. While they went all out for Alara's birthday party, they smiled and sat next to each other.
Both Lilly and her daughter Alara donned the same princess pink dress and enjoyed the birthday bash. Also, she and Dara held their baby in their arm and kissed her in the cheek. The makeup artist for Kylie Jenner, Ariel Tejada, had her makeup done.
Later in November 2019, Dara reportedly filed documents to dismiss their divorce filing in Los Angeles. While the divorce paper had irreconcilable differences cited in it and a share of the joint custody of their daughter, it looks like that now, their love for Alara has played a vital role in patching their broken marriage.
How Much Is Her Net Worth?
The Fashion Designer, Lilly, has accumulated a net worth of $ 2.5 million from her line of enterprise that has generated an excellent source of revenue to enhance her business venture. She has been super navvy in investing the money that she has made from her professional career. 
Right after gaining immense popularity from the reality program, Lilly was able to lead the fame to her business startups. The Persian beauty has many successful startups with her line of fashion and cosmetics ventures that include 'Lilly Lashes' and 'Lilly Hair' under her Ghalichi Glam Portfolio.
Do Not Miss: Golnesa Gharachedaghi Wiki, Age, Birthday, Husband, Divorce, Boyfriend
Family Life; Supportive Parents
She was born to parents Sadegh and Forough Ghalichi. Her father and mother have been ever so supportive of Lilly's career. In her family, she has two siblings.
Lily spent most of her childhood days in Houston, where she grew together with her younger sister and brother.
Short Bio
The 36-year-old reality star was born on 30 April 1983 in Houston, Texas, as per wiki. The lady, who belongs to Caucasian ethnicity, stands at the height of 1.7 m (5' 6").
Talking about the educational qualification, Lilly went to Loyola Law School and later received a Bachelor's Degree and JD (Law Degree) in Business attending The University of Texas at Austin.