YouTube has provided a global platform for those who tend to shy away from demonstrating their skills in front of crowds.
A person from a corner of a room can snatch the hearts of millions around the globe.
The same is the case for YouTuber Logan Thirtyacre, who started his journey with random Super Mario videos and touched the popularity heights.
He embarked on his online path on 6th December 2007 and has never looked back since.
With his main channel SuperMarioLogan accumulating 8 million subscribers, Logan has extended his branches with three other channels.
Wiki: Age, Family
Youtube star Logan Thirtyacre celebrates his birthday on the 17th of November every year.
Born in 1994, the internet sensation stands at an average American height of 6 feet more or less.
Read More: Judy Travis Net Worth
The Florida native grew up with his parents and siblings. His father, Kelly, was a truck driver by calling.
Due to this job, his father was always on the road and couldn't spend more time with his family.
Sadly, Logan's parents got divorced when he was only three years of age.
After the marriage crumbled, Logan's mother got remarried to a man named Brian. It was his step-father who introduced the future YouTuber to Mario.
Although his parents parted ways, Logan has a good relationship with his brother, Lance, and younger sister Haleigh. 
His brother Lance helps him on his Youtube videos by providing voice support for different characters.
Lance previously owned a channel called "19Lance93," which was renamed "Lancy Thirtyacre" later on. 
Logan Thirtyacre Married To Wife?
Logan started dating his girlfriend, Chilly Jimenez, during his sophomore year of high school.
They previously co-owned a Youtube channel called "LoganandChilly." There are no details about how they got to meet each other, but they are still together to this day.
In fact, Logan proposed to his girlfriend in the best way possible. It seems the guy poured his heart out in a Jason Derulo concert with thousands as witnesses.
Now that's something every girl wishes for, isn't it?
You May Like This: Vitaly Zdorovetskiy Net Worth
Logan and Chilly are happily engaged and complement each other very well. They even celebrated their eight years of togetherness on the 31st of August, 2018.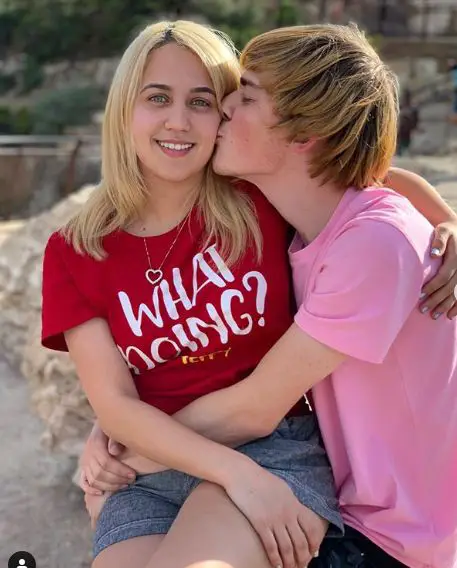 Logan Thirtyacre with his fiancee, Chilly Jiminez, on 4 June 2019 (Photo: Chilly Jiminez's Instagram)
As of 2019, the two are ready to tie their holy knot and are planning for their big day.
Chilly even asked her fans to help her out with picking the wedding date in her July tweet. She also flashed her diamond ring on her Instagram post dated 11th June 2019.
His Net Worth
In 2007, Logan started his first Youtube channel at the age of 12 and named it "supermariologan1994."
For unknown reasons, he deleted the channel and started a new one with a slight variation of the previous name on the 8th of December, 2007.
The channel, "SuperMarioLogan," later became famous as his main channel. His first video was entitled "Super Mario Got Milk," which got him a tremendous fanbase start.
In March of 2008, Logan started his second channel called "SuperLuigiLogan."
The channel initially covered SLL Movies, SLL shorts, gameplay videos, and animated works but later morphed into a part of his main channel.
Also, Explore: Adam Montoya Net Worth, Married, Wife, Girlfriend
He soon created his third and fourth channel, "SuperBowserLogan" and "SuperPeachLogan" in 2008.
Over the years, Logan has improved his content quality and video editing skills.
He has also deleted some old videos because they were not top-notch material. Expanding his horizons, Logan even directed a Super Mario TV series that released in 2015.
All these achievements provide him a decent amount of financial support. Moreover, socialblade estimated the channel's estimated yearly income to be $338.7K - $5.4 million.