Hard upbringing fueled his hunger to be the best at what he does. Louie Anderson was one of 11 children and endured a tough time with his alcoholic and abusive father.
Louie Anderson is an American stand-up comedian. He is known as one of the best comedians of all time. He is renown for his famous book, Hey Mom, and also for his animated show called Life With Louie.
Emerges Into Controversy After Gay Sex Allegation From Richard Gordon
Louie was appearing on the family-friendly shows, Life With Louie and Family Feud, in the late 90s when a blackmailer named Richard Gordon entered his life. The blackmailer threatened to reveal to the world about the time the comedian had allegedly propositioned him for sex.
Louie paid the man $100,000 instead of going to the authorities. But the man came back for more money and hiked his demand to $250,000 to which Louie arranged to meet Richard in a Los Angeles restaurant to hand over the check, authorities say. Undercover FBI agents then confronted Richard and arrested him on 11 April 2000 after the federal chased him on high-speed through West Los Angeles. They also found some arms and ammunition out of his vehicle.
While the matters were taken in the court, Richard insisted that he was previously approached by Louie back in the year 1993 at a Southern California casino. He also further revealed that Louie had intentionally requested him to go home with him and strip down naked so that he could touch him, which he declined.
Read Also: Billy Eichner Wiki, Boyfriend or Partner, Gay, Net Worth, Relationship
Briefly Makes Highschool Sweetheart His Wife
Louie Anderson married his high school sweetheart in 1985. But the pair remained as husband and wife for only four weeks. He expressed marriage as a mistake in an article with People in 1987.
After the divorce, he rarely involved himself in dating as he focused on his career and losing weight. Maybe that is why his empire of success is so tall that it could cast shadows over many other successful people. 
Family Life: Father Torments Him
The roots of one of the best comedians of all time is ironically a tragic one. His father, Louis William Anderson, was the primary catalyst of the toxicity through which he grew up in his childhood. His father was an alcoholic filled with rage, who tormented Louie.
Louie remembers many childhood memories when his father showed cruelty towards him and his brother. At one point in time, his dad was drunk-driving a car carrying him and his younger brother, Tommy- the car went off the road into a high snowdrift, bouncing off trees the whole way. Similarly, Louie once wanted a $5 toy but was told by his father that he couldn't afford it. He was saddened when he discovered that his father spent $5 on a case of beers at the very day.
These tragic memories, however, seemed feeble to young Louie and his brother in front of how his father used to beat his mother. Their family was in severe crisis.
Father Roots Make Him Forgive His Sin
Louie found about his father's roots sometime after his death. He came to know that when his father was around ten years old, he and his sister were taken out of their home and placed for adoption. He sat down with PEOPLE on 21 March 2018, as he revealed,
"They were split up and never saw each other for 50 years. Because 'put up for adoption' meant that you were put up in front of a church congregation and families picked you and took you. Imagine being with your sister and having her go one place and you go another."
After finding out his father's hard upbringing, he gained a new perspective on his childhood. The comedian was able to find peace after the death of his father. He found a way to forgive him and move on, admitting how his father's family life had been immensely harder than his.
What is Louie Anderson's Net Worth?
Louie Anderson relishes life with the net worth of $10 Million. He earned his net worth from a long and successful career as a comedian. His animated series Life With Louie (1994-1998) generated him a considerable amount of money. He profited a lucrative deal worth millions as the host of the third revival of the top-rated game show, Family Feud (1999-2002). He also accumulated wealth from many movies such as Ferris Bueller's Day Off (1986); Coming to America(1988), The Wrong Guys (1988) and Splash (2013).
Louie made his stand-up television debut on The Tonight Show on November 20, 1981. He later starred on ABC TV sitcom Perfect Strangers. He also made and starred in the short-lived CBS television series, The Louie Show.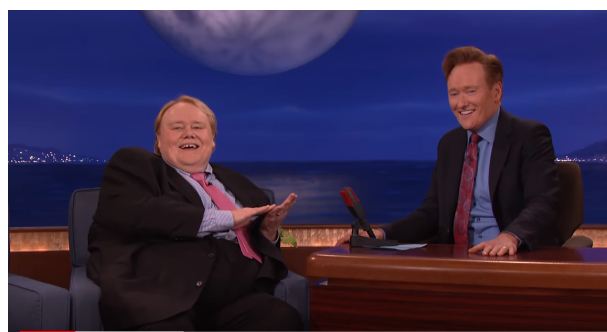 Louie makes an appearance on Conan with host Conan O'Brien on 10 August 2017 (Photo: YouTube.com)
The animated series, Life with Louie, also won him two Daytime Emmy Awards for Outstanding Performer in the Animated Program category.
Whats more, he has many best-selling books like Dear Dad: Letters from an adult child in 1989; The F-word: How to survive your family in 2002 and his later publish Hey Mom; and A Special Surprise for Mrs of 2018.
He appears regularly in Las Vegas at the Louie Anderson Theater and stars in his comedy specials that air on HBO, and Showtime. He, along with his business partner, Kyle Cease, run a stand-up comedy boot camp called Bootcamp.bb
Know More About Comedian: James Perry Wiki: Studio C, Age, Wife, Girlfriend, Parents, Height, Family
Short Bio
Louie Anderson was born on 24 March 1953. The comedian stands at the height of 1.7m (5' 7") tall.
He was born to Ora Zella Anderson and Louis William Anderson. All of his family members have passed away.