Many females in developing Asian countries are distant apart from their right to education. The reasons are political instability, terrorist movements, lack of female rights and more. In Pakistan, Malala Yousafzai rose to prominence and spoke her heart out in favor of female education.
Malala Yousafzai is a Pakistani women's rights activist known for her advocacy for female education in Pakistan. She stepped up at the age of 11 and courageously wrote how Taliban were messing with Pakistan, and preventing the young girls from going to school. Her blog gathered attention, and soon, she became an emerging activist.
Facts About Malala Yousafzai
Here are some facts about the Pakistani women's rights activist, Malala Yousafzai.
The women's rights activist was at the age of 15 when she got shot into the head and neck. Malala boarded a bus on 9 October 2012 to advocate a Pakistani's girl education. However, she got attacked by terrorists led by the Taliban, who tried to stop her ambitions. She was not expected to survive with the injuries she sustained, but fortunately, the tables turned, and she emerged as one of the strongest and potential woman. Because of her assassination attempt, Pakistan declared the creation of the very first Right to Education Bill.
 
During her 16th birthday on 12 June 2013, the women rights activist gave a speech at the United Nations. To Malala's honorary, former UN Secretary-General Ban Ki-moon announced 12th June as the Malala Day. Her activism to ensure education for all children won the heart of Ban Ki-moon, and he described her as a woman who is a brave and gentle advocate of peace.
 
As a Pakistani women's rights activist, she won various awards including Sakharov Prize For Freedom Of Thought and Simone De Beauvoir Prize. Malala also received Nobel Peace Prize at the age of 17 and became a youngest ever person to won Nobel Price. She has won over 40 awards and nominations throughout her career.
 
The Mingora native earned honors for her bravery and activism. Malala also received an honorary doctorate from the University of King's College in 2014 and also a Grammy Award in 2015 for her work in the audiobook "I Am Malala: How One Girl Stood Up for Education and Changed the World." To her honor, in 2015, an asteroid was named Malala.
 
The youngest ever Nobel Peace Prize laureate, she was appointed as the youngest ever UN Messenger of Peace in April 2017 at the age of 19. During the ceremony, she said that it is her second life and it is for the purpose of education.
Don't Miss: Who is Maria Butina? Exclusive Facts You Need to Know
Visited Pakistan With Family Under Tight Security; Cannot Have Boyfriend
Malala was born to her parents Ziauddin Yousafzai and Toor Pekai Yousafzai. In her family, she has two siblings Khushal Yousafzai and Atal Yousafzai. The Pakistani activist visited her hometown in March 2018 for the first time after the Taliban attack in 2012. She arrived in Mingora with her family under the massive security and became emotional to watch her native land.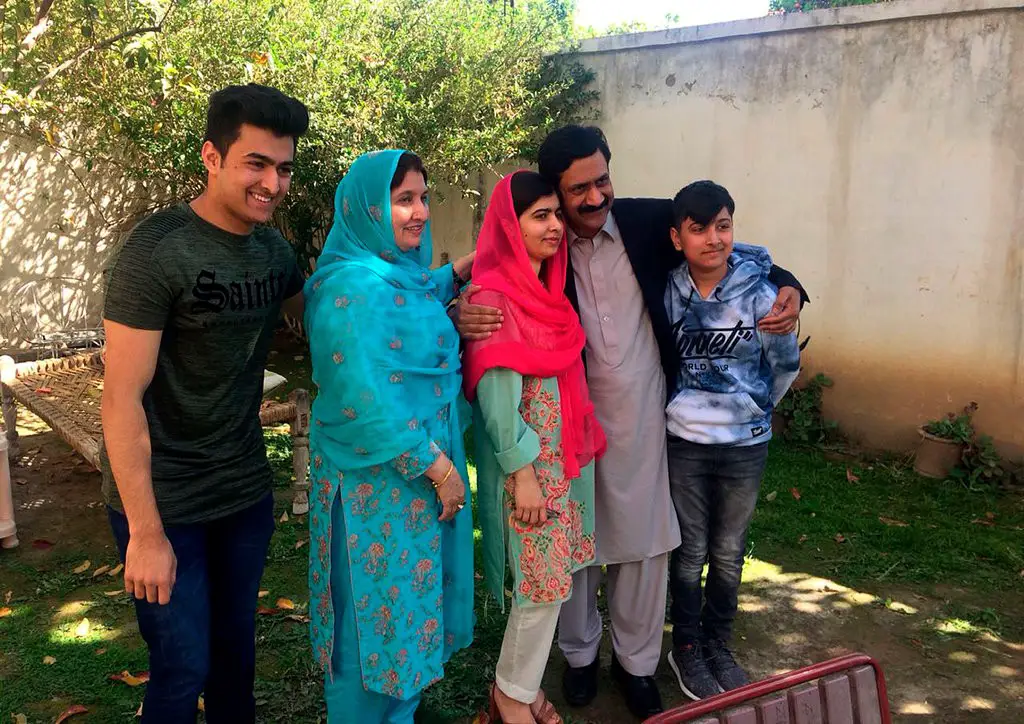 Malala Yousafzai (center) with her family arrived in their hometown in Mingora, Pakistan on March 2018 (Photo: nytimes.com)
During her 2013 interview with the Norwegian chat show host Fredrik Skavlan, she said that she has no boyfriend. Malala added that she follows the decision of her Pashtun father and she cannot use a mobile phone and go to the market without wearing a shawl. The Pakistani activist then assured that she does not and cannot have a boyfriend in any circumstances.
How Much Is Malala Yousafzai Net Worth?
Malala Yousafzai, 21, has a reported net worth of $3 million as a women's rights activist. Her 2013 memoir called I Am Malala sold over 250 thousand copies in Britain with a worth about $3 million and sold over 1.8 million copies worldwide. As per the U.S.-based Institute for Policy Studies, she charges $152,000 per speech. However, Desmond Tutu's reported it to be $85,000.
The Nobel Prize winner reportedly paid £200,000 in taxes and had donated around £750,000 for various education-related causes. During August 2015, Malala's life story dedicated company Salarzai Ltd allegedly had £2.2 million in its bank account and had a pre-tax profit of £1.1 million. After Malala won the Nobel Prize in 2014, she donated $50,000 to build the school in Gaza.
Read Also: Chris Christie Wife, Family, Net Worth
Short Bio
The Nobel Prize laureate was born on 12 July 1997 in Mingora, Pakistan. She stands at the height of 1.61 m (5' 3'') and possesses dual nationality as Pakistani and Canadian. 
Malala graduated from Edgbaston High School in 2017. The activist is currently pursuing her bachelor's degree in Philosophy, Politics, and Economics at Lady Margaret Hall at the University of Oxford, as per wiki.