Marlo Hampton is a fashion guru and a television personality who rose to prominence from her appearance in the Real Housewives of Atlanta. Professionally, she is also a private stylist and has recently ventured into the world of business.
Marlo's life behind the camera is quite an interesting one. With arrests, controversies and her lavish lifestyle, Marlo is no stranger to being in the spotlight. If you're curious to find out about her, then keep on reading!
Married To Husband?
When it comes to Marlo's love life, it's quite the spectacular story. Marlo has never revealed the name of anyone she dated, but just a glimpse at her lavish lifestyle gives a hint that she probably might have a sugar daddy in her life.
She gushed about the truth behind her luxurious lifestyle with The Daily Dish. She told that her former anonymous billionaire boyfriend gifted her a lavish home. And Marlo is not shy in showing off her riches to the world.
Similar: Nermina Pieters-Mekic Wiki, Age, Husband, Net Worth
There were the rumors that Marlo's anonymous boyfriend could be billionaire Ted Turner. But as for Marlo, she has never confirmed who exactly is her man. It seems she wants to keep him all to herself.
In the past days, Marlo was in a relationship with football player Charles Grant. But their relationship could not last very long, and the pair parted ways but remained close friends.
As of now, Marlo has not given any hints about her relationship with a possible partner whom she would call her future husband. she is currently not married.
Controversies!
Marlo Hampton is no stranger to having run-ins with the law. Till date, Marlo has seven arrest records to her name which is quite frankly, just straight-up irresponsible. Her first arrest came on the 26th of May 1996 when she was arrested for "Disturbed Battery/Great Bodily Harm." She was later discharged the same day on $5,000 bond. 
And again on 28 September 1999, Hampton served time for her bothering battery crime conviction. Records online show that she served up to four months in prison and was later discharged on 28 January 2000. The arrest did little to change Marlo as she was arrested four times for parole infringement.
But that was just another short moment in her life as yet again she was arrested on 19 June 2000 and served 111 days in prison. As for why she was arrested remains uncertain till date.
Interesting: Deena Nicole Cortese Wiki, Net Worth, Husband
On Valentine of 2001, Marlo got arrested for another time in charge of violating her parole for which she served six days in jail. And that did not stop her from commiting more crimes. 
Marlo was arrested on the 9th of September 2002 for "Obtaining Property or Services in Return for Worthless Checks, Drafts, or Debit Card Orders.
Three months after her arrest issues, on 4 December 2002, Hampton was once again charged with "possession of a firearm," The "Aggravated Battery/Great Bodily Harm."
Despite having a handful of criminal records, she is not embarrassed by her activities.
Net Worth
Marlo is a fantastic designer with the model-like figure who owns a boutique and is also a YouTube star. With her multi-dimensional career, Marlo might have garnered a fruitful amount of wealth.
Apart from that, most recently, Marlo launched her own wig line called HER.
With all that, she's managed to make quite the fortune. As of 2019, she has an estimated net worth of $600 thousand.
Wiki- Height & Weight
Marlo Hampton was born on 7 February 1976 in Florida.
Hampton seems to stand at an average height, but her weight has been a thing of interest. Marlo managed to lose a significant amount of weight within a year. A photo of her before and after weight loss shows a significant change in her body.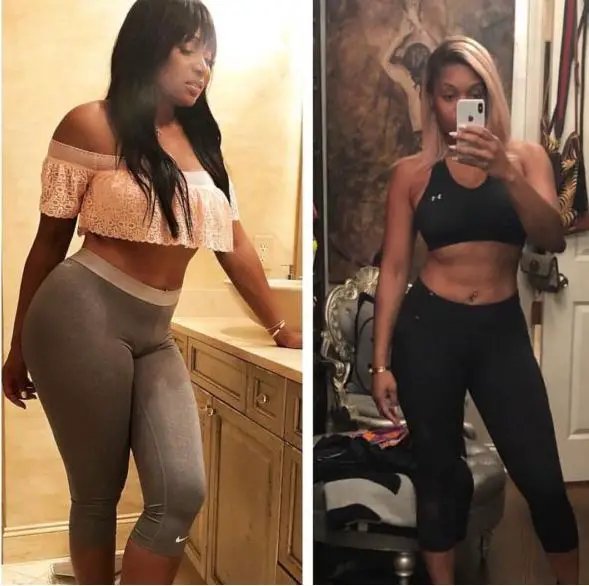 Marlo before and after her weight loss. (Photo: atlantablackstar.com)
Her weight loss has managed to inspire young women everywhere.
Parents & Siblings
Marlo Hampton grew up in St. Petersburg, Florida with her parents and her siblings before heading up to Atlanta, Georgia. But she spent most of her youth time in foster care as a result of her mother's drug and alcohol addiction.
As for her siblings, her little brother Curtis died after suffering a traumatic brain injury. The loss of her brother left Marlo is a dark space, and in memoriam, she posted a tribute towards her late siblings.
As for her education, Marlo, age 43, graduated with a degree in social work and interdisciplinary science at the University of Southern Florida. Later, she got her BA degree from the College of Arts and Sciences.