American actor Matt Bennett is recognized for his character of Robbie Shapiro on Nickelodeon's Victorious in 2011. The actor first appeared on television as Greg the Intern in 2009 in the episode of Michael & Michael Have Issues.
Matt was also nominated at UK Kids' Choice Awards in 2011 in the category of Nick UK's Funniest Person for Victorious.
Is Matt Bennett and Elizabeth Gilles Dating?
Victorious co-stars, Matt and Elizabeth, also share an adorable budding friendship from the time Nickelodeon cast them together. Elizabeth, also known by her nickname Liz Gilles social sites, often post Matt's pictures. The rumors of their dating started when Elizabeth began posting photos of Matt on her Instagram account regularly.
Read On: Matte Babel Wiki: Wife, Family, Height, Net Worth, Rumor With Shay Mitchell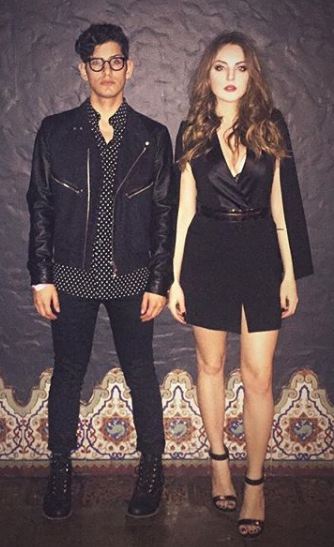 Matt Bennett with his former co-star Elizabeth Gilles on 14 November 2017 (Photo: Instagram)
The actor visited Elizabeth on her new TV show in 2014. During his visit, the actor said that he talks with Liz for almost all time. Elizabeth, on the other hand, posted a selfie with Matt with the caption, "My boy & I." Seems pretty flirtatious right? Elizabeth also wished her alleged boyfriend, Matt, on his birthday on 14 November 2017.
The rumored pair is also seen in the multiple social media post shared by them on their respective social sites in 2018. Elizabeth retweeted about Matt's photo shoot with photographer Sela Shiloni on 8 June 2018 and said, "Oooo look at my boy! He's all glowed up!" on the same day.
The rumored pair was also seen dressed in the 80's attire in an Instagram image shared by Elizabeth on 18 June 2018. In the picture, Matt played the guitar and both of them were singing. Elizabeth also wrote in the caption, Alright honey, now sing me the chorus one more ti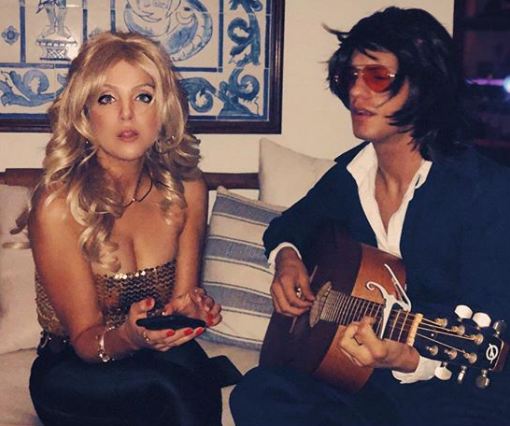 Matt Bennett and Elizabeth Gillies on 18 June 2018 (Photo: Instagram)
Matt wished Elizabeth on her 25th birthday and shared a photo on 26 July 2018. He posted the picture of the actress showing her middle finger while attending the premiere of her 2015 American comedy film, Vacation and called her unprofessional in a sarcastic manner.
Do Not Miss: Aidan Gallagher Wiki: Age, Height, Parents, Dating, TV Shows, Net Worth
As of now, Matt has never officially confirmed Elizabeth as his girlfriend. However, their real-life chemistry does hint more than "Just Friends" relationship.
Friendship With Gay People
Matt featured in a video of We Are Straight But Not Narrow (WeAreSBNN) on 16 April 2011, where he said that he is straight but not narrow.
Matt also added he has a lot of friends that belong to the gay community, and he does not see anything wrong with them. The actor thinks that the person who possesses different sexuality is just like regular people.
The Victorious star claims that every person should get a fair chance and equal chance, irrespective to his/her sexuality. Matt preaches that people should respect each other's identity and must not disrespect other, which is not a cool thing for him.
Bond With R&B Singer, Ariana Grande
Matt Bennett shares a great rapport with R&B singer Ariana Grande. The musician adores the actor and has even praised his musical album Terminal Case that released on 10 June 2016. Ariana congratulated her dear friend Matt through a tweet, the day of the album release and thought that the songs are on fire.
Matt has also featured in Ariana Grande's 2015's song One Last Time. The two buddies have also starred in 2011's Nickelodeon TV series debut soundtrack Victorious. American singer Elizabeth Gilles was also the part of the musical album. Matt celebrated his 2014's Thanksgiving with his Victorious co-stars Ariana and Elizabeth.
What's Matt Bennett's Net Worth?
The actor has summoned the net worth of $1 million primarily from his acting career. Matt adds his increasing revenues since the year 2009 as he became active in television programs and filmographies.
Matt elevated his fortunes from American thriller The Stanford Prison Experiment of 2015, Paul Feig's 2011's directorial comedy Bridesmaid and funny flick The Virginity Hit in 2010.
Also Read: Casey Simpson Wiki: Parents, Siblings, Family, Net Worth, 2017, Career
Short Bio
The 26-year-old TV actor was born on 13 November 1991 in Massapequa, New York as per wiki. Matt stands at the height of 1.78 m (5' 10") and belongs to a white ethnicity. 
The artist's parents are a divorced couple. Matt shares a great sibling bond with his sister named Ally Bennett.