One of the most influential yet beautiful women in Houston, Melissa Wilson is an inspiration to all young people. She is an Emmy award-winning anchor who has been gaining success in her career with her hard work and adherence.
Melissa is working as a co-anchor for FOX 26 Morning News from 7 to 10 every weekday and is also a medical reporter for FOX 26. Despite all the ups and downs in Melissa's life, she has managed to excel in what she is doing.
How Much Is Melissa's Net Worth?
Melissa summons her net worth as an anchor and a medical reporter. According to sources, the average salary of a FOX 26 news reporter is $65K per year, and that of the medical reporter is $42,711 annually. Looking at her excellent work and the number of awards she has bagged, she has amassed more than an average salary.
Find More: Charlamagne Tha God's Wife Jessica Gadsden Wiki: Age, Wedding, Kids, Job, Net Worth
The medical reporter kicked off her career as the evening anchor at KAUZ-TV in Wichita Falls and later moved to anchor at Florida's News Channel. She is currently working from 7 to 10 am for FOX 26. Before FOX26, she used to co-anchor for the same channel at 9 pm, but as being mother was more important, she switched to the mom-friendly schedule.
There is no doubt that Melissa has achieved a great height of success: she has been honored with many awards in her career. She was listed in the "Top 50 Most Influential Women In Houston" by Houston Woman Magazine. She was also nominated as "Personality of the Year" by American Women in Radia and Television. She has been awarded the prestigious "Gracie Award" and Lone Star Emmy Awards. The biggest compliment in her career is that the Fair Care Center of Houston honored Melissa as a "Living Legend."
Melissa's Married Life With Husband; Her Son Diagnosed With Cancer
Melissa shared wedding vows with her love on 6th June 2003. She loves spending time with him and their children, Zach and Caleb. The couple has completed a lovely 15 years of married life. In the special occassion, of their 15th anniversary, they visited the church where they started their journey as a husband and wife.
Do Not Miss: Alan McManus Wiki: Wife, Family, Net Worth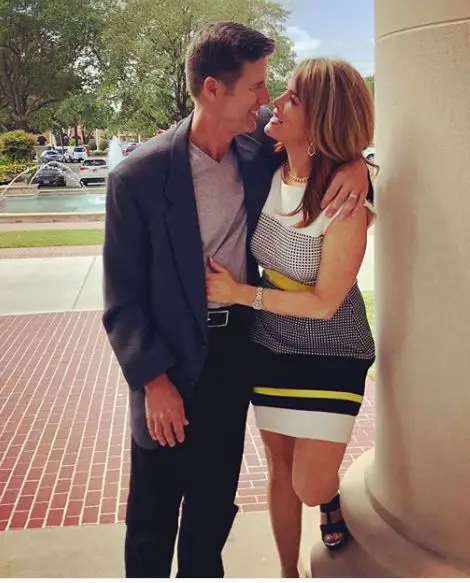 Melissa posted a picture on her 15th wedding anniversary on June 6, 2018 (Photo: Instagram)
The pair and son Zach was doing good and living a happy family life, but suddenly during the show, as she said "good evening," she felt like a hot, fiery spear went through her heart, and her arm went numb. She couldn't catch her breath. They immediately went to a hospital and was misdiagnosed there. Later when she told her mom who was a nurse about the problem, she asked her if Melissa was pregnant and yes she was. When she was researching the symptoms, she found out that it could cause childhood Leukemia. But her son, Caleb, was born and everything seemed perfect.
At the age of two, they came to know that Caleb had Leukemia. But the family went through cancer with laughter, love, understanding and with the environment where Caleb could share his emotions. She recommends to people who have to go through cancer diagnosis to find something that could be their symbol like for her son; it was a lion for courage. The lion was always beside him during his treatment.
She now encourages everyone to have a diagnosis for Leukemia by the age of 40.
May Relate To: Mike Greenberg Wife, Kids, Family, ESPN, Contract, Salary, Net Worth
Short Bio
Melissa celebrates her birthday on 22nd January, as per wiki. Her tall height complements her body shape. She completed her Bachelor of Art in Telecommunications from Baylor University. Apart from her professional life, she is an adventurous woman who loves skydiving, parasailing, and scuba diving.