Hip Hop has perhaps been one of the most popular genres of music that has existed for decades and still has a very strong hold on the present society. The main reasons behind it are talented artists like Melyssa Ford. If you are a hip hop fan, then you must easily recognize her as a hip hop model who has starred in various music videos. Others might also remember her as an actress in movies like 2000 'Turn it up' and 'Think like a Man' and its sequel, 'Think Like a Man Too.'
Her Dating Life, Boyfriend, and Affairs!
Melyssa Ford was a hot hip hop model and a famous actress at the time, so there must be a long list of men in her dating life. That life may be past her, but still, Melyssa has had some romantic encounters and a boyfriend or two in her life. She had a rumored relationship with rapper 50 Cent back really back in the day. Then she also was in a brief relationship with songwriter Bryan Michael Cox, actor Tyrese Gibson and Football player Kerry Rhodes in 2007.
Read Also: Adam Joseph 6ABC, Wiki, Gay, Net Worth
She later was also spotted with another musician Andre Benjamin in 2008. Perhaps her longest relationship was with rapper and songwriter Flo Rida which lasted from March 2011 to December 2012. Till date, she has neither married with a husband nor had an affair.
Melyssa Survived Horrific Car Crash; Battled Depression After The Incident
Canadian hip hop model Melyssa's luck was on her side as she survived a near-fatal car accident in July 2018. Her representatives talked with People magazine and said that she was on her way to celebrate a bridal shower when the unfortunate accident happened in Los Angeles, California.
Her 2017 Jeep Wrangler Sahara Unlimited crashed with an 18-wheeler truck, and the impact caused her jeep to flip three times. She was injured and got admitted to the hospital. According to the doctors, Melyssa had 10-inch cut across her face, and her skull got fractured along with several wounds and injuries.
See This: Charles Osgood Wiki, Wife, Children, Family, Retirement, Health, Illness
After four weeks of sustaining the injury, Melyssa shared an Instagram post in late July 2018 and thanked her family and friends for the support. She revealed that due to a skull fracture, there might be the things that she will never remember. Further, in September 2018, she shared an emotional Instagram post and explained that she was dealing with depression.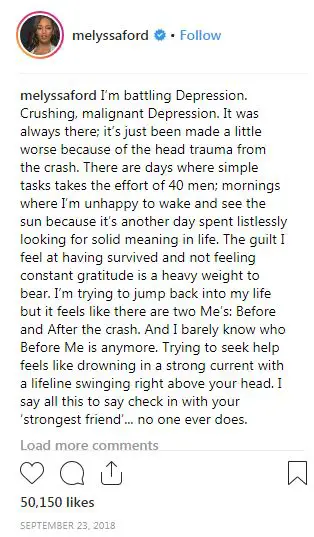 (Photo: Instagram)
As of now, her health has progressed, and she has finally healed up her injuries. During late December 2018, Melyssa shared that she was on her exercise journey at the gym though she has not made 100% recovery. She also thanked her fans and followers for motivating her.
Her Amazing Net Worth:
Melyssa Ford undoubtedly was one of the topmost models and actresses at the prime time of her career. Even speaking of now she is in the line of a pretty satisfyingly paying job of a realtor. She has worked hard in all the stages of her life because of which her amazing net worth will come of no surprise. She has an enormous net worth estimated to be at least 2 million dollars. The actual amount of her salary is still to be reviewed. But judging by her net worth, we can easily predict that it must be huge as well.
Don't Miss: Max Irons Girlfriend, Dating, Relationship, Height, Net Worth
Melyssa Ford began her modeling career in the 1990s after the Canadian Music Director discovered her, Little X was also known as Director X saw her working as a bartender at a Toronto club. She was first seen in the Glen Lewis music video 'The Thing to Do' in 1997. She appeared in multiple other music videos with artists like Jay-Z, Alicia Keys, Usher, Ludacris e.t.c. She has also appeared in magazines like 'King,' 'Maxim' and 'XXL.' She has also starred in series like Bravo's reality TV series 'Blood, Sweat & Heels' that showed her desire to become a realtor while appearing in many others like 'Entourage' and 'Playmakers.'
Her Short Bio:
Melyssa Savannah Ford also knew by the name of Jessica Rabbit was born on November 7, 1976, in Toronto, Ontario, Canada. She is of Canadian nationality and an African-American by ethnicity from her father's side and Russian and Norwegian by ethnicity from her mother's side. She stands at a height of 5 feet and 4 inches. She had attended York University in the field of Forensics Psychology as well.