Like the American writer Richard Bach's quote, 'True love stories never have endings,' fellow country singers Michael Ray and Carly Peace have decided to step up their journey of true love and marked their engagement with a big scoop. Michael is an American country musician who shares a contract with Warner Music Nashville.
As a country musician, he has released the songs like Kiss You in the Morning, Girl From Spring Break, Go, Scrooge, Yourself, and Bayou Women.
Michael Ray Engaged With Carly Pearce In Mexico!
Congratulations to the American country singer Michael Ray who got engaged to Every Little Thing singer Carly Pearce. Both of them took their Instagram on 19 December 2018 and shared the photos where the Eustis native purposed his ladylove with a giant engagement ring. He marked the romantic proposal towards Carly Pearce in the suburbs of Tulum, Quintana Roo, in Mexico.
Explore More: Anita Hill Wiki, Married, Net Worth
According to Michael's Instagram story, his 19th December engagement with Carly changed his life forever. The 32-year-old singer expressed his gratification towards his soon-to-be-wife and labeled her as his 'best friend' and a 'partner in crime.' The 'Kiss, You in the Morning' musician, is also thankful to his girlfriend for choosing him and affirmed that he couldn't wait to walk life with her.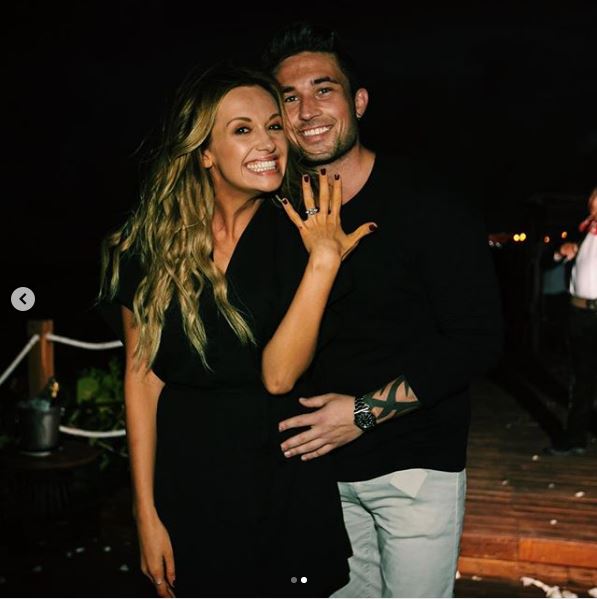 Michael Ray and his girlfriend, Carly Pearce, engaged in Tulum, Quintana Roo, Mexico on 19 December 2018 (Photo: Instagram)
Meanwhile, Carly shared that she was fortunate that the man of her dreams got down on one knee and asked her to become his wife. The Kentucky native also uttered that she knew that she would have married Michael the first night they decided to hang out. The 28-year-old Nashville based country musician further glimpsed their future wedding plans and added:
You will always be my most precious example of God's timing and His love for me. I have found my home in you & will love you with everything I have forever and a day. WE ARE GETTIN' MARRIED, BABY! John 13:7 Jesus replied "You don't understand what I'm doing, but someday you will". Yo family get ready I'm bringing my FIANCÉ home for Christmas!!
Back in July 2018, the soon-to-be-married couple did confirm that they were dating each other with a cozy Instagram photo of themselves at the backstage of the Grand Ole Opry. Carly hinted that the duo inaugurated their romantic relationship at Nashville, where she wrote 'one random night at the Nashville Palace changed everything.' Since then, Michael and his girlfriend's whirlwind of romance gleaned the attention of tabloids.
In his July 2018 interview with Cody Alan on the radio program After Midnite, the Get To You singer recalled that Carly pursued him, and he wasn't aware of what was happening. His girlfriend sends him direct messages on Instagram, and Michael acknowledged her love for him, which led the duo to commence a romantic journey.
Don't Miss: Brian Todd Wiki, Age, Married, Wife, Children, Bio, Family
Carly also revealed their details of romance in her late July 2018 interview with the radio station WMIL in Milwaukee. The If My Name Was Whiskey singer confirmed that it was she who made the first move towards Michael. She described that since their fateful rendezvous a couple of years back while doing radio shows, she had thought Michale was cute and slid to DMs to develop their relationship.
Share Wedding Vows?
The sweetest couple on the internet finally walked down the aisle on October 6 of 2019. Michael and Carly exchanged their vows in Tennessee, surrounded by their family and friends. The wedding got a little deviated due to mother nature playing tricks on the newlyweds. The surprising downpour pushed the outdoor marriage to the barns. On keen observation, the wedding was quite lavish. The ceremony included every possible facility the guests had dreamed of with a luxurious reception party, music from Jake Owen and vintage toasts.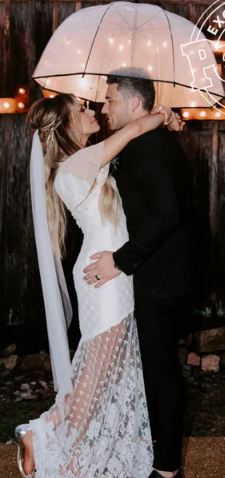 Michael on his married attire with his fellow country singer Carly(Photo: people.com)
The marriage got officiated by Bill Cody, a country radio announcer, as both the singers belonged to country roots. They believe they resonated well due to their mutual love for country music and want to make an impact on the country scene as life partners.   
Both Michael and his wife have planned to spend their honeymoon in Sandals Resort, Jamaica. The special moment is postponed to December as both of them have busy schedules. The couple had the fans already on the edge of their seats when they dropped a photo together in Septemeber 2019.
They had happily displayed their marriage license in the picture and had started their marriage countdown.
Some Exclusive Facts
Here are some facts that will help the fans to know more about their beloved singer Michael Ray:
Michael belongs to a musical family, and his album Amos was a tribute to his late grandfather.
 
He looks up to Garth Brooks in terms of stage presence and presentation. The fondness raised when Michael attended one of Garth's live shows as a child.
 
He got himself entangled in DUI charges as well as marijuana possession in 2017. Besides that, he struggled with anxiety problems and connected to fans via his social media.     
Short Bio
Born on 29 April 1986, Michael Ray is a native of Eustis, Florida. The American country singer took the advice of a Nashville-based music executive and grew a fan base in his hometown of Florida. He pursued his musical career from Nashville, and by the age of 25, Michael was able to take his career to a national audience.
Read Also: Drew Carey Fiancée Dr. Amie Harwick Wiki: Age, Birthday Family, Wedding
As per wiki, Michael also had legal issues and got arrested for driving under the influence of marijuana on 20 December 2017.