There are a lot of examples of people getting attention for their love affairs and breakups with the celebrities in the entertainment industry. One of them who has risen through fame with the affairs with the star is Monyetta Shaw. She is famous as Ne-Yo's ex-fiancé.
Monyetta, who is known as the ex-fiancé of the famous R&B singer, has her recognition as an actress. She is best known as the reality star of VH1's Atlanta Exes and the CEO of The Evan Grace Group.
Dating Ne-Yo; The Biggest Regret In Monyetta's Life
Monyetta, 38, and Ne-Yo, 39, were the talks of the town after they broke up. The two were in a perfect relationship; they were engaged and had parented two children, Madilyn and Mason. Before two months from their wedding, they called off their marriage and chose a different direction.
During their relationship, they were satisfied with their two kids, so Monyetta went through sterilization procedure. The decision was mutual, and the doctor asked the couple several times if they were ready for the procedure. They said yes holding each other's hands. As it was done with the mutual consent, Monyetta thought that even Ne-Yo had done the vasectomy. She had no regret at that time and was busy raising her two kids.
Read More: Lori Wachs Wiki, Age, Net Worth, Wedding, Ali Velshi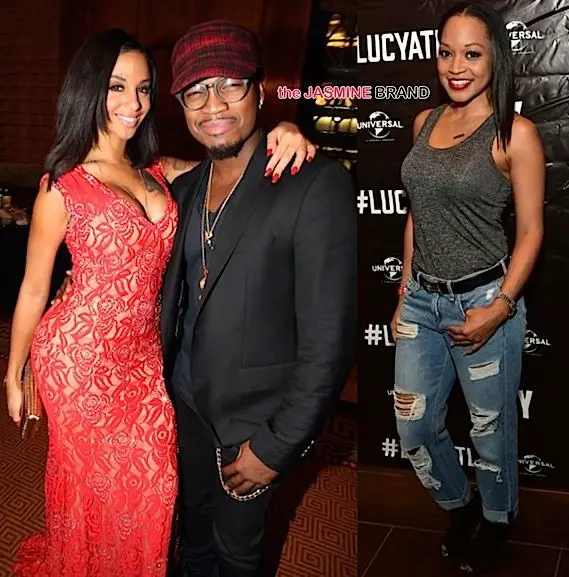 Monyetta's ex-fiance and his wife on the right and Monyetta on the left (Photo: thejasminebrand.com)
Now that, Ne-Yo is married to Crystal Renay and has recently welcomed a son this March, Monyetta found out that she was the only one to give up her fertility in her previous relationship. She said that she gave up the most important part in a woman's body and there is her ex-boyfriend making babies with some other lady.
At that point, she has the biggest regret about the decision she made in the past. She says after she finds a man and would want to start a family, but she cannot do so. She cannot give her future husband any baby. She says she will teach her daughter to love yourself before giving up yourself for a man. She quotes:
"Your body is your temple. Don't do anything to it you don't want to regret."
Do Not Miss: Harry Triguboff Net Worth, Wife, Family, Bio, Facts
Who Is Monyetta Engaged To Today?
Now after the heartbreak and a lot of tears, she has rekindled herself and moved on. She says after all the turmoil, there is no need to feel sorry for her as she is dating some other guy and is extremely happy with her life. She is engaged to her football player boyfriend in 2017. Apart from her two kids, she has adopted 48 kids from Swaziland. With the help of Beyond the Game charity she donates $20,000 for these kids for their education, food, clothing, and other basic needs.
Apart from that in 2016, she was rumored to be dating the millionaire Boo Thang. She said that he is a very nice and cool guy who threw a lot of parties. When asked if they were together, she answered "hmmm" without any clear answer to the question.
How Much Is Monyetta's Net Worth?
Monyetta has summoned the net worth of $2 million. She has accumulated this amount from her acting career and as an author.
The actress is famous for her appearance in Atlanta Exes, Soul Men and Video Girl. Being in the position of CEO for The Evan Grace Group she authored a book named Bigger Than Me. Going through the trouble of parenting a child as a single mother, she also wrote a book "Keep It Classy" about co-parenting in 2018.
So, she has summoned her net worth with these books and appearances. Her love life helped her rise in popularity which indirectly helped to garner the decent net worth.
You May Like: Randal Pinkett: Wife, Family, Education, Trump, Net Worth, The Apprentice
Short Bio
Monyetta Shaw, age 38, was born in 1980 and celebrates her birthday on 31st May. The African-American actress is blessed with a stunning face and a decent height of 1.69 meters (5 feet and 6 inches). She attended Louisiana Tech and graduated with a Bachelors of Science degree in Psychology.