Meteorologist often covers about the storm and gloomy days to their viewers, but everything is not bleak and stormy in their personal life. Recently, WGN-TV meteorologist experienced sunshine in life when her boyfriend got down on one knee to ask her the critical question, "Will You Marry me?" And Morgan Kolkmeyer said "I will" to her fiancé and husband-to-be on 11th June 2017.
Ready for Married Life!
WGN-TV meteorologist is in a fully committed relationship with Ryan. The duo recently got engaged and her love of life, Ryan purposed her in front of hundreds of people on 11th June.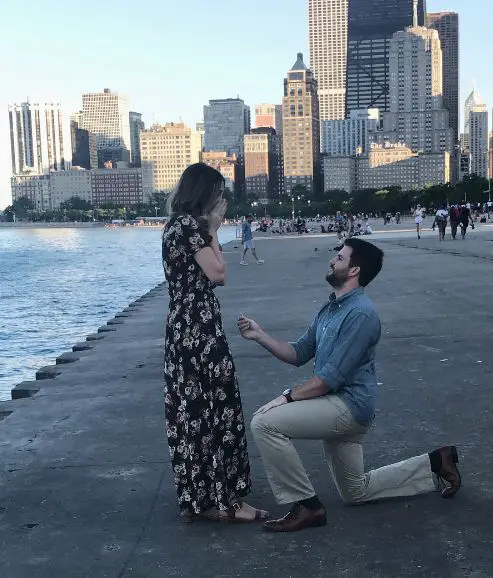 Caption: Her boyfriend, Ryan purposing Morgan on 11th June 2017
Source: Instagram
She posted a photo in which her fiancé is down on one knee and holding a ring in his hand. Morgan who couldn't believe that the beautiful moment was happening later posted that:
"How long will I love you.. As long as stars are above you, and longer if I can."
The couple met each other back in 2015 when Ryan was friend with her roommate Stefanie. In September 2015, they talked and danced together, and from that very moment, they have been together.
The couple now gives relationship goal to many couples. Recently the adorable duo accompanied each other to a wedding on 16th September 2017 and said that the next one they go to would be their own wedding.
Their recent revelation came in the wake of few unconfirmed reports claiming that Morgan and Ryan are set to get married in 2018.  
Except for posts about her future husband-to-be, she also updates her fans about her work on television and shares pictures with colleagues.
New Meteorologist in WGN-TV:
The graduate from the Northern Illinois University with a degree of Bachelor of Science in Meteorology started her professional career from the FOX 21 KQDS-DT as the Weekend Meteorologist where she worked until July 2014.
After her stint, she worked for WREX-TV where she served as Morning and Midday Meteorologist and also as Morning News anchor. After three years of successful career in WREX-TV, WGN announced that Morgan Kolkmeyer is joining Chicago's WGN Morning News in May 2017 along with Lauren Jiggetts. She replaced Demetrius Ivory and joined WGN in June 2017. The meteorologist of her caliber comes no way near cheap, and the WGN must have promised her hefty salary which is yet to reveal.
Morgan's Short Bio:
The talented meteorologist likes to maintain privacy when it comes to explaining about her family and parents. According to the wiki sources, she was born in Rockford, Illinois. Though her exact birth date is still in the dark, she probably ages around mid-twenties or so and celebrates her birthday on 3rd September. On the very day in 2017, she posted that she doesn't feel bad getting older. She belongs to the white ethnic background and holds American ethnicity. Standing at a tall height, she maintains lean body shape.