mxmtoon is a YouTuber famous for her original songs, travel vlogging, and personal entries. Beginning the self-titled channel's journey in September 2013, she has amassed over 767 thousand subscribers as of September 2020.
Further, she has successfully come out as one of the promising singers in today's world. Some of her most famous songs include The Sideline- which was released in 2017- and her extended play called Plum Blossom, released in 2018.
Let's dive into the personal life of such a promising artist through her wiki-like bio.
mxmtoon's Bio With Age
mxmtoon, whose real name is Maia, was born on 9 July 2000 and was raised in Oakland, California. She has been into music from a young age. As such, when she started going to middle school, the internet star also started learning cello, violin, trumpet, and guitar. To become more versatile, she taught ukulele to herself by playing the song Riptide by Vance Joy on it repeatedly. 
Likewise, her brother was also into music as he took violin lessons during his school days. 
Take A Look At This American Singer: Lauren Cimorelli Height, Boyfriend, Family & More Details On American Singer
Talking about her parents, her mother is of Chinese-American descent while her father is of German and Scottish descent. This is why she describes herself as Hapa. Hapa is a Hawaiian word that refers to mixed ethnic ancestry. 
Is She Dating?
As per her Instagram, mxmtoon is in a relationship. She is dating a graphic designer- who goes by the name Hunter. Hunter is also a social media personality, with over 66.6 thousand followers on his Instagram.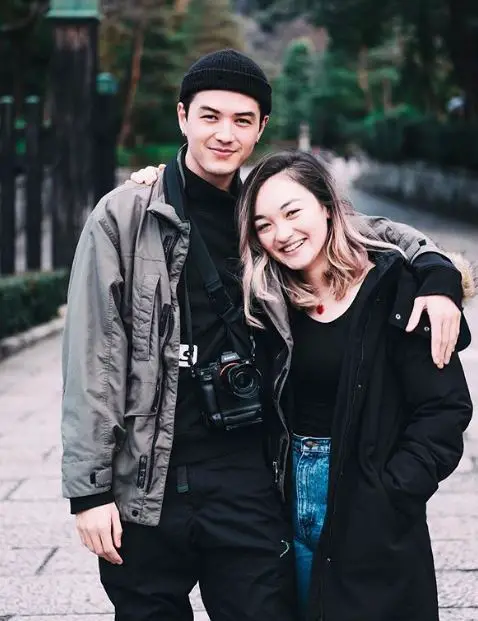 mxmtoon with her boyfriend Hunter on 1 January 2020 (Photo: Hunter's Instagram)
mxmtoon had first mentioned her boyfriend via a tweet on 9 September.
However, until November 2018, the singer was single but was willing to have a boyfriend so that she could write songs about him and their relationship.
Later, rumors started to swirl around Twitter that she and British influence personality and gamer GeorgeNotFound were e-dating. This caused George's friend and Minecraft Dream to block Maia. But the rumor turned out to be a hoax.
Career Info, Songs
mxmtoon started creating tracks from hair straighteners in her parents' guest bedroom. She then self-released songs on her YouTube channel 'mxmtoon' in 2017. Though she attempted to write comedic songs, she explored her vulnerable but genuine emotions and wrote songs about despair, loss, adolescent desire, and love.
Dating Status Of This Singer:- Lauren Cimorelli Height, Boyfriend, Family & More Details On American Singer
Some of her famous songs include Falling For U, Prom Dress, Cliché, The Idea Of You, Feelings are Fatal, Please Don't, I Feel Like Chet, and Temporary Nothing.
The song Feelings are Fatal currently has over 55 million streams on Spotify while her 2017 collaboration song Falling for U has nearly 40 million streams by June 2019. The interesting fact is that she had not revealed anyone (neither her family nor her friends) about her music, however, she was forced to let everybody know as her songs were going viral all over the internet.  
Furthermore, she also has toured different places. For instance, she had a tour in Rotterdam, Netherlands, on 17 April 2020. She has also planned future tours in various states of the USA, such as California, Arizona, and Orlando.
Some Interesting Facts About mxmtoon
mxmtoon keeps her last name private.

She had a boyfriend when she was twelve years old.

She has a tattoo of cherry blossoms on her hand.

She is based in the Bay Area.

Her birth sign is Cancer.

One of her friends inspired mxmtoon to seriously consider the possibility of a career as a singer.