Nakoa-Wolf Manakauapo Namakaeha Momoa gathered the attention of tabloids as a son of the Hollywood power couple, Jason Momoa and Lisa Bonet. They prefer to spend a magical moment with their son and two daughters.
Though his parents are opposite in their TV roles, Jason as hyper-aggressive Khal Drogo on HBO's Game of Thrones and Lisa as free-spirited Denise Huxtable on NBC's The Cosby Show, they are fully committed towards each other and have devoted their lives towards their children.
Facts Of Nakoa-Wolf Namakaeha
Here are fascinating facts and meaning of his name that you don't want to miss about Nakoa-Wolf Manakauapo Namakaeha Momoa:
His unusual name carries a special meaning for his parents Lisa Bonet and Jason Momoa. The star child was born as a second child in the rare stormy weather night in Los Angeles. His parents paid tribute to Momoa's family heritage by providing him a Hawaiian name.
 
According to Lisa's Instagram, her son's name 'Nakao' means warrior, 'Mana' means strength or spirit, 'Kaua' means rain, and 'po' means dark. He shares his name as 'Namakaeha' with his actor father Jason's middle name.
 
Though his mother Lisa's pregnancy news flooded across the tabloids during the summer of 2008, The Cosby Show actress confirmed she was on a seven-months pregnancy with Nakoa-Wolf in October 2008. The actress further announced that she and her husband planned for a surprise delivery of their son.
Read Also: DrLupo Wiki, Age, Real Name, Wife, Net Worth
Nakoa-Wolf's Parents Love Story
Jason's crush towards Lisa dates way back to the mid-1980s.
When the actor was at the age of eight, he saw Lisa on TV and became lovestruck towards her. When he witnessed her in The Cosby Show, he was ready to do anything for him, 'even stalking her for the rest of his life.'
In 2005, he was with his best friend in the L.A. jazz club when he met his childhood crush. He struggled at first but decided to have a coffee with the actress at the 101 Coffee Shop in Hollywood. Their love flourished in no-time, and they secretly tied a knot on 15 November 2007 in Topanga, California. The duo registered their official marriage at the Los Angeles County Registrar-Recorder/County Clerk's office on 2 October 2017.
When Nakoa's father Jason's secret nuptials with Lisa got leaked, he expressed the annoyance in his November 2017 interview with ETOnline. The Hollywood actor even proclaimed that he would 'find some as**ole who leaked' the information about their weddings.
In 2018, Jason appeared in the film Aquaman that grossed a box office of $1.131 billion in a production budget of $200 million. Jason shared the proud moment on his Instagram in January 2018 declaring that his success is from his fans and thanked Mahalo Zack for choosing him to portray a lead role as Aquaman.
Shares Good Bond With Siblings
The 9-years-old star child of Games Of Throne actor Jason Momoa and The Cosby Show actress Lisa Bonet, Nakoa-Wolf has an older sister named Lola Iolani Momoa who was born on 23 July 2007. She is the eldest child of the Hollywood power couple and is two years older than her younger brother.
Don't Miss: Casey Burke Wiki, Age, Birthday, Height, Boyfriend, Dating, Parents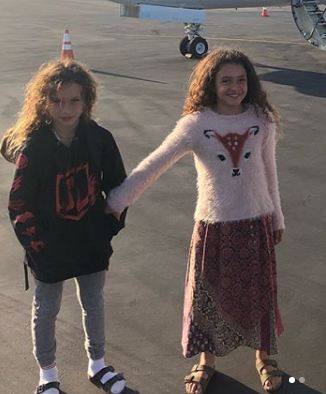 Nakoa-Wolf Manakauapo Namakaeha Momoa and his older sister, Lola Iolani Momoa, during the San Diego Comic-Con in July 2018 (Photo: Instagram)
Moreover, Nakoa-Wolf is a half-brother of American actress Zoë Kravitz. The siblings rejoice their good bond and prefer to hang out together. His sister is a soon-to-be-married lady.
In February 2018, Zoë was engaged to Karl Glusman. The duo met in 2016 at a bar, and when he intends to propose her at Paris, she was a little drunk and was in sweatpants. Since then, they have been enjoying their relationship and were spotted hanging out together at Kings of Leon concert and attended dinner with celebrities like Dakota Johnson, Taylor Swift, and Cara Delevingne.
Zoë was born from Lisa's previous married life with American singer, Lenny Kravitz. The estranged couple was married from 1987 to 1993.
Short Bio
Born in 2008, Nakoa-Wolf Manakauapo Namakaeha Momoa celebrates his birthday on 15 December. Nakoa-Wolf has a birth sign of Sagittarius and is a native of Los Angeles, California. He holds American nationality and possesses a mixed ethnicity. 
See Also: Debby Clarke Belichick Wiki: Age, Children, Divorce, Net Worth- All About Bill Belichick's Ex-Wife
As per wiki, he belongs to mixed ethnicity as Nakoa-Wolf's mother Lisa Bonet possesses African-American and Ashkenazi Jewish ancestry while his father Jason Momoa has mixed (German, Irish, Native American, and Native Hawaiian) ethnicity.