Naomie Olindo is a reality TV star who rose to fame after appearing on the show Southern Charm. She was also a girlfriend of the show's star Craig Conover. And after her split with Craig, which came as a surprise to many, Naomi's name has further rocketed to fame through her on and off screen endeavors.
As of today, Naomie has become somewhat of a celebrity in her own right. With several businesses by her side and with her role becoming much prominent in Southern Charm, it would be of no surprise to see Naomie's face on the front pages quite often.
Who Is Naomie Olindo Dating?
Fans of the show Southern Charm might have a clear idea that Naomie was once in a relationship with co-star and then-boyfriend Craig Conover. Craig introduced his lady Naomie on the third season of the show.
The friends since college days, Naomie and her boyfriend began their relationship somewhere around the year 2015. But after nearly three years of togetherness, Naomie called it quits with Craig in early 2018, bringing an end to a relationship that many had guessed would eventually see the two get engaged.
You Might Enjoy: Gus Kenworthy Boyfriend, Gay, Net Worth, Family
However, Naomie did not take long to move on from her post-relationship. Currently, she is in a relationship with Metul Shah, who is a resident physician in anesthesiology in South Carolina.
The heartthrob pair met each other at the same public gathering, and it was lust at first time for Naomie. Later, they confirmed their relationship status in April 2018 and introduced the viewers in the sixth season of the show Southern Charm.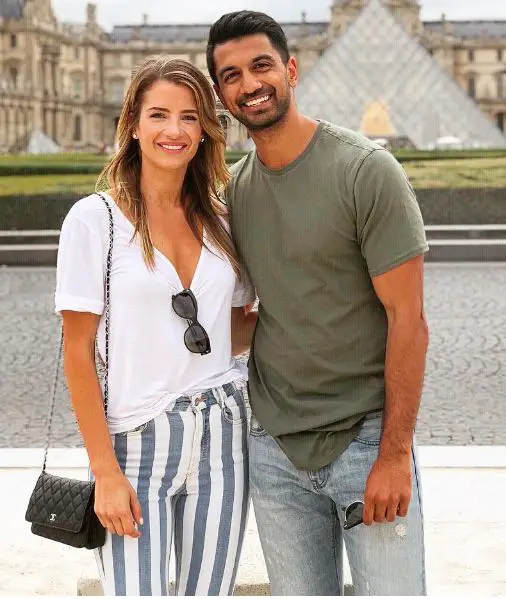 Noamie alongside her boyfriend, Metul Shah. (Photo: oprahmag.com)
Her frequent social media posts are evidence of their strong intimacy. Most recently, Naomie celebrated her boyfriend, Metul's birthday on 17 July 2019.
It seems Metul could be the matching boyfriend for Naomie whom she would call a husband in the future.
Job & Net Worth
Naomi Olindo made a name for herself by appearing on the reality show Southern Charm. Her fame quickly rose to great heights after being featured on the show alongside then-boyfriend Craig Conover. Southern Charm is her only on-screen role as most of her work is done offscreen.
Away from reality shows, Naomi has managed to enter the field of real estate and has worked for several big organizations. She spent 16 months as the President of Carter Center Real Estate Club. And with several work experiences to her name.
In 2018, Naomie started her own fashion brand named L'Abeye. Along with that, she is also a restaurant owner. Until April 2019, she has launched 3rd restaurant being opened in 3 years.
Combining her income from multiple sources, she might have garnered the fruitful amount of income with an estimated amount of net worth around $500,000, as per Romper Magazine.
Wiki & Bio: Birthday
Naomi Olindo was born on the 4th of August, 1992 in France. Being born in France, she holds French nationality.
Very little is known about her parents, especially her mother. Her father, Joel Olindo has appeared alongside Naomi on a couple of occasions of Southern Charm. And recently, Naomi took to her Instagram to share a moment that could have panned out a lot worse than it did. Naomi stated that her father had recently suffered a heart attack and was saved through quick medical attention.
Interesting: Calum Hood Age, Girlfriend, Ethnicity, Net Worth
As for her high school and education, she went to the College of Charleston and graduated with a BA in Business Administration w/ Concentration in Real Estate in 2014. Later, in 2017, she graduated with a Masters degree in Finance from the same college.
Height, Weight Loss
About her own self, Naomi's height has not yet been disclosed but comparing her height with boyfriend Metul Shah; she stands a few inches shorter.
There are not many details about her weight; however, she underwent weight loss. Back in July of 2018, she admitted that she went through intermittent fasting to lose the excess fat and weight in her body. And the results are just jaw-dropping. She even did fasting from 8 p.m to 12 p.m. Though she does intermittent fasting, she still drinks alcohol and eats candy.