We can see many television stars surrounded by controversies and bringing up their personal life on the limelight. One of those television personalities is Neffe Pugh.
Neffe is best known as the sister of RnB star Keyshia Cole. Being the RnB star's sister, she appeared on Keyshia Cole: All In. Before the show, she had appeared on her show named The Frankie and Neffe Show.
Neffe's Heartbreaks And Her Children
We could see Neffe crying and angry over her television show. While there was audience criticizing her tears as fake, she said that those were all the pain she had to go through. The young lady at that time was going through a massive divorce after her 10-year long husband started dating her cousin. It was a big heartbreak for her. After that, she had to raise her children alone and had a hard time in those days.
Read More: Peter McMahon Wiki: Age, Net Worth, Family and Dana Perino
After the hard times, she had found her love and father for her children in Shelby Lowry. They were doing fine until they showed up Iyanla: Fix My Life in 2017. From that show, the audience could see the differences between the two. It was clear that the couple was struggling over their relationship. Iyanla brought up that Neffe used to hit her husband. However, the furious lady did not want to focus on the controversy.
In 2018, Neffe revealed that it been a long time since they have separated their ways. Now they are moving as an individual rather than as husband and wife.
Losing a son is the greatest loss a mother has to bear, and the mother of five kids went through this pain when she lost one of her babies when he was three months old.
Neffe's Relationship With Her Sister
Neffe had many ups and downs in her family life. Much news and rumors were speculating the relationship between her and her sister Keyshia. Media questioned her when she was not seen on her siblings big day. Replying to the query, she said they got married all of a sudden. She was busy with her things and could not be there immediately with her five children. She also said she felt bad that she could not be there even when her sister needed her.
Do Not Miss: Chloe Madeley Boyfriend, Engaged, Royal Wedding, Diet
People also questioned why didn't her sister Keyshia provide her with financial help when she needed it during her divorce. She said though they are sisters, they do not have the same life. Keyshia has earned her money with her hard work, so it is not necessary to share her fortune with her sister. They are all grown up, and everyone is responsible for themselves.
The reality star also clarified that Keyshia also did not like the way her sister and mother did the reality show The Frankie and Neffe Show. She did not support them as she wanted to protect them.
How Much Net Worth Has Neffe Summoned?
Neffe has been summoning her net worth as a television personality. Though she has not revealed her net worth, we can assume that she has garnered a good amount of wealth at the age of 38 with the buzz she created over the television.
She came into the television industry with her show The Frankie and Neffe Show. After that, she shared the screens with her sister on Keyshia Cole: All In. Being on the television is not an easy task, so she decided to leave the reality shows and go private.
You May Like: Gabe Brown Wiki, Age, Girlfriend, Net Worth, Health, Alaskan Bush People
Later she again made her appearance on Iyanla: Fix My Life. There we could see her sharing her pain and struggles over her relationship.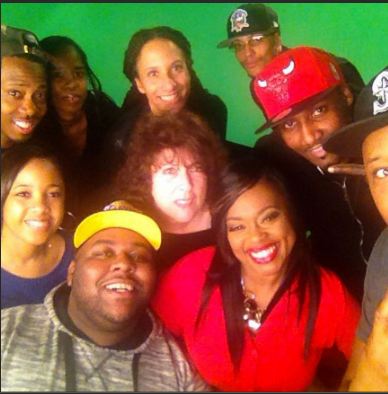 Neffe's The Price I Paid family (Photo: bet.com)
Now, she has authored a couple of books named My Happiness Is My Sanity and The Price I Paid, as per wiki.