Comedian Nephew Tommy is known for hosting the famous dating show Ready To Love. Similarly, he is a co-host of the nationally syndicated Steve Harvey Morning Show, where he is famous for making prank phone calls.
Although his real name is Thomas Miles, people recognize him from his stage name 'Nephew Tommy' as he is the nephew of the renowned comedian, Steve Harvey. 
32 Years Of Togetherness; Married In 2016!
The comedian is married to a woman named Jacqueline Miles. He announced his wedding in Neighborhood Awards in July 2016 and introduced his wife to the world. 
He then shared a picture of the award night on 24 July 2016 and said that he is blessed to be Jacqueline's husband. On the same day, the American actor posted a picture of his wife and described her as his lovely, beautiful, and intelligent wife.
You Might Be Interested In: Maxine Sneed Wiki, Bio, Age, Married, Divorce, Children, Net Worth, News
The couple first met back in 1986 at Texas A & M University, and fast forward to now, the couple has been together for over 34 glorious years.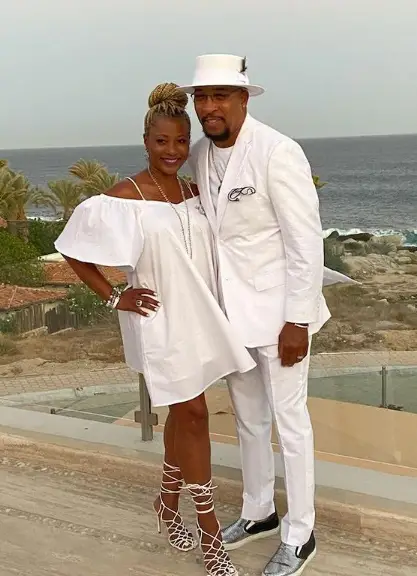 Nephew Tommy with his wife Jacqueline Miles (Photo: Instagram)
Together the pair has three children- two sons, Thomas Miles III, Jhordyn Miles, and a daughter named Sydnei Miles. 
Apart from his busy working schedules, Nephew finds time for his family, and they usually go on many trips together. Likewise, Tommy continuously expresses his appreciation towards his family through social media. 
On Mother's day 2021, Tommy uploaded a picture alongside his wife and children and wished her a Happy Mother's Day.
Nephew Tommy with his wife and children (Photo- Instagram) 
More About Nephew Tommy's Parents 
According to Tommy's Facebook post, his father, Thomas Wesley Miles Sr. passed away in 2015. He shared a picture of a graveyard and quoted his father as his hero. The caption read- 
"As the sun sets on another great father's day, I think of my own dad who passed a few months ago. He always wanted to be in the shade, under the Oak trees. My Hero." 
Further, Nephew is also close to this mother, Kate Miles. He continuously shares pictures with his mother, and the bond between the mother-son duo is undeniable. 
Likewise, Nephew uploaded a picture with his mother and expressed his appreciation towards her on the occasion of Mother's Day 2021.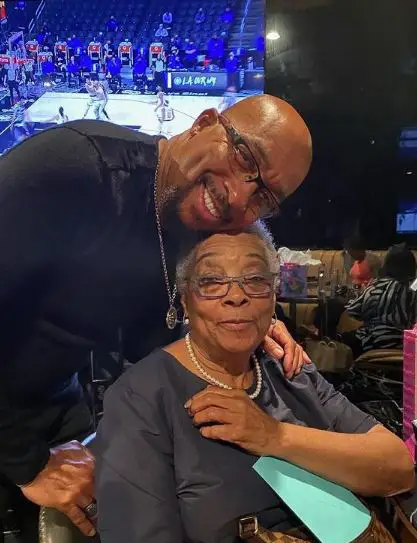 Nephew with his mother, Kate Miles (Photo- Instagram) 
Nephew also has a sibling named LaTanya. On April 18, 2016, Tommy and his sister surprised their mother with a new house for her birthday. According to Tommy's Instagram post, his mother did not know about the surprise, and she was completely blown away by their gesture. The caption read- 
"Saturday April 16th my sister and I GAVE my mother a NEW HOME. She had no idea this was going to happen. She was completely blown away. It is such a blessing to give your parents flowers while they are here. WON'T HE DO IT?"
You Might Like: Geeking Out's Tiffany Smith Wiki, Age, Married, Husband
What Is Nephew Tommy's Net Worth?
The 54-year-old comedian probably has mustered a net worth of over $2 million from his professional acting stint since the mid-90s. He added a significant portion of his increasing revenues from the 2012 American romantic comedy film, Think Like a Man. The movie was made on a budget of $12 million that later earned a box office collection of $96.1 million.
He also made other significant earnings, essaying the role of Papa Ray in the 2010 crime thriller film N-Secure. The movie was produced on a capital of $1.6 million, which later collected $2,595,644 at the box office.
Besides acting, Thomas makes his other part of a remunerative paycheck from his self-titled YouTube channel, Nephew Tommy. He started uploading videos on classic pranks in 2013 and is generating income from the uploads. According to Social Blade, Nephew earns between $215  -  $3.4K a month, and his yearly paycheck range from $2.6K  -  $41.2K.
Further, the comic had a sold-out show at Comedy Club Stardome from 3 to 5 August 2018. The show's Premium ticket seat was $40, and the General admission was priced $35. His upcoming tour dates scheduled for the next calendar month were at Pittsburgh from 21 to 23 September 2018, Zanies Comedy Club (Nashville, TN) between 27 to 29 September. The last event was scheduled on 8 December at Fox Theatre (Detroit, MI).
Check Out: James Davis Comedian, Wiki, Age, Height, Girlfriend, Dating, Parents
Short Bio
Nephew Tommy celebrates his birthday on 18 May. He is 54 years of age and was born in 1967 in Houston, Texas, with his birth name Thomas Miles II as per wiki. The comedian stands at the height of 1.81 m (5' 11") and belongs to an Afro-American ethnic group. His birth sign is Taurus.
The talented comedian has got a heater Major from Texas A&M University. He also further studied with the Royal Shakespeare Company of London.