Nick Vail, a prominent face from the dating reality show 'The Bachelorette,' always dreamt of entering in Hollywood. Although he couldn't find space in the movie business, he already has garnered fame as a establish celebrity by winning the twenty-one season of ABC's 'The Bachelor.' He previously grabbed the second runner position in the two consecutive seasons of 'The Bachelorette.'
May it be his victory over many franchises or his controversial relationships, Nick has always maintained to stay in the spotlight. He has never turned back to his ordinary life since he garnered success and acclamations. 
His Journey On The Bachelor!
Nick Vail participated in the twenty-one season of 'The Bachelor' to find true love. However, his search didn't end on a good note as he had to partner with Vanessa Grimaldi, who wasn't his first choice in the season finale.
Nick had competed for the heart of Andi Dorfman, but she chose Josh Murray over him. It was indeed a heartbreaking moment when Andi Dorfman said goodbye to Nick in the Bachelorette show.
Besides the other contestant, his first pick was Andi, but things didn't go well with her, and Nick became devastated as he had intended to give a ring to her. It was quite depressing to see her let him down as he could not believe it. Thus, with the ever-changing game and conspiracies, he chose Vanessa Grimaldi and Raven Gates as the final two ladies. 
Although Andi Dorfman was his priority, the connection with his destined partner Vanessa Grimaldi, came a long way. Nick and Vanessa, who didn't appear as a perfect romantic match, shared a great rapport, which helped him purpose her in March 2017 that was aired on the show as well.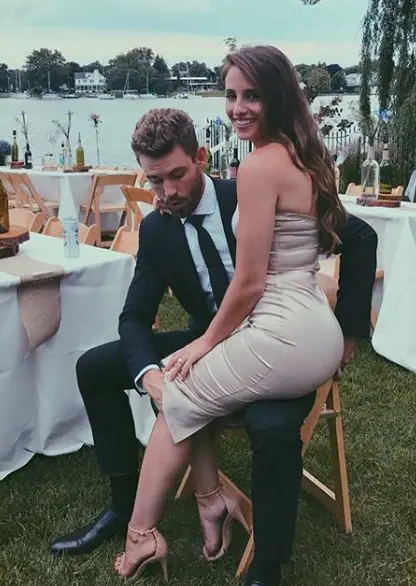 Nick Vail with Vanessa Grimaldi, the photo posted on 2 July 2017 (Photo: Instagram)
Read This: Florence Welch Partner, Height, Family
Their relationship further went to the next level when they got engaged on the show. But the misfortune hit in no time, and the relationship soon fizzled out in a short matter of time in August 2017. 
Vanessa Moving On; Accused Nick 
It has not been more than a year that the engaged couple Nick and Vanessa broke up. Apart from his previous love affairs in The Bachelorette show, he has never been in the news for his current love life. Nick hasn't revealed anything about the girlfriend that he might be dating now.
On the other hand, Vanessa moved onto another relationship within a year of their split and started dating her new boyfriend, Josh Wolfe. Josh is a Canadian businessman and the Director of Outreach and Programming in the Quebec and Atlantic Canadian region for the Centre for Israel and Jewish Affairs. She revealed her tie with Josh during iHeart Radio Podcast Awards, where she stated, 'I'm dating someone.'  
Discover More: Audrey Whitby Bio, Boyfriend, Affair
Despite her new beau, she accused Nick, claiming that he was the reason for her not being invited to Ashley and Jared's wedding. But, Nick denied her allegations and stated that he was not the reason for the incident. Similarly, Jared never mentioned Nick not wanting Vanessa during his wedding. 
Dating Rumors
Nick Viall has always been a hot topic to gossip about when it comes to celebrities' relationships.  And why wouldn't it be after all Nick has a long list of real girlfriends and dating rumors?
As of his recent controversy, Nick was alleged to be dating his former interest of Bachelor in Paradise, Demi Burnett. However, Nick took the allegations to the concern and stated that he and Demi are surely more than friends and have been to each other's place but not dating, via his podcast Viall Files in November 2019. 
Nick wasn't shy or insecure at all to further state that they do stop at each other's place and enjoy time together, but their relationship is strictly platonic.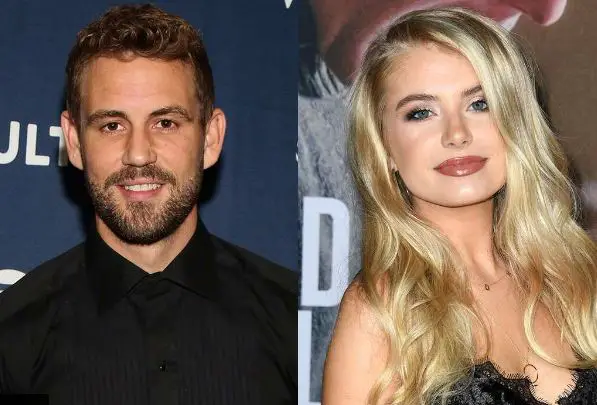 Nick Vail and his so-called only friend Demi Brunett. (Photo: eonline.com)
Before Demi, in September 2019, Nick's romantic life enveloped the internet once again with his dating rumors with actress Rachel Bilson. They first met when Rachel joined Nick on his podcast Viall Files. The interview was kind of flirty, which stirred the romantic hint among the fans. After that, the two were often caught commenting on each other's social media shares, but none of them and their close ones did open up about their relationship. Therefore, it is still unknown if the duo had a moment together.
But as of now, Nick has finally open about Rachel and said that the two were just friends when he was asked by the US Weekly on 9 November 2019. 
Despite the fan speculation, neither of them spoke about this scandal and let it vanished with the question mark. The allegation had occurred after Nick ended his relationship with his former girlfriend, Kristina Schulman.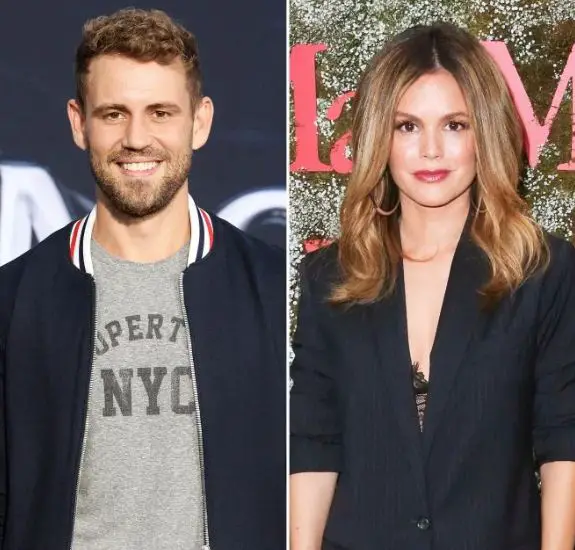 Nick Viall and rumored girlfriend, Rachel Bilson (Photo: usmagazine.com) 
As it seems, Nick had alleged Kristina of getting closer to his brother before they met on the show Bachelor in Paradise. He accused her of sliding into his brother's direct messaging. To this, Kristina responded with three videos on her Instagram, denying the allegations and said it was Nick's brother that messaged her beforehand. The truth is still unknown, but we can hope it surfaces on the internet sooner or later.    
Back in December 2018, Nick was still tangle with relationships and issues. Then, his rumors with Haley Ferguson swirled in the media after his flirtatious comments were surface on Haley's Instagram post. Later, he shattered the gossips stating that he and Haley were only good friends and also mentioned that he loved Haley and her twin sister, Emily, to pieces. However, they were not officially dating.
How Much Is Nick's Net Worth?
With the ever-increasing curiosity of the hit reality show among the fans, Nick Vail is the center for the ladies. The actor has acquired a pretty good amount of earnings from his television show, and his total net worth is estimated to be around $250 thousand as of 2017.
Short Bio and Wiki
Nick Vial celebrates his birthday on September 28. He was born in the year 1980 and was raised by his parents Christopher Viall and Mary Viall in Milwaukee, WI, the United States. He grew up with ten other siblings. The details about his other siblings have not emerged in the media, but they seem to have a well-knit relationship among family members. Nick hinted the fans about his family with his Instagram share on the 17th of June, 2019, on the occasion of Father's Day.
Nick attended the University of Wisconsin-Milwaukee to earn a Bachelor's Degree in Business Administration. He is 6 ft. 2'' in height and belongs to white ethnicity.