Nick Vujicic is an Australian Christian evangelist known as the founder of an international non-profit organization and ministry, Life Without Limbs. Despite being born with a rare disorder called phocomelia, he figured how to live life to fullest without limbs. As a motivational speaker, Nick is also a founder of a secular motivational speaking company called Attitude is Altitude.
Welcomes Four Kids With Wife; Nick's Family Thought He Would Never Marry
Nick Vujicic is married to Kanae Miyahara since 2012. His wife, Kanae is the Mexican-born lady whose parents are Texas-based Japanese-Mexican. The duo met each other in 2008 at the top of a Bell Tower in McKinney, Texas. Kanae was impressed by Nick's sense of humor and generosity. Nick fell in love at first sight with Kanae, and his wife knew that he is 'the perfect match' for her.
See Also: Who is Evan Carmichael? Wiki, Age, Personal Life, Family, Net Worth, House
Nick proposed his lady love and the couple married in February 2012 during Valentine's day. They reside in their house in South California. Together, the couple has four kids; Kiyoshi James Vujicic, Dejan Levi Vujicic, Olivia Mei Vujicic, and Ellie Laurel Vujicic. Within a year of their marriage, Nick welcomed his first child, a son named Kiyoshi in February 2013. The couple further welcomed their second son, Dejan in September 2015. Their twin daughters, Olivia and Ellie, were born on 20 December 2017.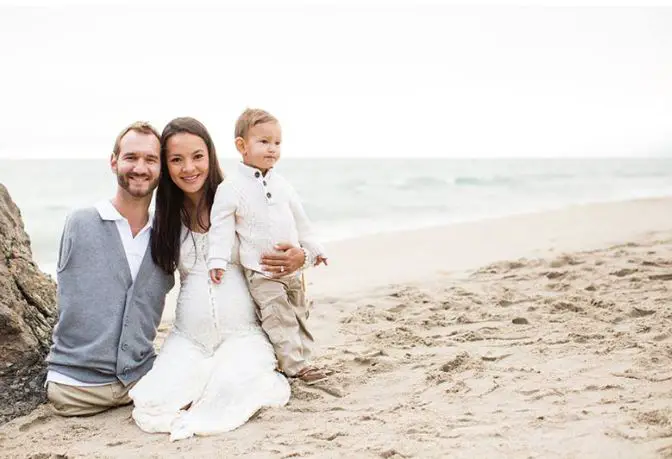 Nick Vujicic and his wife, Kanae Miyahara and their son (Photo: informationng.com)
Nick's parents never dreamed that their son would be able to move on his own. His father, Boris Vujicic also never imagined his son would get married. Boris was glad that his son had a chance to experience the joys of fatherhood. According to Nick's autobiography, his family was deeply affected by his condition. His mother, Dushka Vujicic refused to see him when he was born. Eventually, they accepted who he was, and his family supported him in his severe condition.
Addresses Huge Christian Festival in Idaho
During the 52nd Annual God and Country Festival held in Nampa, Idaho on 26 July 2018, Evangelist Nick Vujicic featured as the speaker. Thousands of the people heard him addressing the festival in the outdoor of Ford Idaho Center. He also preached about the teenage girls, who were looking for boyfriends. In the crowd, he said:
I want to tell you something right now. What we're looking for is the truth. And the truth is that we were made and created to love and be loved. But I want you to know as long as you're looking for a boyfriend, girls, you're going to find a boyfriend.
The motivational speaker further stated that the teenage girls shouldn't be looking for a boyfriend. They should look a 'Man of God,' who are willing to stand before them. The thousands of crowd hauled a big applaud after he emphasized his views.
You Don't Want To Miss: Malala Yousafzai Age, Biography, Facts, Family, Net Worth
Nick also addressed how he found happiness despite becoming a limbless and how his condition changed his life. He talked about the understanding the truth about the values of young people. The founder of the international non-profit organization and ministry, Life Without Limbs said that youth value has nothing to do with money or job. He said that the youths are valuable just the way they are.
What Is Nick Vujicic's Net Worth?
Nick Vujicic has gathered a net worth of $500 thousand as an Australian motivational speaker and Christian evangelist. The founder of the international non-profit organization and ministry, Life Without Limbs, Nick is mustering incomes as a founder of a secular motivational speaking company, Attitude is Altitude since 2007. His 'Best Actor in a Short Film' Award-winning-role in 2010 short independent film, The Butterfly Circus further heightened his earnings.
Even though he suffered tetra-amelia syndrome, he wrote using two toes of his left foot and authored his first book, Life Without Limits: Inspiration for a Ridiculously Good Life in 2010. Since then, the motivational speaker has authored several books like Your Life Without Limits, Stand Strong, and Love Without Limits. He also released a single and music video, Something More from his company; 'Attitude is Altitude' in August 2011. In 2018, he authored Be the Hands and Feet: Living Out God's Love for All His Children.
Short Bio
Born as Nicholas James Vujicic, Nick is a native of Melbourne, Australia. Nick has the height of 0.99 m (3' 3") and resides in Los Angeles, California.
The Australian Christian evangelist thrived during teenage despite being bullied at his childhood. Nick graduated with a double major in Accountancy and Financial Planning from Griffith University in 2003.
Read Also: Noor Tagouri Wiki, Bio, Age, Height, Married, Husband, Boyfriend, Salary
He has shared many inspirational quotes and is one of the powerful motivational speakers. His famous quote speaks 'If you can't get a miracle, become one.'