When the time is right, just your words can even bring you to the spotlight. Noah Ritter is an internet sensation best known by his nickname, The Apparently Kid. He rose to fame from the video of him stealing the show away from WNEP reporter Sofia Ojeda at the Wayne County Fair in 2014.
He got his nickname as The Apparently Kid for saying the word 'apparently' many times during the interview with Sofia. The viral video uploaded by WNEP-TV on YouTube was titled as 'This kid is awesome, Steals the show during Interview.' Since its release on 4th August 2014, it has surpassed more than 34 million views by 2018.
Here is some riveting Wiki about his supportive grandparents to how he earned his net worth at a young age.,
Viral Interview Changes His Personal Life's Direction
The fantastic year 2014 will always be remembered as a life-changing day for him. The 9-year-old, who loves dinosaur, embraced and continued his journey of stardom after his viral video.
He soon after continued winning people's hearts, making his appearance on Good Morning America. He told the co-host of the show, Michael Strahan, that he used to like Strahan's former NFL team, The Giants, but his grandfather "brainwashed" him into liking The Steelers.
The American actor, Stephen Colbert also heaped praises towards the young man as "a natural born newsman" in his show The Colbert Report.
Also Know About: Angel Iris Murphy Brown Wiki: Birthday, Siblings, Parents, Age
Grandparents In The Forefront, Parents Remain Low-Key
Noah was with his Grandparents John and Kathy Borowski when he was discovered at the Wayne County Fair. Since then, John has been a supportive grandfather, who has shared both the fame of Noah and pressure that comes with it.
In May 2015, Noah took it to Twitter to express his love for his best buddy/grandfather, who always listens to him.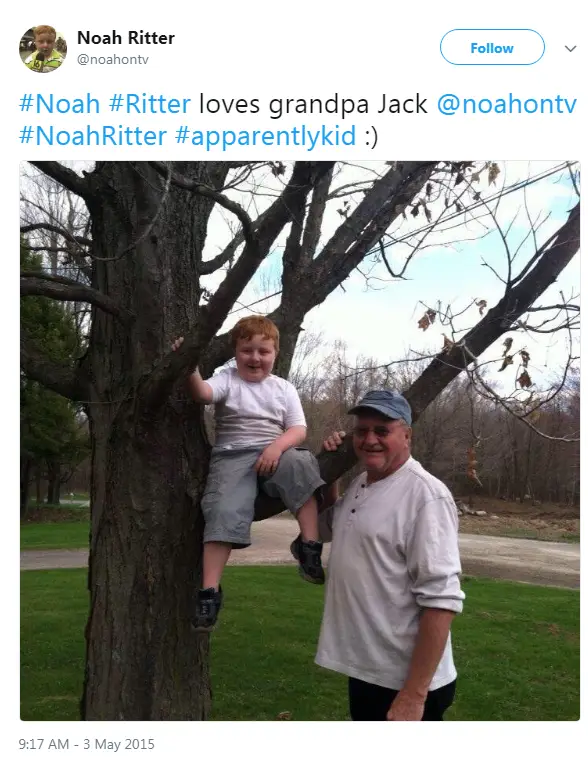 Family Love: Noah Ritter poses adorably with his Grandpa John in 2015 (Photo: Twitter.com)
Among his family members, his grandad and grandmom are well-known among his fans, but his mom and dad have remained behind the curtains. Currently, he lives in Pottstown, Pennsylvania, with his mother and attends second grade. 
Starts Generating Net Worth At Early Age
The boy from Wilkes-Barnes rose to prominence after his interview with Newswatch 16's Sofia Ojeda at the Wayne County Fair in 2014. He went viral after his sardonic interview at the delicate age of 5. He has been earning fame as well as money after the viral video.
Since then, he has profited from big interviews on famous shows such as Good Morning America; Ellen; Today Show; and ABC Nightly News. He garnished income through commercials for Liberty Mutual Insurance; and Visa, which appeared on Ellentube 2016. He also produced revenue from the show The Toy Box(April-November 2017) hosted by American actor Eric Stonestreet.
He also has his own YouTube channel entitled, Greatest Film Of All Time with the subscribers of over 21 thousand. 
You Can Also See: Mateo Ronaldo, Cristiano Ronaldo's Son Wiki: Age, Birthday, Mom, Family
Noah co-hosted the 2014's Viral Videos segment starring NFL star Michael Strahan for ABC'S The Year. The young celeb was also invited to welcome the shareholders of SC Johnson annual shareholders meeting in Racine, Wisconsin. He also made a charity appearance for the Everhart Museum( Scranton, Philadelphia) for Dino Days. He joined Instagram in 2014. Ritter has more than 190k followers on Instagram as of 2018.
Appearance On ABC's Reality Series
Noah Ritters has appeared on the ABC's American reality television show The Toy Box. He gave some kid-friendly feedback to the judges of the show. He was with his grandfather checking out the Farmers Maret on Public Square that time during the show.
His advice for the toy company was that the kids' toy should be fun for every kid and should not require many skills from parents for the setup. He was also seen on the second season of The Toy Box. The new series premiered on October 2017.
Popularity On Social Media
He is famous on his self-entitled Instagram account. He has amassed a fan base of 188k followers. On 24 April 2015, he shared a picture and said that he went to Boomers with Robby and Grandpa Jack. The Apparent kid had also previously posted an image having the adventure at the Texas State Fair on 30 October 2014. 
Later, Ellen sent him to visit Hawaii on his vacation with his grandpa in 2015 which was featured in Ellen's show. There he opened about his trip to Hawaii where he had several adventurous games and funs.
Likewise, he mentioned that his parents live at the same home and whenever he does something terrible, his mom sends him to his dad. He also said that he has a fascinating relationship with his father who takes him to the greatest pizza shops and let him have fun for himself. 
Never Miss: Chris Baris Wiki, Age, Girlfriend, Family
Short Bio 
Noah Ritters was born in Wilkes-Barre, Pennsylvania in 2008 and he celebrates his birthday on 19 November every year. The birth sign of the 10 years old is Scorpio. He possesses white ethnicity and holds an American nationality.