Oliver Maier is the Duke of Provence who came to the limelight after his relationship began with The Real Housewives of New Jersey, Danielle Staub caught fire on the internet. Professionally, Maier works as the managing director of Speyside Equity.
The German and French businessman is also the former CEO of United Initiators and SVP for Evonik Industries AG. His education background notes that he's an attorney-at-law.
Just Dating or Married?
Oliver's relationship with Danielle Staub was not a secret. The pair were not shy in showcasing their love for one another to the world. Pictures of them enjoying wonderful moments together are in no shortage on the web.
Back in October 2018, Oliver first met Staub through a mutual friend. Initially, they did not hit it off as Oliver was in a relationship with the same lady who introduced him to Danielle. On the other hand, Danielle also stated him as rude and arrogant and entitled at first. However, when the two started having a conversation, things turned romantic.
After he split from his then-partner, Gina, he began dating Staub, and in no time, the duo was all over the internet. Likewise, Oliver took no time in taking things to the next level as while on a trip to the Cheval Blanc Maison in St. Barts in February 2019; he popped the question to Staub and no one's surprise she said YES!.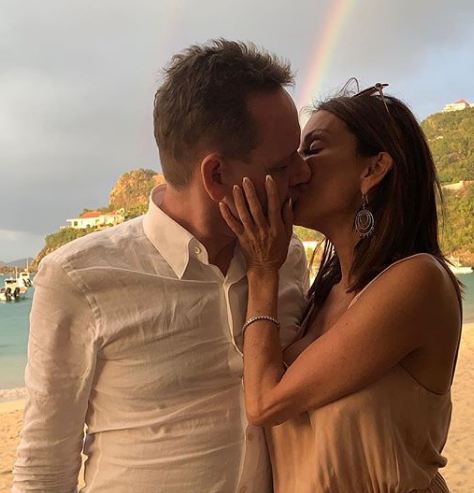 A throwback picture of Oliver and his then-fiance Danielle Staub. (Photo: Danielle's Instagram | 26th February 2019)
The pair were all set to marry on the 4th of March 2019, just ten days after Danielle finalized her divorce with Marty Caffrey. Things were all set to go as planned, but all did not go according to plan. Oliver and Danielle postponed their wedding. Following the cancellation of the wedding, Oliver was even rumored to call off their engagement. As confirmed by Bravo TV on 5 April 2019, the couple's split news might be a hoax as Danielle's had confirmed their togetherness via a small clip. After kissing Oliver, she said, "To put the rumors that he and I are not together, here I am with my love."
Interesting: Kelly Stewart Wiki, Husband, Net Worth
Net Worth
Oliver Maier is currently serving as the managing director of Speyside Equity and has been with the company for over nine years. Before his time with Speyside, he's applied his trade at several financial firms, both in the United States and internationally.
Oliver joined Speyside Equity as a Partner, and from 2010 to 2011, he held the role of Chief Executive Officer of United Initiators. Furthermore, he is also the Duke of Provence, a famous area in the wine country region of the South of France. So when it comes to talking about his net worth, it would be no surprise to guess he has an amount in the range of millions. It has been reported that his estimated annual revenue is about $18 million.
Wiki & Bio
Oliver Maier's personal life is a mystery because he only came into the limelight after his relationship with Danielle Staub began taking off. There are no much information online that give us an idea about his early days and his family life. However, he revealed that his family owns 15 vineyards and two castles.
He seems to stand a few inches taller than his fiancée Danielle Staub who has the height of 5' 10" (1.78 m). From his Linkedin, it has been confirmed that he currently resides in New York, who holds that doctorate from Ludwig-Maximilians Universität München. Enrolling the university, he earned Juris Doctor in 1992, received Attorney at Law in 1996 and finally graduated with Ph.D. in Philosophy in 1998.