Television anchor and reality star, Olivia Caridi arose to the limelight when she appeared on the 20th season of The Bachelor. A story is incomplete without a villain, and for The Bachelor, the Virginia native was the villainous and controversial character. She gained a lot of haters during her stint at The Bachelor, but she remained a person who just can't be forgotten easily.
What's Olivia Caridi's Net Worth?
The rising journalist earns most of her net worth from journalism profession. Olivia's appearance as a contestant on the favorite reality dating show, The Bachelor, has intensely increased her popularity as well as her earnings.
However, participating in the show doesn't come free. Contestants quit their job and refinance their mortgages to find the love. Though the featured bachelor or bachelorette each season receives some compensation, usually over $100,000 a season according to reality television blogs. Some contestants even say that they are not paid on the show.
Two of the contestants claimed that Olivia spent $40,000 on her wardrobe for the show which reflects her expensive taste and lavish lifestyle.
Besides the cost she paid on the show, she has earned the prominent popularity. She is the host of radio podcast, 'Mouthing Off' on CBS Radio and also a television personality in reality TV and entertainment news. Before CBS Radio, Olivia worked on Distractify Live, one of the top 16 live shows on Facebook. She also served as the Director of TCU News Now.
Olivia also served at NBC and Fox in her journalism career. After 18 months on the job at NBC, she received once in the lifetime opportunity to star in 'The Bachelor.'
Olivia's Dating Status
Olivia crossed the path with Derek Peth before they hit the ground running in The Bachelor. Derek, who is a commercial banker, and Olivia even had a Twitter conversation where Olivia mentioned that she is forever alone.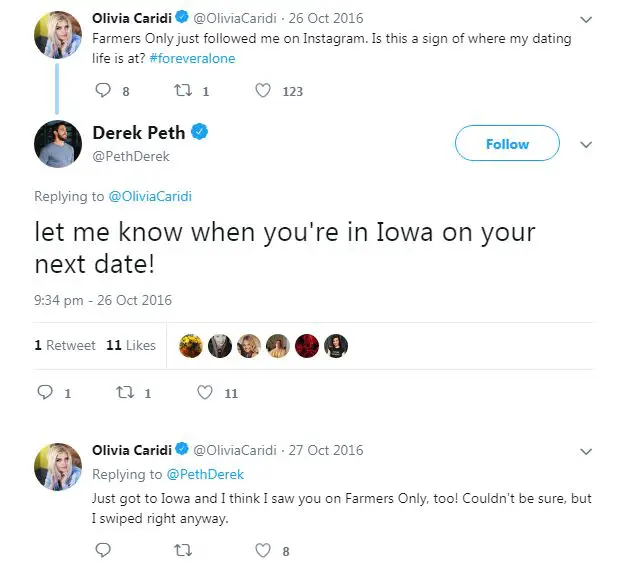 Olivia And Drek interacting on Twitter (Photo: Twitter)
Back in July 2017, she again hinted that she is single when she shared the picture of a newly-bought house Nashville. She said,
I'm not off the market yet, but my new house is! Now I hope you'll join me on my journey of gutting & renovating it, oh and maybe finding me a nice Southern man!
However, in May 2017, Reality Steve revealed that Olivia dated The Bachelor alum, Derek Peth. Olivia reportedly confirmed the rumors of dating with Derek when she answered the question on her podcast. 
But, Olivia later confirmed her break up through the podcast. Derek broke the ties with Olivia as he didn't want to have a relationship with anyone from the franchise. Then Olivia's ex-boyfriend got engaged to Taylor Nolan in August 2017 after ending the relationship with her. Interestingly though, Taylor is from The Bachelor Franchise who competed to reach the heart of Nick Viall.
Olivia's Mesmeric Bond With Family
Olivia shares a beautiful relationship with her family. When Olivia was on the dating show, The Bachelor where she caused a lot of drama on the show. Her parents and sister supported Olivia and backed her in social media. Back on 18 January 2016, her sister, Paige tweeted to supporting her sister stating;
Can't believe how much @BachelorABC schemes and twists everything to make drama. And how many bullies there are. Shameful. Stay strong Liv!
Her mother, Dana also defended her. She actively retweeted comments about Olivia from fans who were taking her daughter's side.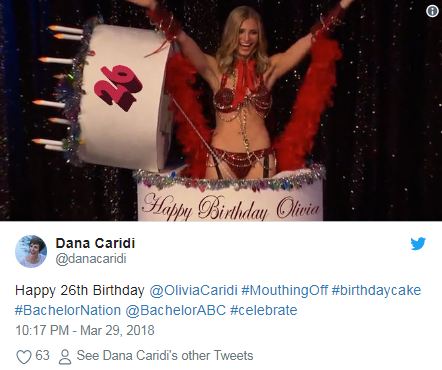 Olivia's mother Dana wished her 26th birthday ( Photo: Dana Caridi's Twitter)
Recently on 29th of March, Dana tweeted a beautiful picture of Olivia on her Twitter account wishing her 26th birthday.
Olivia's Short Bio
Olivia Caridi, age 26, was born on 29 March 1992 in the United States to parents Dana and Robert Caridi. As per wiki, she received journalism degree from Texas Christian University and landed the job on Virginia's NBC affiliate WCYB in less than a year. The reality star stands at the height of 1.77 meters (5' 10'') and belongs to white ethnicity.