Patrick Brammall has carved his name in the TV and Movie industry through his multifaceted acting. From portraying the role of a comedian to media mogul Rupert Murdoch, he has shown his finesse for representing different characters according to the cinematic scripts.
Due to this reason, he is evolving as one of the most promising TV personalities and an Actor.
Who is Patrick Brammall? Bio
Patrick Brammall is an Australian actor and TV personality who is credited for his notable and versatile role in the different movies titled 'No activity (2015), Glitch (2015), and Ruben Guthrie (2015). He is also one of the notable cast members of the popular series named ABC's Glitch.
Patrick was born on 30 March 1977 at Canberra, Australia. He graduated from VCA in 2001. In the family, he has a brother named Dan (Daniel) and a sister named Fiona Brammall. His father, Bruce Brammall, is a veteran journalist and has worked under Murdoch.
Take A Snoop:- Allie Brooke's Husband
Everything About Harriet Dyers' Partner
Patrick Brammall and Samantha Nield were married till 2017.
He met Samantha on the set of the drama series 'The Alice.' He had a love at first sight and thought of impressing her. Then with a bit of tactic, he went to an uninvited party to set his cap. Samantha also couldn't resist her feelings towards him, and eventually,  the couple finally got married in 2014, as stated by Herald Sun.
But their romantic affair couldn't withstand for long. In an interview with The Sunday Morning Herald in September 2017, he disclosed that he parted ways with Samantha.
Soon after the news of his divorce, Patrick's relationship rumor with actress Harriet Dyer surfaced all over the internet. Later, in an interview with The Daily Telegraph in August 2017, she admitted her affairs with Patrick Brammall.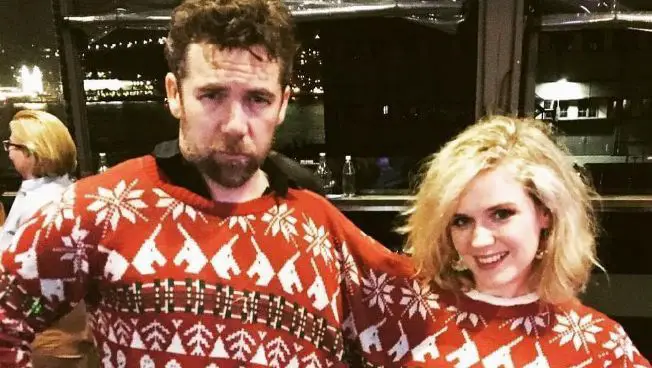 Patric Brammal with his girlfriend, Harriet Dyer (Photo:- townsvillebulletin.com)
Talking about their meetups, they first met on the set of Television series No Activity. After that, they started nourishing their relationship. Since then, they are often found exchanging their feelings on their social media.
His girlfriend Harriet Dyer is widely known for her roles as Patricia Saunders on the Australian TV drama Love Child.
TV Shows And Movies
Patrick Brammall has showcased his virtuosity adopting the personalities of different characters in his TV Shows and Movies.  
Initially, he played a remarkable role in a TV series named Canal Road in 2008. Later, he also tried his luck in the comedy genre doing the role of Griff's brother Tim in Griff the Invisible in 2010.
Likewise, in 2012, he gained prominence for his role as Sean Moody in the Moody Christmas. For this role, he was lauded with the AACTA award for Best Performance in a Television comedy. It was in the same year; he made a starring role in ABC comedy series named The Strange Calls as Sergeant Neil Lloyd.
Similarly, in 2013, he justified the character of media mogul Rupert Murdoch in the miniseries titled Power Games: The packer- Murdoch War.
Furthermore, in 2014 he experimented with his role-playing the role of midwife Leo Taylor in Network Ten series Offspring.
Enjoy Reading This:- TV Star Asa Soltan Rahmiti 
Interesting Facts
Patrick debuted in the TV series 'The Alice' which provided him a notable role in its following series.
 
He was diagnosed with the rare genetic disorder of prune belly at his birth stage. He had to take bed rest for nearly 10 years for its treatment.
 
In 2012, Patrick penned episode 5 of the Moody Christmas series which successfully got nominated for an Australian Writers Guild Award for Best Narrative Award.
Patrick's mom and dad celebrated their 50th anniversary on 25 July 2015