Raul Trujillo is an actor and director whose career has spanned over two decades ranging from different mentioned fields. Also, a choreographer and dancer he has worked as a scenic painter and a ski instructor.
He has also gone on to work for the military, which is just a part of Raoul illustrious career.
Married, Dating, Or Gay?
For those curious about Raoul's love life, the native American man is in a relationship with a woman named Jhane Myers. Hints about their relationship came to light after Raoul and Jhane posted pictures of themselves having a great time while in each other's company. They've not yet disclosed when and where they met but seems their bond with one another is a strong one.
Read More: Lucas Cruikshank Boyfriend, Gay, Parents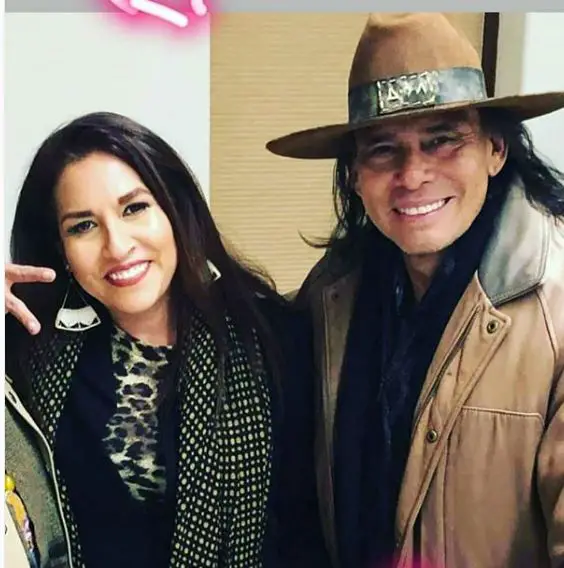 Raoul alongside his girlfriend, Jhane Myers in February of 2019 (Photo: Jhane's Instagram)
Before his romantic affair with Jhane, Raoul was a married man. He was previously married to Iscah Hunsden. In one of his interviews, he revealed that he had a wife named Iscah and that they raise Iscah's daughter Padme together.
But it seems, their relationship turned sour, and the pair parted ways. Despite that, they still maintain a healthy relationship with one another. Raoul's relationship history signifies that he is not a gay man.
Net Worth 
Raoul Trujillo is an actor, director, choreographer, dancer, and a screenwriter. Trujillo's career has spanned over two decades ranging from different mentioned fields. Raoul's career first took off after high school. He spent three years serving time in the military in Germany. And after his discharge, he moved to Taos, New Mexico to work as an alpine ski instructor. 
From there, he started a new career as a scenic painter and began to work in the theatre. Raoul landed his first job in 1977 as an actor/dancer in a production of Equus, in Santa Fe, N.M. And nearly after a first decade of performing as a dancer, he became the choreographer and co-director for the American Indian Dance Theatre.
His next job saw him choreograph, "The Shaman's Journey," for the Asia Society in New York City. It was later adapted into a short film for PBS on Alive From Off Center. He also directed, "The Son Of Ayash" and "The Jaguar Project." To top off his illustrious career, in 1988, Raoul began work as an actor in film and television. He also created his present company Tzacol productions, Inc. in 1992.
As of now, he's gone on to work in different movies and tv shows. So when it comes to his net worth, although the sum remains undisclosed, Raoul's illustrious career over the years is sure to have reaped him a decent amount.
Wiki & Bio
Raoul was born on the 8th of May, 1955 is Santa Fey, New Mexico. His family includes himself, his parents, and his six siblings. Raoul has a profound connection with his family as he can be seen posting tons of pictures online. He showcases his love towards his parents and his brothers and sisters. After the tragic passing of his brother Pablo, Raoul took to Instagram to share his deepest sorrows. He also shared pictures of his father in memory after his passing.
Interesting: Shekinah Anderson Wiki, Age, Net Worth, Married
Likewise, Raoul stands at the height of 5 feet 11 inch. He holds American nationality. However, his ethnicity ranges from Ute, Apache, Comanche, Pueblo, Tlascalan, French, Sephardic Jew, and Andalusian Moor.