It has been four years since legendary boxer Muhammad Ali had a sad demise, but his legacy continues to pulsate in his family blood. Love & Hip Hop: New York alum Rasheda Ali, who admires her late father, became inspired by him and dedicated her entire career to him.
She is an author and Parkinson's advocate who has traveled the world to raise neuro-cognitive disorder awareness. Also a reality star, Rasheda appeared in the show Love & Hip Hop: New York in Season 3 and made her cameo appearance in Season 4 and 5.
Two Son With Husband; Younger Son Follows Grandfather's Legacy
Parkinson's advocate and author Rasheda Ali is married to a restauranteur Bob Walsh. Her husband Bob is a co-owner of a Chicago restaurant Biaggio's Italian Restaurant. The Chicago restaurant often fills with several big superstars, athletes and Rasheda's late father Muhammad Ali also used to visit the restaurant once a month.
You Don't Want To Miss: Victoria Fritz Wiki, Age, Wedding, Husband, Salary
The couple is proud and supportive of their two sons' sports career. Their elder son, Biaggio Ali Walsh (born 13 January 1998), plays as the running back with #26 shirt in the football team California Golden Bears football. Rasheda and her husband Bob's younger son, Nico Ali Walsh, has followed his grandfather's legacy and is carving his path as a boxer.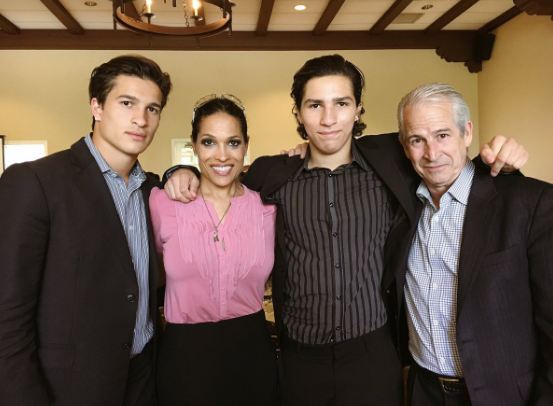 Rasheda Ali and her husband, Robert Walsh with their two sons Nico Ali Walsh and Biaggio Ali Walsh (Photo: Twitter)
Nico trained and sparred at the Leo High School boxing program run by his uncle, Mike Joyce. He debuted his first fight in March 2016, and with his skills, the avid boxer is trying to rise like his legendary boxer grandfather.
Emotional Tribute To Father! Eight Siblings In Family
Rasheda Ali was born to her parents Muhammad Ali and his second wife, Khalilah Ali. She has a twin sister named Jamillah Ali. The twin's mother, whose real name is Belinda Boyd, later changed her name as Khalilah. 
Read Also: Jadiann Thompson Wiki: Age, Birthday, Height, Salary
In her family, she has a total of eight siblings named Khaliah Ali, Jamillah Ali, Miya Ali, Muhammad Ali Jr., Hana Ali, Laila Ali, Maryum Ali, and Asaad Ali. Her sibling brother, Asaad Ali, is the adopted son of Muhammad Ali and Lonnie Ali.
The Love & Hip Hop: New York alum was close to her boxer father. Her book titled 'I'll Hold Your Hand So You Won't Fall: A Child's Guide to Parkinson's Disease' was inspired by her boxer father Muhammad, who unfortunately died from Parkinson disease on 3 June 2016. After his demise, she shared an emotional tribute to her father on Twitter and said that the 'Greatest Man is no longer suffering and is on the better place.'
How Much Is Rasheda Ali's Net Worth?
Rasheda, 34, is a reality star who earned the prominent part of her net worth as an heiress. After the death of her legendary boxer father Muhammad Ali, her brother Muhammad Ali Jr said that their father's fortunes were agreed to distribute among his eight siblings equally. 
Don't Miss: Bianca Lawson Husband, Boyfriend, Mother, Weight Loss, Net Worth
Muhammad Ali used to have a net worth of $50 million as an American professional boxer. As the heiress to her father's inheritance, Rasheda accumulated the fortunes equal to $5.6 million.
Short Bio
Rasheda Ali, who was born in 1970, is currently at the age of 48. However, the details of her birthday have been secluded. At the age of 21, the TV star authored a book titled 'I'll Hold Your Hand So You Won't Fall: A Child's Guide to Parkinson's Disease.' Her writings have been translated into four languages- English, Polish, Spanish, and French.
She is shorter than her late father Muhammad Ali, who stood at the height of 1.9 m (6 feet 3 inches). Love & Hip Hop: New York star has ventured several countries like London, Paris, Argentina, South Africa, and more. As per wiki, Rasheda attended the University of Las Vegas.