Ricky Dillon rose to fame via his video contents on the YouTube channel, PICKLEandBANANA. He was also a member of a YouTubers group called Our2ndLife- which consisted of members like Sam Pottorff, Kian Lawley, Trevor Moran, and Connor Franta. However, after the group broke up in December 2014, Ricky went back to a solo career.
In the last few years, the YouTuber has been gaining attention for the constant changing of his sexuality.
Dating Life With Ex-Girlfriend; Now Separated But Still Friends
Ricky's only known official girlfriend is American YouTuber Shelby Waddell. The pair first collaborated on various YouTube videos for the channel PICKLEandBANANA starting 2010.
Dating Life Revealed:- HGTV's Scott McGillivray Net Worth & Personal Life Insight
Eventually, in 2013, the two came out as partners. But, their dating relationship didn't last long as the two separated after a short while.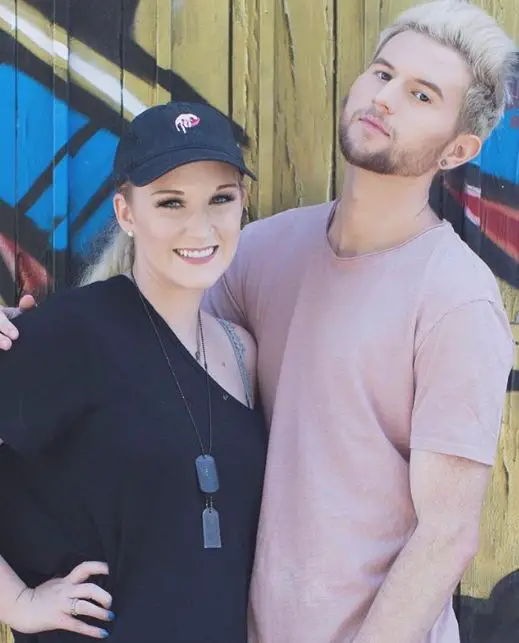 Ricky Dillon with ex-girlfriend Shelby Waddell in 2018 (Photo: Ricky Dillon's Instagram)
Despite the separation, Ricky and his ex-girlfriend have remained good friends, and have even been spotted hanging out on occasions.
Sexuality Changes Time And Again
Ricky Dillon's sexuality has been a topic of discussion as it has remained unstable over the years.
The YouTuber was considered a traditional heterosexual until 2016. However, on 7 September 2016, he came forward with a video titled My Sexuality- in which Ricky talked of being an asexual person. The social media star claimed that though he wasn't interested in any gender at the time, the phase could change.
Explore Fashion Designer's Sexuality:- Openly Gay Zac Posen Boyfriend & Net Worth Details
And, as per his claim, Ricky changed his sexuality and came out as gay. On 26 February 2020, he uploaded a video titled I'm Gay- through which he talked about his real sexuality and proclaimed himself as "1000% Gay."
What's next for Ricky? Will he come out as a transgender person in the future? Just wait and watch! 
Ricky Dillon's Wiki: Age, Family, Education
A native of North Carolina, Ricky Dillon, was born on 4 April 1992. Growing up, he was interested in playing tennis but later changed his passion for video-making.
Ricky comes from a family of five- which includes his parents and two elder sisters named Tara Dillon and Lexi Dillon.
A graduate of Hoover High School located in Birmingham, Alabama, Ricky attended Auburn University for his college education. But, he later quit after finishing three years.