"There are some inspiring messages I get from people who have gone through similar situations. I love that my story and my voice can be an inspiration to others in a positive light, to keep pushing and keep believing in yourself."
This is what Ricky Duran said with The Metro West Daily News. He has suffered through the tragic incident in his life and the lesson he learned from the painful experiences. Even though he had to stumble throughout his life, his passion for music and hope for a better future has kept him alive. 
Now, Ricky, who has won the coaches and audience heart with his top-notch performance, is the runner up of the Singing Reality Show 'The Voice.'
Bio
Ricky was born on 1st September 1989. He hails from Worcester, Massachusetts. Currently, he lives in Austin, Texas.
Personal Life- Dating
On the season 17 of The Voice, Ricky Duran spellbound the audience and the coaches with his enthralling performance. He was among the top 13 contestants on The Voice Platform who gave justice to Ray LaMontagne Song, "You are the best thing" with his captivating voice.
And the fascinating fact was, Ricky dedicated the song to his girlfriend Alyssa Tosti, who had suffered from a stroke the night before his Blind Audition on The Voice.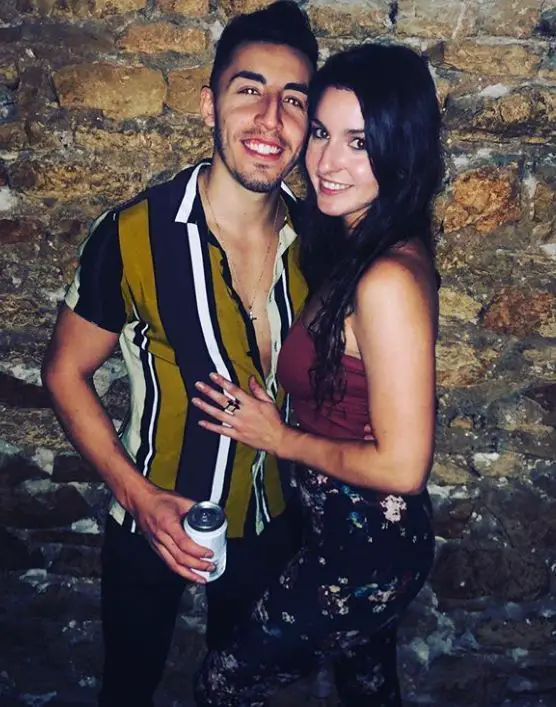 Ricky Duran with his girlfriend, Alyssa Tosti (Photo:- Ricky Duran's Instagram) 
Riky Duran and his sweetheart Alyssa have been dating for more than a year. Their social media engagements are evidence of their genuine relationship.
Family
Ricky is the youngest child of his parents. His siblings include three elder sisters named Julia, Maria and Natalie.
His love for music came from his parents' artistic background. His father had an influential role in raising him as a musician.
At the tender age of 6, Ricky's father handed him a guitar. After then, he started striking the cord of his musical journey. He joined Berklee College of Music and formed his band. His father served as his manager during the time.
This May Addict You:- Ricky Banks parents
What happens to be the most unforgetful and tragic moment for Ricky's life is, his father committed suicide in 2012. The worst time for Ricky didn't stop there. The sky above him turned black when he lost his mother, who died from breast cancer in 2018. Trying to forget all his bitter memories of his life, he carried on with what his father taught him.
Following his passion for music and beautifying the dreams of his deceased father, he stepped up in the stage of The Voice.
The Voice
Ricky Duran represented Coach Blake Shelton's team in The Voice. There were widespread predictions that Ricky Duran could be the next title winner for The Voice. According to Goldberry.com, Ricky Duran had garnered 32 percent of the viewers, who have predicted in favor of him. He is followed by Katie at 28%.
However, Ricky only could secure the second position in the show. Though he was one of the strong finalists, Jake Hoot won the title of the show.
Enjoy Reading This:- Sofia Wylie Wiki, Age, Birthday, Height, Parents, Siblings, TV Show
Talking about his performances in The Voice platform, Ricky had been a global fan-favorite due to his star quality and artistic personality. Earlier his mesmerizing duet "Valerie" had received accolades from the coaches. And throughout many songs, he polished himself in the stage, giving his level best performances.
Facts About Ricky
In the sad turn, both of his close intimates, a father and his best friend committed suicide. Then, in their memory, he organized a benefit concert in his hometown of Worcester, Mass for the American Foundation for Suicide Prevention.
 
Ricky received his musical training from the Berklee College of Music in Boston.
 
Besides singing, he has played varsity soccer in High school and he is equally fond of skiing, snowboarding, and other adventurous sports.