Safiya Nygaard became a household name after she created video content for BuzzFeed. During her time in BuzzFeed, she became co-creator of series LadyLike and accommodated BuzzFeed channel to raise their subscribers.
She also has a self-titled YouTube channel of more than 5.1 million subscribers where she shares videos related beauty and her personal life.
Started Dating From Disneyland; Celebrates Anniversary With Boyfriend On Disneyland
Safiya is dating her longtime boyfriend, Tyler Williams. The duo met each other at Stanford University, but their romance did not sparkle while they were still in college. Tyler was two years senior to Safiya and graduated with B.A. in Economics in 2012. Two years later, Safiya finished her education in 2014. Interestingly, the couple re-met in Los Angeles during Safiya's first night out and remained friends.
Slowly and steadily, Safiya and Tyler began to progress their relationship. It was Safiya, who made her first move. On their way to Disneyland, Safiya interpreted it as a date while Tyler did not. Within a week, in August 2014, the couple had their first kiss during a dinner-date and officially shared a boyfriend-and-girlfriend relationship. Her boyfriend, Tyler used to work at The Walt Disney Company providing business models and strategic initiatives for the Theme Parks & Resorts during their dating.
You Can Also See: Luka Sabbat Wiki, Age, Parents, Girlfriend, Gay
The couple, who started their relationship at Disneyland, likes to go there to celebrate their anniversary. During their second anniversary, they went towards a dark ride attraction, The Haunted Mansion in Disneyland. Safiya also shared their picture on 21 August 2016 via her Instagram.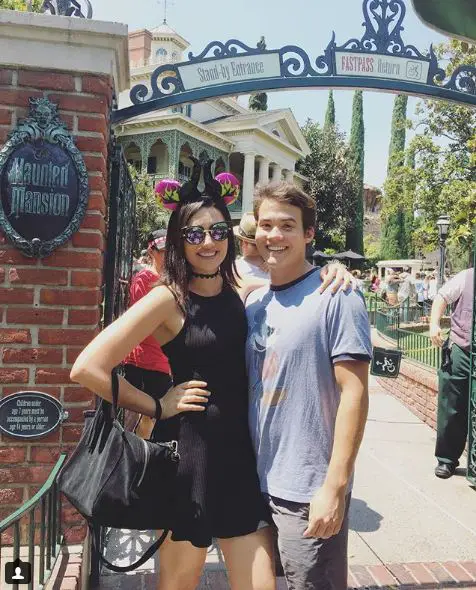 Safiya Nygaard  and her boyfriend, Tyler Williams visits The Haunted Mansion during their second-year anniversary in August 2016 (Photo: Instagram) 
Safiya and Tyler have also gushed about their relationship on YouTube. In her self-titled YouTube channel, Safiya posted a video with Tyler giving him a 'Boyfriend Tag' on 16 November 2017. The couple has a pet cat together and is maintaining a good bond.
As of now, Safiya is keeping her love life with Tyler very low-key. She hasn't shared pictures with him on Instagram and neither is he seen on her YouTube videos. The last picture that she shared with Tyler was on the New Year of 2018. In the picture, the lovebirds were seen dressed-up like it was 1967. She even shared a video on YouTube titled I Dressed Like It Was 1967, which was filmed by Tyler.
Back in January 2017, Safiya and Tyler broke-up for a week for a BuzzFeed video and lived like they are single. For a week, Tyler went out of the town to visit his parents and their family dog whereas Safiya stayed at her home with her cats. Throughout the video, the lovebirds stated how badly they miss their lover and even gushed that they don't miss being single. Further, Tyler explained that he misses his lady love despite being with his parents and enjoying their company. 
Is Safiya Nygaard Muslim?
According to the wiki sites, Safiya Nygaard has a Muslim faith and follows Muslim religion. In one of the videos produced by Safiya on BuzzFeed on 16 September 2015, she showed young Muslims stating 'I'm Muslim, But I'm Not...'
In the video, they looked towards the camera and declared their perspectives on Muslims. Some of their aspects were: 'Muslims, but not a terrorist, and they don't wear the hijab. Muslims, but had bacon once, and they don't hate America.'
How Does Safiya Nygaard Gather Net Worth?
Safiya Nygaard has earned her net worth as YouTube star since the age of 19. She has also generated revenues while working as full-time video producer on BuzzFeed. According to Socialblade, the estimated earnings of her self-titled YouTube channel ranges between $8.3K - $133.4K monthly, and $100.1K - $1.6M yearly.
Don't Miss: SSSniperWolf Wiki, Age, Boyfriend, Net Worth | Famous YouTube Star Facts
Safia joined her YouTube channel, Safiya Nygaard on 9 November 2011. She posted make-up vlogs, fashions, and her talks on the social media channel. She joined BuzzFeed in April 2015. She gathered her skills as a video production intern for seven months and became a full-time video producer in November 2015. Later, in January 2017, she left BuzzFeed. Her YouTube channel has gathered more than 5.1 million subscribers.
Short Bio
Safiya Nygaard was born on 16 July 1992 in Chicago, Illinois. She participated in theatre productions of Les Liaisons Dangereuses at Stanford University. She graduated with B.A. in Drama, English from Stanford University in 2014.
Safiya possesses mixed ethnicity (half Indian, half Danish) from her parents. Her mother is an Indian who married a Danish guy. She has also shared her parents' wedding photo on 10 August 2016 onTwitter. Likewise, she shares many pictures with her family on social media.