A girl, who liked to talk a lot and always had a lot to say, Sarah Vivam, found passion in radio career. Sarah is a radio personality for Shade 45 Sirius radio with DJ Drama and Don Cannon. She also worked with Streetz 94.5 and iHeartMedia Inc. and had also managed to gain the love from her social media and has earned 70,000 followers in her Instagram account.
Famous as the mother of Dwayne III, the son of rap superstar Lil Wayne, Sarah has managed to gain her own identity as a radio host.
Sarah Got
 

Engaged To Lil Wayne

The radio girl once dated the rapper Lil Wayne and even got engaged. They met when he was on tour in Cincinnati. In an interview, Sarah mentioned that boyfriend Lil was always supportive of whatever things she was interested in. He always supported her with her radio career. Together they welcomed a son named Dwayne Carter III in October 2008.
Discover: Sherry Holmes Wiki, Age, Married, Boyfriend, Dating, Affair, Parents
Despite all the romance and support, the lovebirds never got married. Lil called off the engagement with Sarah; after the breakup, Lil was with Lauren London and fathered third baby Cameron Carter. Before Sarah, Lil was married to Reginae Carter's momma Antonia 'Toya' Wright. 
Lil Wayne has a dating history with many girls. He fathers four babies with four different women with Sarah bearing his second child. He welcomed his fourth kid named Neal Carter with singer Nivea.
But did Sarah ever get married? She continually posts on her social media about her future husband. In October 2010 she dedicated a post for her future husband writing him to hurry up and find her. Once she also mentioned her future husband would be a very lucky man. But the fact that she met the lucky man or not is not revealed yet.
Apart from Lil Wayne's son, she has a daughter named Essence Vivan from her ex-boyfriend.
Sarah As A Mother
At the age of 31, Sarah raises two children as a single mother. Reginae Carter, Lil's daughter, got a good time to spent a daughter-father relationship, but Dwayne III was raised by Sarah alone.
Moreover, she is seen showering love to her kids on her social media accounts. Single mom Sarah uploads pictures of her spending time with her cute children, which reflects the love for her adorable child. She also noted that as long as her kids are smiling, her job is complete.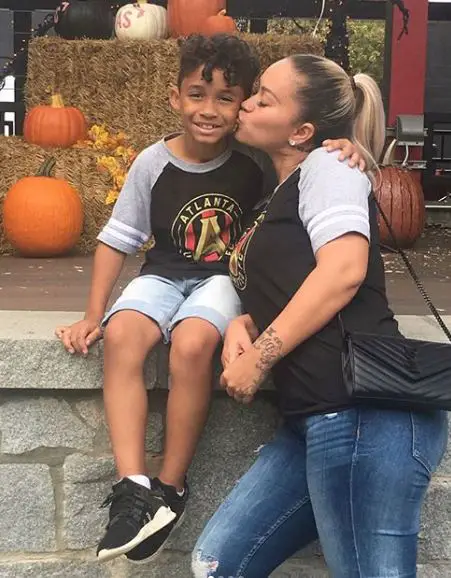 Sarah wishes Dwayne III on his 9th birthday in October 2017 (Photo: Instagram)
Mama Sarah uploaded a picture, wishing her son for his 9th birthday and mentioned the amount of happiness the kid brings to her life. According to sources, two of her kids inspire to do better with her career and life. 
Show: Gonzalo Le Batard Wiki, ESPN, Age, Salary, Net Worth, Family
Short Bio
The social media sensation, Sarah was born in 1987 and celebrates her birthday on 17th August each year as per wiki. She belongs to mixed ethnicity and holds an American nationality.
Sarah has completed her studies from two universities, the University of Cincinnati and the Atlanta Broadcast Institute.